My husband and I have Netflix shows that we have binge-watched together including, among others, The Good Wife and Scandal.
Cheating and deception are front & centre in these Netflix dramas, but have you experienced a Netflix-cheating-drama of your own?
The cheating I'm referring to is when (if) one of you ever secretly (or not-so-secretly) watches ahead in your 'couple' binge-series…
You should know that if you have been cheated on ( or are the cheater yourself), then you're not alone.  The chart above shows a whole bunch of stats on Netflix cheaters, and the stats below show you various types of cheaters.
If you or your partner is a cheater…which category do you fall into?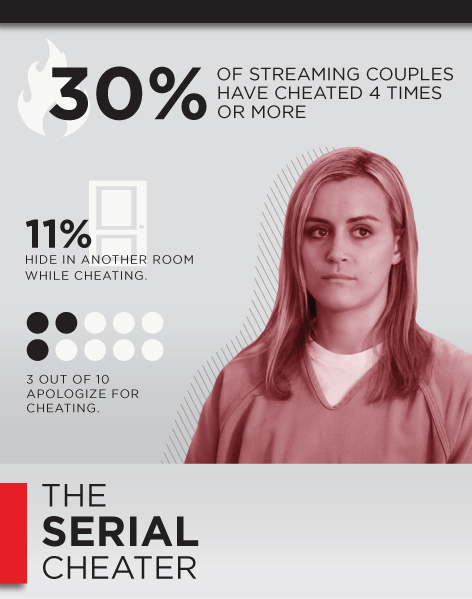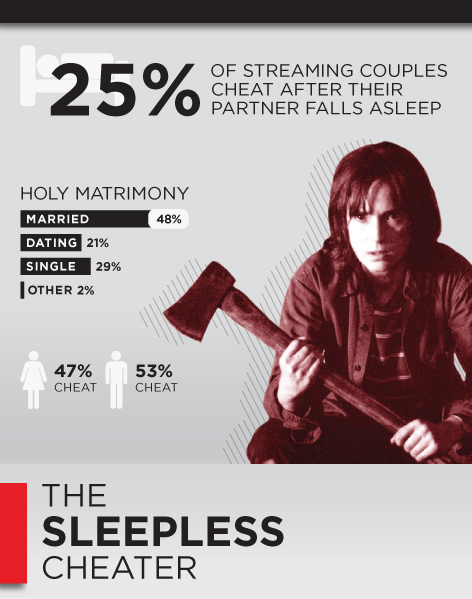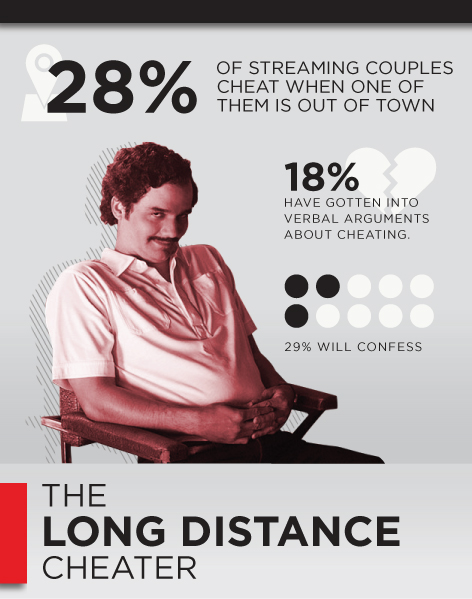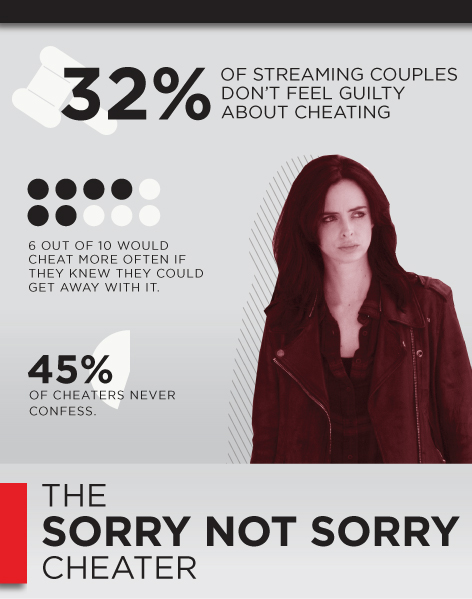 My hubby and I stay pretty loyal, but after one of us have fallen asleep, sometimes the other keeps going until the end of the episode. We're pretty lucky as that's not too sever as far as cheating goes, LOL!
It's not that everything we stream we stream together- e.g. When I was watching Downton Abbey, he didn't mind me watching solo (and I was sick in bed) so that was just fine with him.
The truth is that when I am binging a show with him, part of the fun is snuggling up and having time to escape into the world of our show together and comment as we go along.  I'd rather not watch without him! So truthfully, I think that we fall into the category of Loyal Streamers :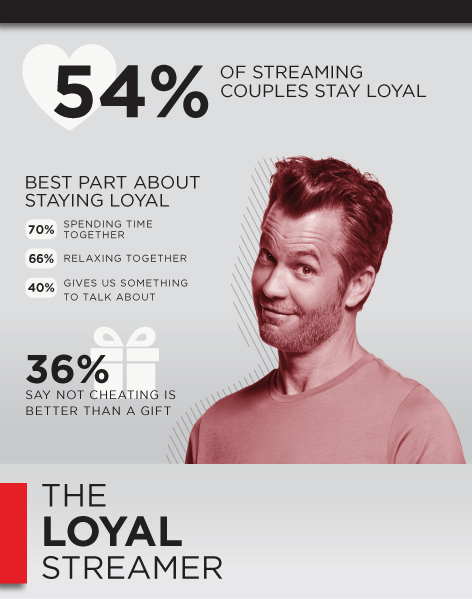 Anyhow, I find these stats fascinating, and even the fact that we have these stats is fascinating, but then again, Netflix has completely changed the way we all consume our entertainment and it's really cool to see the 'behaviour' that comes out it …. I'm just adding that I do NOT agree with the 14% who feel that Netflix cheating is worse than having an actual affair.
This weekend, think about bringing up these stats with your partner and clear the air! ( although apparently 18% of couples fight over cheating, so be careful!)…then go snuggle up and binge 😉
Wishing you a weekend of loyal streaming!
Tanya
Disclosure: I receive free Netflix streaming as part of the Netflix #StreamTeam. As always, all opinions contained within my posts are my own. 🙂