Ever need to buy a special baby gift with no idea of what you want to get?

Expecting and excited to decorate your baby's space?
Converting the nursery to a "big kid" room and looking for special pieces to go with your decorating ideas?
I MUST tell you about Creations Elin! Hand-painted, personalized and customized gifts that will make a fabulous addition to any child's room!
My daughter received the growth chart as a gift when she was born and it is just gorgeous! It has 3 photo frames incorporated to include favourite pics as we track her growth. Hand-painted with love by local artist Eileen Miller, it is a fabulous focal point in her room until today.

If you're decorating with specific colours, just tell Eileen.  If you have a specific theme in mind, just tell Eileen.  If you are in need of inspiration just check her website for a plethora of fabulous ideas. Still wondering?  Ask Eileen!
Are you having a baby shower?  Select your favourite pieces, speak to Eileen about your colours and theme and you can put together a registry so that your friends and family can help to make your dream nursery become a reality.

How can she personalize it before the baby is born and has a name? Your guests will receive cards with images of the gift and when baby arrives she will personalize each item and have it delivered to you.
I have chosen just a few photos of her work to share with you, and honestly, the pictures don't even due the items justice!   The quality & craftsmanship are second to none.  Eileen pays attention to detail, from ensuring smooth edges to offering a little hand-painted nail cover for the growth chart so that everything you see hanging is just perfect.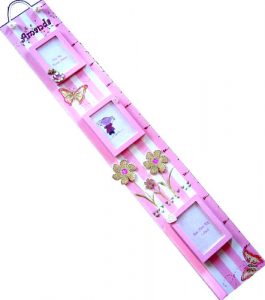 Custom-designed, made in Canada by a local artist and all you need to do is order. You never even have to leave the house!
I know…you're wishing you knew about this just last week when you were stressing over that baby gift…
SUGGESTION: Add Creations Elin's phone number and web address to your contact list now…Add it as "Creations Elin Baby Gifts". When the time comes again to buy a baby gift and you're asking yourself "what was the name of that artist again?", you can just do a search on your smart phone contacts for "gifts" and you'll have everything you need right at your fingertips!
To make life easier for you, here's the info:
Creations Elin
514-765-8884
1-888-884-8879 (super-convenient for out-of-towners who keep asking what they can get for the new baby!)
info@creationselin.com
www.creationselin.com
One more tip: Follow Creations Elin on Facebook http://www.facebook.com/CreationsElin to get news of new products & discounts!
Wishing you a wonderful day & worry-free gifting 🙂
Tanya