With Halloween just around the corner, parents are ensuring that decorations are up, costumes are in order and treats are set aside.
Some parents have gone so far as to locate their chargers so that their cameras are ready to go on the big night.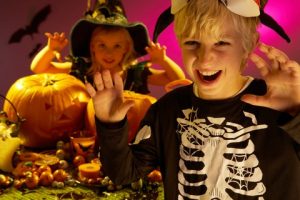 While still shots of the little pirates and princess, ghosts and goblins are an absolute must, how about kicking it up a notch and capturing them on video this year?
You can have them act out the character they're dressed up as or get a few kids together and have them make a play featuring all of their "characters".
Capture it all in 30 -60 second clips and delight in how creative kids can be.
Andrea Allen, Senior Content and Community Manager at Vimeo offers these fabulous tips for capturing great footage on your smartphone:
1.  Smudges aren't fun
Since you're always holding your smartphone in your hand and putting it up to your ear, it's natural that its lens will have smudges. A quick wipe with a soft cloth before you start to record is the first step you should take. This will give you the clearest shot possible.
2. Think "H" for Halloween and for horizontal!
Be aware of which way you're holding your smartphone! It may feel natural to hold it vertically and then press record; however, that will give you a video that's vertical when viewing. Your best bet is to hold your smartphone horizontally. This will allow you to fully enjoy your final product on a widescreen HDTV or computer.
3. Stay just off center!
If you're lining up your child right in the middle of the shot, STOP! Instead, place them just off center. This is an easy trick that will add an interesting feel and context to your video and really capture your viewers' attention and keep it on your trick-or-treater!
4. Shake no more!
A shaky video can be just as scary as your kids' costumes! No one wants to watch a shaky video, so keep the following in mind when you're about to hit record: hold with both hands and spread your pinkies; take a nice wide stance and spread your feet apart; brace your elbows against your chest for added support; or lean against a surface, such as a wall or tree, to steady yourself.
5. Let's hear them
Your friends and family want to hear your little ones give their best rendition of a pirate or ghost, so keep in mind how far you are from your subject when recording. The mics found in today's smartphones aren't the most sensitive, so try to be as close to your kids as possible to ensure you pick up their voices – being in a quiet environment helps too!
6.  Share and scare!
Once you're happy with the video you've captured, take advantage of free software, such as Vimeo's free iPhone app, which you can use to quickly edit, trim and add effects. You can then share and scare with your friends and family by uploading safely and securely to Vimeo – all without having to go to the computer!
Of course these tips can be used anytime you shoot video with your smartphone, not just for Halloween!
For additional tips, lessons and tutorials on how to capture better video, head over to the Video Vimeo School at http://vimeo.com/videoschool
Do you have any tips for shooting video that you'd like to share?
Wishing you a fabulous Friday and a wonderful weekend,
Tanya