This year I decided to experiment with a Passover version of gnocchi, and am I ever glad that I did!
It was a hit with the kids & the hubby and I decided that I should share it with you.
Passover Gnocchi
6 well-baked*, medium-sized yellow-fleshed potatoes, still warm (even hot!)  NOTE: It's important that they be well-baked so that the flesh is very soft
2 egg yolks
1 c. potato starch
salt & pepper, to taste
Pinch of nutmeg (optional)
Water
Place a large pot of salted water on stove top over high heat to bring to a boil
Meanwhile, cut potatoes in half & scoop flesh into a bowl (you can use a fork or a spoon for this, I prefer a fork as it flakes the potato nicely & requires less mashing afterwards)
Mash the potatoes well
Add egg yolks and seasonings to the potatoes & mix well
Add potato starch and knead together until a smooth dough forms
If dough is extremely sticky add some more potato starch (1-2 Tbsp at a time)
Form the gnocchi as desired.  I made little almond/olive-shapes about 1.5″ x 1/2″. I squeezed some so that my fingers made indentations (See photo)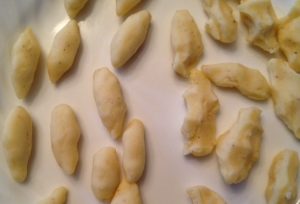 Drop the gnocchi into the boiling water (about 24 at a time)
When the gnocchi float to the top they are ready (about 45-60 seconds!)
Remove with a slotted spoon and serve with desired sauce. Arrabiata, marinara, pesto or even olive oil & garlic are all excellent choices!
Enjoy!
Yield: about 4 servings (depends on how big a serving you like!)
CHEF'S TIP: Rather than discarding the potato skins from which you've scooped out the flesh, top with cheese (or even sauce & cheese) & pop under the broiler for a few minutes for a delicious snack of baked potato skins!
*Note: I bake my potatoes by pricking with a fork and placing in a 425-degree oven for about an hour, turning them over after the first 30 minutes.

For the Arrabiata:
6 scallions, chopped
2-3 Tbsp olive oil
1 Tbsp. vinegar
3 large cloves garlic, crushed
2  15oz cans tomato sauce
Crushed chilis/chili flakes, to taste
Sauté scallions in olive oil over medium-high heat until soft.
Add vinegar & garlic.  Sauté 30 seconds longer
Stir in tomato sauce
(OPTION: At this point you may choose to ladle some of the sauce into a separate saucepan to keep mild)
Stir in chili flakes
Allow to simmer over medium-low heat, stirring occasionally. (For both batches, if separated)
Bon appétit!
Please let me know how this goes over with your gang!
Have a great day!
Tanya