THIS GIVEAWAY IS NOW CLOSED
Congratulations to Julia, our lucky winner!!! Hope you have a wonderful family outing! (Julia has been notified by email).
Thank you to all of our entrants & if you are still interested in attending, I understand that there are still some tickets available for purchase. (You can see the link below).
Have a wonderful day!
Tanya
*****************************************
Guess who's coming to town? You know them…
It's those lovable, musical characters….your backyard friends – THE BACKYARDIGANS!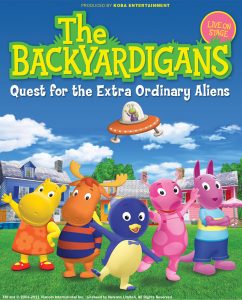 They'll be at Théâtre St Denis on October 9th performing in The Quest for the Extra Ordinary Aliens.   This non-stop musical expedition has The Backyardigans becoming Daring Detectives, Cookie Security Guards and Space Ace Reporters who travel in hot pursuit of a mysterious space ship and its missing passengers – the cookie-crumbing Aliens! Tag along with the gang and their extraordinary host as they travel to shivering Frozen Toes Mountain, the blistering Hot Footsy Desert, and the volcanic Lost Pirate Island – singing and dancing the whole way!
The Backyardigans' Quest for the Extra Ordinary Aliens is a finger-snapping, toe-tapping, mind-boggling adventure that will have the whole family dancing on the edge of their seats.
And there's more….Koba Entertainment has partnered with montrealmom.com to giveaway tickets for a Family of Four!!!
In order to ENTER THE GIVEAWAY you must:
Answer the following question in the comments section of this post: " Who is your child's favourite Backyardigan & why?
Correctly enter your email address as the winner will notified via email.
Be available to attend the show on Sunday, October 9th at 1:00 PM
Once you have entered by answering the question above in the comments section, Here;s how you can get additional entries:
Follow @montreal_mom on Twitter (leave your Twitter handle in the comments section of this post)
Follow @KobaEntertain on Twitter (leave your Twitter handle in the comments section of this post)
Tweet this giveaway by retweeting this post (1 entry for every RT, you can tweet up to 2 times daily- please leave a link to your tweet in the comments section of this post)
Add montrealmom.com/blog to your RSS Feed (leave note in comments that you have done so, use same email address for both comment & RSS Feed)
Write about this giveaway on your blog/website and leave me a link to your post in the comments section (counts as 4 entries!)
Read any other post on the montrealmom.com blog and comment on it (please leave a comment on this post as to which post you read & commented on)
The giveaway ends at 11:59 PM on Sunday, September 18th, 2011.  Winner will be chosen at random and will be contacted via email on Monday, September 19, 2011. Please make sure your email address is correctly entered in the comments section as the winner will notified via email. Winner must answer a skill-testing question before claiming prize. Open to Canadian Residents only.

Want to know more about the show? Interested in ordering tickets right away?  Click here for further info

Have a fabulous day & best of luck!
Tanya