Last year we got the kids on skis for the very first time.
It was so much easier than we had expected.  We scheduled private lessons at Mont Rigaud, which is literally a 35 minute drive from where we live in the West Island.
The kids paired up two per instructor for their private lessons (which may mean they were considered semi-private!).  We did this twice.  On the second lesson, the 3 older ones shared one lesson while the youngest had her own lesson with a separate instructor. After that they were ready to ski "as a family"!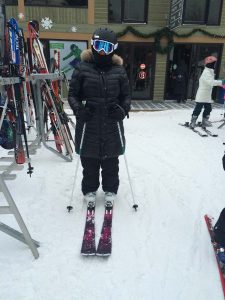 I was unable to join last year due to a tendonitis-related issue, but this year I went with them – My 1st time on skis in about 15 years! I was worried about what it would like- would I still like it?  The answer is YES!  I do & it was fun!
Skiing is a great activity that the whole family can enjoy and that's why I wanted to share some tips & info with you here.
I also shared some tips on my segment for Breakfast Television Montreal, which I will share with you at the end of the post, but I am able to provide extra info here as my segment goes by so quickly!!!
When to start
Depends on your comfort level as parents as well as your child.
Where to start
Ideally, anywhere that has a 'Magic Carpet'.
Some of the smaller, popular hills for learning are:
Mont Rigaud  – GREAT for West Island families- only about a half hour away from home!
Mont Saint Bruno – GREAT for South Shore Families, ridiculously close to Montreal
Belle Neige –  a favourite among those who spend time up north on weekends
Mont Habitant – I was just recently told that this is a fabulous learning hill, although I have not tried it.
What to buy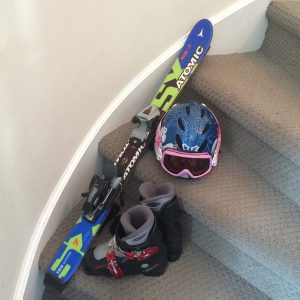 I highly recommend renting equipment, especially for the first lesson or two.  You can rent:
skis / bindings
boots
helmet
poles (although beginners don't need poles- we didn't rent or buy them for the kids)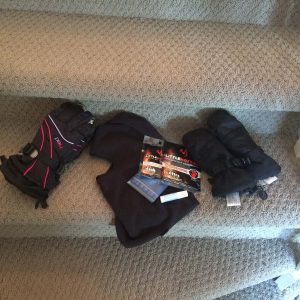 That said, even if you are set up with the main equipment, you will still need to make sure your child has:
goggles
good waterproof ski gloves or mittens (Best deal is to buy in advance the HEAD ones at Costco in the Summer LOL)
a balaclava (got ours at Costco for about $10!
thermal socks
I also recommend:
A base layer- a.k.a. the new 'long johns'.  They are not cheap but they are thin, warm & moisture-wicking so that they draw moisture away from the body. I was shocked that my kids stayed warm in these but they did! We are pleased with the investment 🙂  Plus, at this time of year, you may already be able to find them on sale 🙂
Little Hotties for mitts & boots to keep warm (you don't always need- only on freezing days)
Lip balm
Facial tissue
What type of lessons?
There are many options available – There are group lessons at the hill, private lessons & semi-private lessons and then there's ski school where you can enrol your child for a predetermined number of weeks.  You can choose with or without transportation.
Your needs and your family schedule will help you to determine what is the best option for you.  In our case we were not looking to train Olympians-to-be, we just wanted our kids to be comfortable and safe on skis so that we could enjoy skiing together as a family.  The most efficient & affordable way for us to do that (and still work with our crazy schedule) was to sign the kids up for a private lesson shared by all four, and then splitting them up for a subsequent lesson as recommended by the instructor.  For other families group lessons or ski school may be the better way to go.
Tips to help keep things within Budget
Skiing can become very expensive.  It's not just equipment and lessons, there are lift passes and food at the hill.  Here are some tips that I thought I would share to help keep things from getting out of hand on the financial side.
(1) If you have a child in Grade 4 or 5, get a Grade 4&5 SNOWPASS.  For the one time charge of $29.95, The SNOWPASS lets you ski and snowboard three times at EACH participating ski area in Canada. (There are SO many are participating hills).  You can get more info at skicanada.org
(2) Although Some of their products are currently sold-out- Check out the Boutique Maneige website, in particular the Accèski Famille.  It's a card that gives SIGNIFICANT savings and will likely pay itself off after 2-3 ski hill visits.  We haven't tried it yet, but are planning to get it next year before they sell out!
(3) Check the individual hills' websites for promotions. We got really lucky and skied at Mont Saint Bruno on a Thursday during the break using their 2-for-1 Thursdays deal.  It cost us about $70 for the whole family of 6!  That said, double-check to make sure you can get those specials at th shill, some require advance booking online.
(4) Keep on the lookout for other specials : The Entertainment Book & Costco have Ski offers.  Also- Booking in advance online can often save you a pretty penny! (Just make sure you have a way out if you have kids that are prone to spike a fever in the middle of the night out of nowhere…)
(5) Equipment rental is sometimes included in the price of lessons- shop around.
(6) Having your own equipment can save lots of time waiting for rentals at the ski hill, but if you choose to buy equipment, consider buying used equipment. Kids grow so quickly that they outgrow their stuff within a year or two anyway.  We had a great experience at Play It Again Sports and have heard good things about La Poubelle Du Ski as well.  Note that you can sell back your equipment at the end of the season or the beginning of the following season, provided that it's in acceptable shape.
(7) Don't forget the FITNESS TAX CREDIT!  This is especially good if you are signing your child(ren) up for lessons! The Canadian Government also recently DOUBLED the credit and made it REFUNDABLE.  This means that you can claim up to $1000 in applicable fitness programs for a credit of up to $150 per child. It also means that if you are not paying income tax due to a low income year, you can still get the appropriate amount back.  For a better understanding of how it works and applicable programs, watch this video but keep in mind that the video was for the 2013 year and that for 2014, the amount you can claim has doubled up to $1000 per child 🙂
(8) Sometimes less is more – Often, 3-4 hours of skiing is plenty, especially with young kids, so don't feel the need to buy a full day pass – schedule to get to the hill early, ski for a few hours & top it up with lunch & leave or get there for an early lunch, ski for a few hours & top it up with hot chocolate before you go!  Lift tickets will cost less and you're likely to have enjoyed it just as much 🙂
(9) Pack a Lunch!  You will eat healthier and spend less 🙂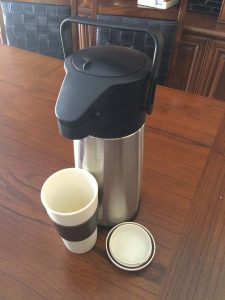 (10) Consider bringing your own hot chocolate – We bought this awesome Thermos 'Dispenser' at Costco and we all love it! WE fill it with hot chocolate at home & we bring it along.  Usually we end up having out hot chocolate in the car on the way home – but we could also have some if we felt like warming up in the chalet 🙂
All in all, we love going skiing as a family. We often remind ourselves that going to the movies would have cost nearly as much but we would not have benefited from the fresh air, the healthy activity and the interaction and family memories that we are creating on the hill.
Do you ski?  Have you started the kids out?  I'd love to hear back with some of your own tips & tricks!
Meanwhile, if you feel like watching my segment on Breakfast Television about skiing here's the link…enjoy!
Wishing you a sunny day where everything goes smoothly 🙂
Tanya