As many of you already know, my daughter and I are DIE-HARD Gilmore Girls fans and we are PSYCHED for Friday's Gilmore Girls- A Year in The Life on NETFLIX!
Those of you who read my post last year about how this is our 'bonding show' and our 'watch once / week …well now I confess that we have had to indulge in some binge watching over the last few months in order to finish the series this past weekend to be ready in time for The Revival TODAY FRIDAY NOVEMBER 25th!!!
My daughter & I plan to have a big 'date night ( or 'date day' LOL) ' to watch Gilmore Girls- A Year in The Life this weekend and she even has a menu she's planning for the occasion! ( I will share when she shares it with me- I guess I'll be doing some shopping!)
We were super excited to use some of the fun Gilmore Girls items that we got from Netflix Canada!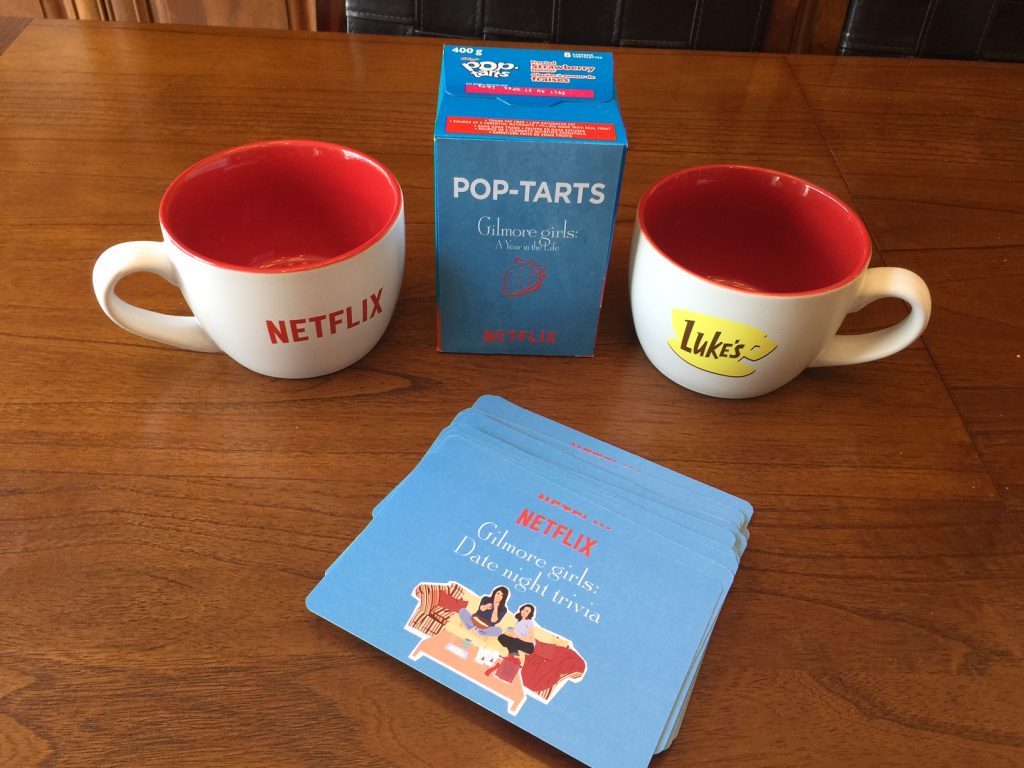 Meanwhile, tonight I waited for her to come home from babysitting so that we could go together on Facebook Live doing a "Gilmore Girls – Through the Years Live Q&A" , which we did, and which I planned to share here…but guess what?  You know how I write about keeping your privacy settings locked down?  Well, since I did the video on my personal FB page, I can't share it here 🙁
UPDATE: I found a way to share…here it is!
We did do a little Periscope as well, so I've uploaded that to montrealmomtv It's not as good as the FB Live one, but at least it's something!  You can see it here:
In the meantime…Did you know that:
 62% of mothers and daughters feel sharing TV shows with each other helps them build a stronger relationship
A recent survey revealed that almost half of women (45%) wish they spoke to their mother more often
More than half of mother-daughter duos surveyed (54%) report post-show discussions are the best part of sharing a show together
Almost half of moms and daughters (45%) think watching together brings them closer
I am not remotely surprised by these (Canadian!) stats and I STRONGLY encourage Moms and teenage daughters to make this "their show".  It opens up so many good topics and discussions…and is truly a bonding experience.
Are you a Gilmore Girls Fan?  Thinking about watching it with your daughter? If you haven't started Gilmore Girls and are wondering what my daughter & I love about it so much…we will likely do another LIVE sit-down this weekend, Join us and we'll answer you there! You can also leave questions in the comments section below 😉
Happy Gilmore-ing!!!
Tanya
Disclosure: I receive free Netflix streaming as part of the Netflix #StreamTeam. As always, all opinions contained within my posts are my own. 🙂