I attended BlogHer '11 last year as a veritable newbie and was grateful for the many posts I read to help me to know what to expect and how to get prepared.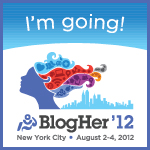 This year I hope to help you get ready for BlogHer '12 in NYC.
It's a long post but I hope you find it helpful!
Here's what you'll be needing & needing to do:
SCHEDULE

Go with a plan. If you're stuck between more than one session at the same time, remember that podcasts of the sessions will be available, so ask yourself which you'd prefer to attend live. Make note of the ones that were runners up in case you a session you're in proves to be different than what you expected.  That way, if you find yourself in a session that you're not loving, you can make a quiet and respectful exit and make your way to one of the other sessions on your list : )
You can use the BlogHer'12 app but I like having a hard copy, just in case…
Add all parties you plan to attend as well as meet-ups with other bloggers and/or brands to your calendar.  (I highly recommend having some form of printed backup of your calendar as well as invites…just in case!)
Visiting the expo takes more time than you realize, especially if you're making great connections.  Schedule time to be there.
Give yourself transition time. You may not have a lot but aim for 45 minutes between the day's events & those for the evening- to just go back to your room, refresh or even just put your feet up.
For any off-site meetings or events: remember that it takes time to get there.  Schedule it in.
STUFF
Tablet, laptop or smartphone for tweeting during the conference : Essential
Chargers for everything.
An extension cord is a good idea but not necessary.
If you're sharing a room, a power bar is essential as you'll all be charging everything at the same time.  (Label your chargers & cables!)
If you're interested in additional battery power for your iPhone, try a Mophie case with battery backup. I haven't tried, but I hear good things 🙂
Bring snacks.  Breakfast & lunch are served but you will get hungry in between and you will need to keep your energy level up.
A reusable water bottle – there will be water stations where you can fill up. Make sure it can attach to the outside of your tote.  You do NOT want water spilling onto your phone, iPad or other electronics.
Some bring a travel mug for coffee…not a bad idea 🙂
An ULTRA-FINE sharpie (not just fine…ULTRA fine…The fine one is still too broad) to write on business cards.  You'll want to write on cards to remind you of who the person is…you think you'll remember, but you will forget!! Memory triggers like "Met @Social Soirée, discussed coupons" are very helpful.  Why a Sharpie & not a pen?  Glossy cards don't do ballpoint…
A small notepad & pen are always handy.
If travelling across the border: your PASSPORT : )
BUSINESS CARDS:
Make sure to include email, blog, web, addresses, twitter handle and all social media contact info (FB, LinkedIn, Pinterest, etc)
Your profile pic is a great idea, people remember faces more readily than they remember names and which card belonged to which face
Tip: Moo will deliver directly to BlogHer conference
WHAT TO WEAR
A daytime tote bag that fits your regular purse essentials plus tablet, plus lots of room for swag and a sweater.
A night-time purse or tote that is light yet roomy enough to accommodate for swag.
Outfits planned out for each day. Choose something professional, yet comfortable. I'm a fan of slacks or nicer capris & a tank with cardigan in your tote (see below)
Keep a list of what you're wearing each day-in your phone or printed…At BlogHer you don't want to try to remember what you were supposed to were on which day…you just want to GO!
ALWAYS keep a sweater or cardigan with you.  Conference rooms, restaurants & party halls are all air conditioned.  It should fit in your tote 🙂
Accessories & jewelry to go with each outfit.  I actually put mine in snack-size Ziploc bags & Sharpie the date right on.  That way when it's time to get dressed in the short window between afternoon & evening, I check my outfit list & grab the Ziploc marked "Sat night" & I'm good to go!
Night-time events are usually casual chic, but if you feel like getting all dressed up, I won't stop you!
COMFORTABLE shoes.  Here are a few images of what works for me.  Stylish & comfortable..that's the ticket! Brands you can usually rely on: Skemo (shown: Love Low with Cork wedge-LOVE mine), Sofft (shown: Anita II– got me throughBlogHer'11!), Crocs…NOT the ones your kids wear…the black wedges depicted here, known as the Leigh Wedge.
Dr. Scholl's Fast Flats..in your tote at all times day & night…in case your comfy shoes fail you.
If you're signed up for any fitness events: the appropriate attire.  Don't forget shoes & socks!
If you have cute lanyards from which you can hang your badge, bring them!  I picked up the two in the picture at Charming Charlie
An umbrella or rain jacket for off-site events
PAPERWORK
Make sure to bring a printed receipt for your conference pass purchase to present when you go to pick up your badge.  Valid ID is also recommended.
Last year I had a folder with plastic sheet protectors for every day.  Inside were my schedule & tickets for that day & evening, together with printed walking directions to any off-site events.
I printed out labels with my name, address, phone #, url & social media links & kept them in the folder.  When you go through the expo, you can just use this stickers to enter contests rather than filling out forms.  I got this tip from another mom blogger last year- so grateful!  I think it was Jennifer- EightyMPH Mom, blogger at Enough Time Moms.
For fellow Canadians: if you have a US mailing address, make up a sheet with that address as well, some contests require a US address.
A quick reference sheet in your folder with all necessary emergency contacts…your spouse, partner, kids' camp, medical contacts etc.  Leave a copy at home.
Have a list of all the bloggers & brands you want to connect with.  It can be a Twitter list, a list in your phone or on paper…but have a list.
A few printouts of your logo in different sizes to put in back of your name on your BlogHer badge.  You may be more recognizable by your blog's logo in a sea of badges.
PACKING
Pack everything in a suitcase with room left over for swag, or pack a smaller suitcase inside a larger one so you have an extra bag for swag on the way home.  This way, if you're flying you'll only incur an extra bag charge on the way home.  I can't stress how much swag you will get.  Yes, I roomed alone- this was just my stuff. (Photo from BlogHer '11).
Tip: Don't bring home swag you're not going to use.  There's usually a swag exchange where you can drop off swag & others who will use it can pick it up.
LEAVING THE FAMILY
Some Moms leave it to take out & leave Dads to fend for themselves.  I feel better about pre-made meals in the fridge or freezer that just need to be heated up.
I leave a schedule for dinners & lunches (Breakfast is not that complicated). Included on the schedule is when to take something out of the freezer, when to heat up, at what temperature & for how long.
I leave the kids with jobs like packing snacks for camp.  If your kids are too young, you can pre-portion snacks into baggies or containers & place all for each day of camp in a clearly labeled Ziploc in the fridge.
I left my hubby with my complete schedule so that in case I need to be reached urgently & my cell was non-functional or devoid of battery…He'd be able to contact the hotel and find me.
All went well last year and they loved it.
Tip: The easier you make it for them this year…the less pushback you get about going next year!!!!
ATTITUDE & EXPECTATIONS
Don't expect to get to it all.  Prioritize what you want to do & everything else is bonus 🙂
Have fun.  Don't worry if you're not invited to any off-site events…there's already more than enough in the BlogHer'12 schedule to keep you busy every minute of every day…and you still won't get to everything.
There's definitely more, but given that the conference is on Wednesday, I'd better hit "Publish" already!
For more info: you can watch my interview with Lisa McKenzie of Enough Time Moms last year:
OK…I'm going to hit 'publish'…
SEE YOU IN NYC!!!!
Tanya