Last week Hubby & kids were off work & camp for some unstructured family time. Everyone was looking forward to some fun in the pool.  Our pool is not a huge pool but is large & deep enough for some real family fun.  It's an Intex blow-up with a filter & we maintain it regularly with the necessary chemicals.
Of course, this would be the week that I changed brands of Shock treatment.  This would also be the week that I misread the label (twice) and as a result we put in enough Shock to winterize the pool as opposed to the quantity for the weekly treatment.  I called Trévi, the first name that came to mind, for advice.  They told me to bring in 500 ml of pool water to be analyzed, and so we did.
I showed up at the counter & declared that I had "killed my pool".  They told me it may not be as bad as I thought.  They tested the water and explained how the heat wave would work in our favour and we should be able to go in the pool by the next day.
The staff was so kind and reassuring.  They were there to help.  Once I was there I also found out that I could bring in samples of pool water to be tested on a regular basis (every week or 2 weeks) for anything undesirable that may be in the water but is not tested for on the daily test strips we use to check chlorine & PH levels.
Just before the weekend, we went in to have the water tested again as there was some cloudiness that made me uncomfortable.  It turned out that the alkalinity was high.  They sold me the necessary treatment and by the next day we were back in business.
I am so comforted knowing that a team of experts is there to help.  The fact that the service is offered FREE of charge shows that Trévi wants its customers to swim safe.  We were previously purchasing our pool chemicals elsewhere. We will now only buy at Trévi while we have the water tested and we are pleased to do so and to show our customer loyalty to Trévi for being there for us and for getting us up & running with our pool as needed.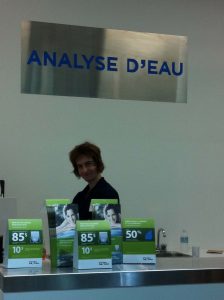 One caveat: Walking into the Trévi showroom on the Trans-Canada was quite an experience-just seeing the selection & hearing the water flowing… No pushy salesperson-the pools are just so gorgeous that they 'called' us.  Hubby & I had a discussion that afternoon about investing in a permanent pool! While it's not something that is in the cards for us anytime soon, I can assure you that if and when the time comes, Trévi will be our #1 stop.
I want to add that I have not been compensated in any way by Trévi for this post.  I was just so thrilled with the service and the attention that we received that I had to share.  Special Thanks to Peter, Alex & Tiger (pic left) as well as Sam & Anthony for all your help.
You can reach Trévi by calling 514-22-TREVI (514-228-7384).
Have you had pool issues this summer?  How did they resolve?  would love to learn from your experience…as I am clearly a newbie!
Keep smiling, swim safe and get tested!
Tanya