As some of you may already know, I recently had the pleasure of being interviewed by Sue Smith of CBC Homerun. Not only was the radio interview a lot of fun, but everyone I met was super-nice which just made for a really great experience.
It was so great that I wanted to share it with you . Just click here and you can hear the interview: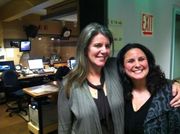 Thanks again to Sue and to the entire gang at CBC Homerun!
Wishing you a terrific Tuesday,
Tanya