When I found out that I would be able to view FULLER HOUSE prior to its release on Netflix on February 26th, our whole family was ecstatic.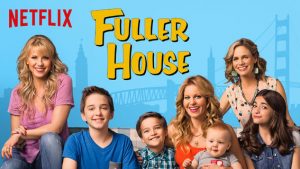 It was perfect timing as we have been on 'spring break' this past week, so it presented the perfect opportunity for some family movie time 🙂
Our family loves to enjoy our Netflix by the fire, with lots of popcorn..and sometimes some other surprises like freshly baked cookies 🙂
We sat around the fire while watching the first six episodes to which I had access in two sittings.
Part of my agreement with Netflix is "no spoilers", so I can't tell you much more than you may have already seen in the trailer, but I can tell you that the whole family laughed and that at points I cried (and they laughed at me crying!)
I am however, allowed to share with you the EXCLUSIVE sneak peek for #StreamTeam members, including what cast members do for their perfect Netflix night-in 🙂
For those of you who haven't seen the trailer, watch it here:

The viewing experience is different for my husband and I than it is for the kids, since we definitely feel the passing of time more strongly than they do.
That said, they loved seeing the girls all grown up, as well as how some of the other characters have grown as well.
Of course, most Montrealers have been at least somewhat aware of DJ's growing up, since in-real-life Candace Cameron married former Habs team member Valeri Buré.  Some of us consider her an honorary Montrealer 😉
Nevertheless, it's still a bit crazy to find myself identifying in some ways with DJ-as a Mom…and for my kids to compare DJ with me as opposed to with my eldest daughter!
The verdict: If you are already a Full House fan, then I think that you will love FULLER HOUSE.  I also think that you can enjoy the show if you never watched Full House, but so much of the feel & the laughter will be lost…(So watch at least a few episodes of Full House first!)
It's worth noting that in some ways it seems the show is directed more at the adult segment who grew up with Full House more than the kids, but nevertheless the kids still enjoy it 🙂
Need a little more before tomorrow's release date? Watch the behind-the-scenes featurette here:
Given that so many of you will be on spring break next week, you may want to check out some "Suggested Viewing Collections" in addition to Fuller House:
Netflix offers their own collections:
So…make sure you've got some popcorn handy because FULLER HOUSE premieres tomorrow, February 26th! Now, you should be all set for your Netflix movie night-in!
Wishing you time for a cozy family movie night VERY soon, so that you can enjoy a Fuller night-in 😉
Tanya