Leftovers are a year-round issue and luckily, summer rolls are not just for summer 🙂
So what does one do with leftover roasted chicken, besides reheating or chicken salad?  Why…summer rolls, of course!
Here's what you'll need:
Rice paper
Leftover chicken, shredded or chopped
Assorted veggies, thinly sliced (I like to use peppers, baby corn, carrots, cucumbers)
A few leaves of your favourite herb ( I LOVE cilantro)
Your favourite dipping sauce.  We use a home-made peanut butter sauce that is phenomenal (recipe by Norene Gilletz, of course! 🙂 The recipe is available in Healthy Helpings (Whitecap) or if you have a copy of MealLeaniYumm, you can find it there as well. My daughter made the one shown all by herself-it's as easy as it is delicious!)
Here's what to do:
Moisten the rice paper as per provided instructions ( I just run under warm water and let it sit briefly on plate until soft- DO NOT stack- they will stick together)
Place desired ingredients lengthwise in the middle of the rice paper
Fold in sides that touch the shorter ends of your pile of ingredients
Fold bottom edge over top and roll until closed
Slice in half for a beautiful presentation
Serve with dipping sauce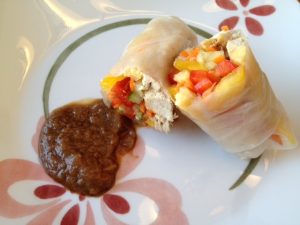 Enjoy!
This is a quick & easy lunch or dinner and the kids absolutely love it.  It can get a bit messy, but it's worth it!
Do you have any favourite things to do with your leftovers?  Please share!
Wishing you a great week,
Tanya