Vacationing with kids can often feel more like a change of scenery than an actual getaway.
Our weekend at Stowe Mountain Resort was different.  We felt recharged and rejuvenated to the point that both my hubby and I felt like we had been on a week-long vacation!
You can tell by my daughter's note that she had many plans 🙂
Here's what was actually scheduled (arrival & ski-times for Day 1 were supposed to be earlier but we arrived later than expected):
Friday
3:00 PM Arrived at Lodge
3:30 PM Hit the slopes (as in ….skis on & at lifts!)
4:45 PM Back in the room
6:30 PM Dinner at Solstice
Saturday
10 AM Snowshoe tour
3 PM Spa & Kids Spa for the girls & I (Guys went skiing)
Sunday
Ski Lessons for the kids
Late checkout (The BEST!!!!)
Stop at Cabot Annex Store on way out of Stowe (Say CHEESE!!!)
There is SO much to talk about that I am going to actually put subheadings on the sections so that you can read the parts that are of greatest interest to you.
Arrival & SKI VALET: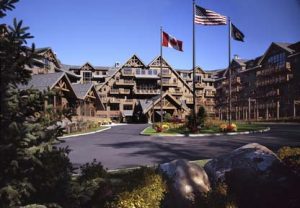 We arrived at the resort with only an hour left until the lifts were scheduled to close. Normally one would think that would mean we could forget about skiing until at least the next day, but not at Stowe Mountain Resort!  When we got out of the car, although the lifts were to close in less than an hour, the staff overheard us talking and said "You want to hit the slopes right away?" When we said yes, our equipment was taken right from the car and straight to the ski valet.
We checked in. We were escorted to our room where our bellman explained everything to us – including how the fireplace works. We all changed into base layers & snow pants quickly, grabbed helmets and we were off.  We arrived at the ski valet, got our equipment promptly and were at the chairlift with a 1/2 hour to spare!
The 1st Run
I had never seen such wide slopes in my life- plenty of room for a beginner like myself to fall safely!  I was happy 🙂
That said, I think that we were all so excited to go skiing that we neglected to notice the blowing wind & snow.  By the time we were part-way down the mountain, my daughter correctly noted that we were skiing in a blizzard.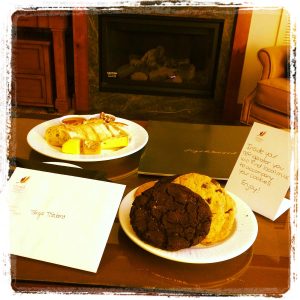 A Warm Welcome 🙂
Thankfully, we made it down ok 🙂 When we arrived at the room, there were cookies & milk waiting for the kids as well as a plate of artisanal cheese with fresh bread, walnuts & honey…Can you say YUM? Somehow the fact that we just skied through a blizzard was a distant memory.
Dinner at Solstice
That night we dined at Solstice.  I don't use the term "DINING" lightly. It was an incredible meal and the service was outstanding.
To start, the boys had some crudités with peanut butter and ranch dressing, one of my daughters went for the Hand Rolled Ricotta Gnocchi with Salt & Coriander Roasted Carrots (no bacon) -Delish, although she found the carrots slightly too salty for her taste buds 🙂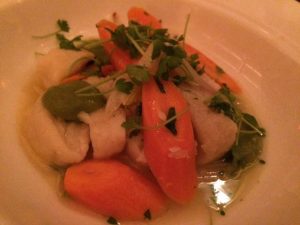 My other daughter went for the Local farm salad with Maple Balsamic Dressing – I was blown away by the dressing on the leaf that she shared with me.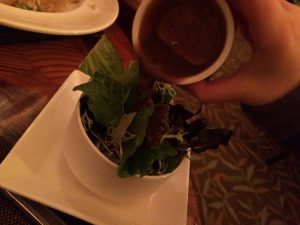 My hubby & I enjoyed the Cauliflower Soup withe Burnt Honey Foam, Apricot & Toasted Almond – Outstanding.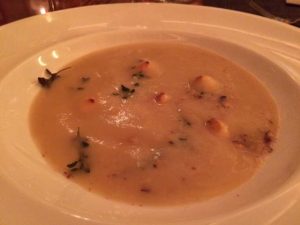 For the main course, a few of us ordered the Miso Glazed Snapper (no scallops) with Turnips, Straw Mushrooms & Lemongrass Broth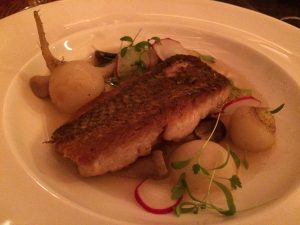 Two of the kids enjoyed the Kids' Mac & Cheese, which I sampled as well….and let's just say, there's something special about Vermont Cheddar…YUM!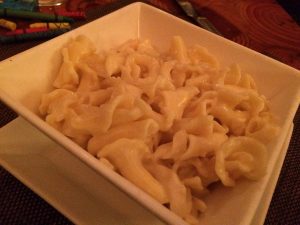 Then DESSERT 🙂
Ice cream sandwiches for Hubby & 3 of the kids – (They each had half and even that was too big for some!)
Lemon Sorbet for my daughter- outstanding!
Warm Apple Crostata with Vermont Cheddar Streusel & Cinnamon Ice Cream for me!  fyi- all was great, but mine was BEST!!!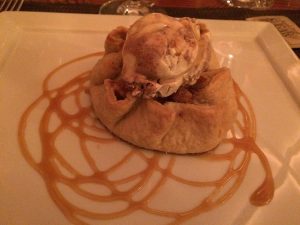 Delectable.
It was a perfect night out with the family 🙂
Snowshoeing:
The next morning we went for a nice breakfast buffet at  Solstice and headed out to our snowshoeing tour.
First, our guide showed how the snowshoes work so that when we got outside we could get straight down to business:
Then we started walking …and walking…and walking  some more 🙂 It was harder work than I thought, but we loved it!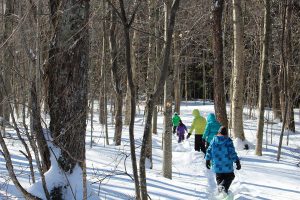 Check out my youngest little one- the trailblazer at the head of the line 🙂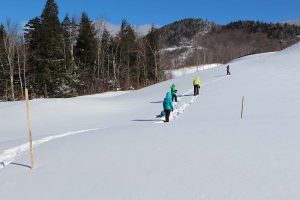 The view from the top of the hill that we climbed. I would have gotten a better pic, but my battery died shortly after this 🙁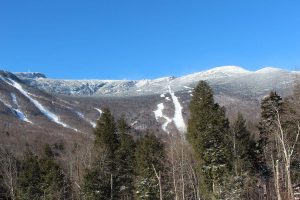 We couldn't get over what a workout it was…and we were HUNGRY.
We got back into the lodge and warmed up a bit by the giant fireplace in the main area.  I didn't get a pic at that time, but here's a glimpse of part of the area: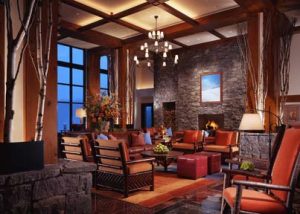 Lunch at Spruce Camp
We headed to Spruce Camp to get lunch. There were multiple stations offering a plethora of options. Feast your eyes on these.  Cafeteria food? I think not!
My son & I shared a Build-Your-Own Salad (and they graciously provided an additional plate):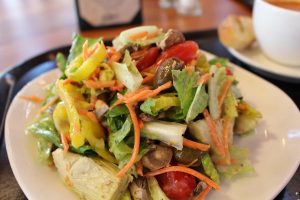 My daughter opted for a Panini with Tomato Basil Soup that was paired with an incredibly delicious coleslaw: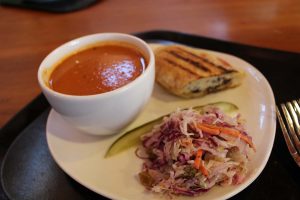 My hubby just wanted the soup (but then had a bite of everyone else's everything LOL!)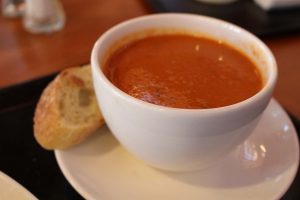 We had to have the fries…I can't tell you how yummy this mix was with everything from Waffle to Sweet Potato to Spicy Fries!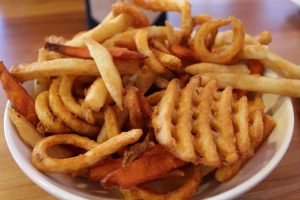 Two of the kids had the Mac and Cheese again. Understandable- why mess with a good thing?
I went back to take a photo when things were calmer. I wanted to be able to show you how the stations are laid out.  There are separate lines to each of the counters (where you see the overhead signs), keeping line-ups to a minimum. There are even more stations than I was able to capture in one photo.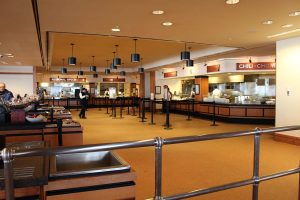 I also went back to take a photo of the great room where we ate, at a very quiet time of day…at lunchtime it was packed and there was even some live music 🙂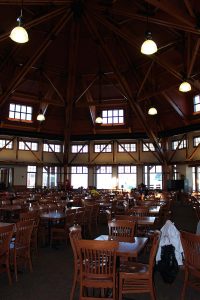 The high ceilings add so much to the feel of this great room.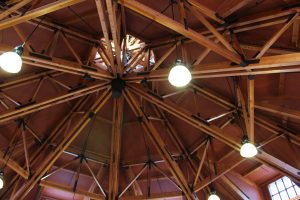 Spa & Kids' Spa
After lunch, it was time for the girls & I to head out to the spa.  The guys had called ski valet to get their stuff ready and left for a few runs.
I didn't get pictures at the spa as we just went in to enjoy and we were a little tight on time 🙂
The kids were escorted into the Kids' Spa and I was ushered to my Après Ski Leg & Foot Ritual with Arnica – the perfect treatment for a ski trip!
By the time I came out and got dressed, the kids were almost done and I browsed around looking at the fun, fabulous and very eco-friendly items available for sale in the spa waiting area.
When we left we did a little exploring around the hotel and checked out the outdoor pool which is heated and usually open in the winter.  Lucky for me it was SO cold out that the pool was closed, as I wasn't crazy about the idea of swimming outdoors in -20 degrees, heated or not!
Relaxing in the room
It was time to go back to the room, chill out for a bit and get showered & ready for dinner.
I should probably tell you a bit about the room(s)!
We had two studios that were connected via a small vestibule-type area.  Here are some pics:
Our room – you don't see the fireplace here. The kids' room was the same but in reverse 🙂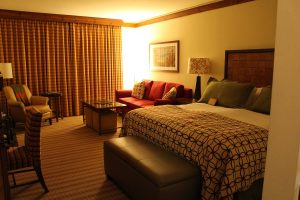 The kids' fireplace (we had one, too):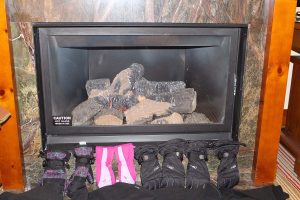 Even the bathroom was beautiful: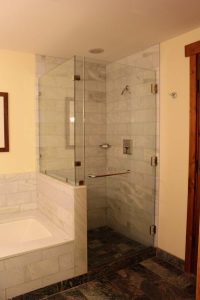 I loved this closet- the absolute perfect ski closet!  This one is the kids'. We had our own 🙂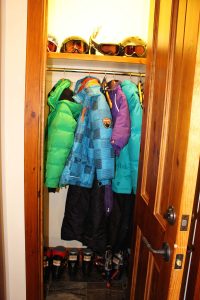 Dinner at Hourglass
This night we chose to check out Hourglass.
I was so excited because I had seen a whole bunch of items on the online menu that I had decided we would just HAVE to order. The only problem was that I had been looking at the menu for the wrong season 🙁  I guess we'll have to go out this summer to try out all those delectable goodies!!!
In the meantime, there was no shortage of what to order.
We started with some Vermont Mac and Cheese Pops with Truffle Ketchup. Yes, these are fried balls of mac & cheese on a stick. I could have eaten an order on my own, but we shared!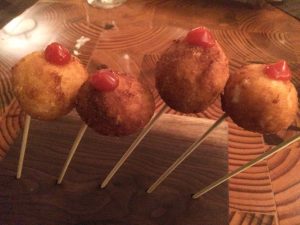 For dinner, two of the kids just wanted more of that incredible mac & cheese…if you tasted it, you'd understand why 🙂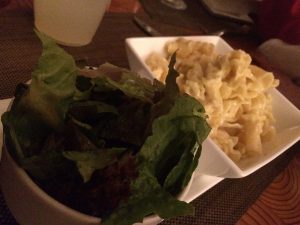 My eldest daughter ordered a grilled cheese – phenomenal ( That kid knows how to order!!!)
One of my sons ordered a pizza, but to be truthful, he didn't love it…It was good, but there was something in the cheese mix that somehow wasn't to his liking – it may have been a little 'too gourmet' for his taste buds!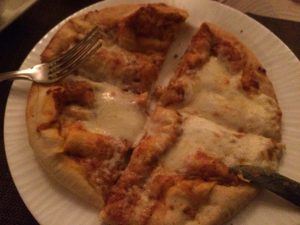 My hubby & I ordered the Truffle Mushroom burger, but with a veggie patty. Black Truffle Fontina Cheese, Caramelized Onion Jam, Stone Oven Roasted Mushrooms, Fried Local Egg, Arugula, White Truffle Spread…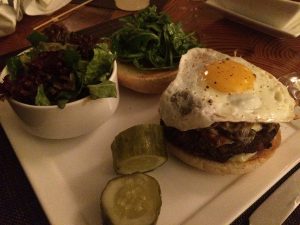 Then there were fresh-made potato chips – as good as they look 🙂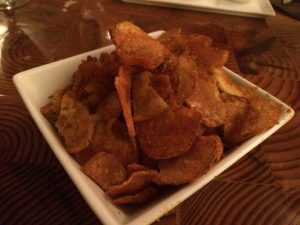 Did you think that meant we wouldn't order fries as well? You clearly don't know us well enough…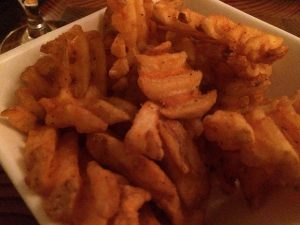 What did we do for dessert that night?
NOTHING.  We were STUFFED.
We went back to the room(s) where the kids watched a movie on their side and my hubby & I turned on our fireplace and had a whole long conversation about coming back next winter and dreaming about coming back in the summer (fyi- there is a summer camp for kids should you be interested- so during the day, kids can hike & kayak while Mom & Dad get a break, visit the spa & reconnect and then the whole family can enjoy a nice dinner together at night.  Can you say FANTASY????
By the way…my hubby and I agree that our bed at Stowe Mountain Resort was the most comfortable hotel bed either one of us has ever slept in, and we have both seen our fair share of hotel nights between work & family travel.
Breakfast in the Room
The next morning we were scheduled for skiing lessons. I was up earlier with two of the kids so we walked down to The Pantry, an on-site grocery where you can find a great selection of meals & snacks to bring back to your room. We bought waffles, OJ & some fruit.
Attached to The Pantry is The Beanery where we bought some gorgeous baked goods (and you can get fabulous lattes!).
We brought everything back and set up a family breakfast in the kids' room: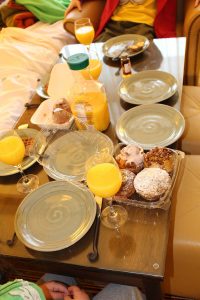 Did I mention that the room was fully equipped with dishes, flatware, glasses, microwave, gas stovetop, toaster, mini fridge and even a small dishwasher?  I'm sure I am forgetting something, too!
Ski Day (Lessons for the Kids)
The four kids had a lesson with an instructor who they adored.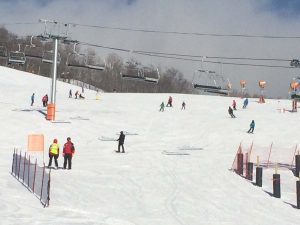 Hubby & I could have had lessons as well, but we really wanted a chance to just go off and ski on our own, something we don't get to do when we are with all of the kids.  We took the 'OVER EASY' gondola to the lift that would take us to a very scenic and very long beginner run that goes from the top of Mt Mansfield all the way down (The Toll Road)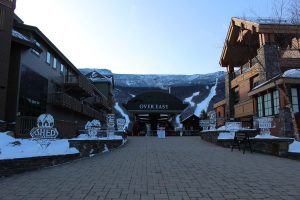 View from the gondola: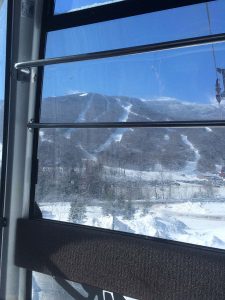 I wish I took a picture at the top but it was pretty windy so I wanted to get moving before I blew away!  We did take a picture about halfway down, though 🙂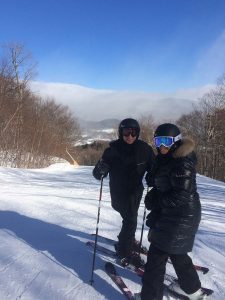 The views the whole way down were breathtaking. This photo does NOT do it justice.
Once we got down (almost an hour later!), we took the gondola back to the other side and did a few runs while we waited for the kids to be finished with their lesson.
When the kids got down, the instructor debriefed us on their progress and we decided to get a few runs in 'en famille'.
It was getting late and we'd have to check out soon, so we went for lunch – back to Spruce Camp:)
The kids then wanted to walk around and take pictures of the ice sculptures, here are only a few samples: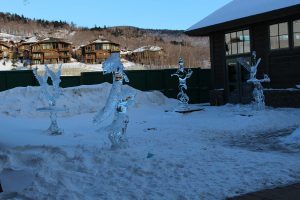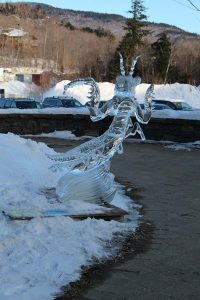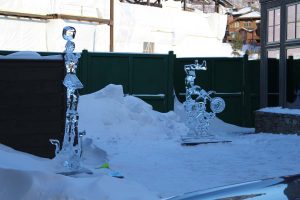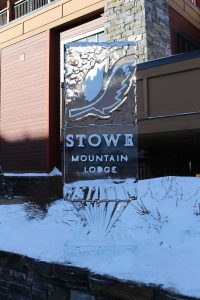 We headed back to the lodge to pack up & make our way to the Cabot Annex Store for a wonderful CHEESE experience on our way back to Montreal…but that is for another post 😉 )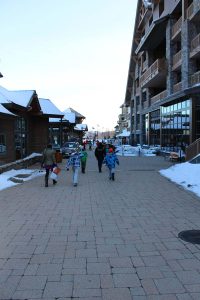 What an incredible stay.
We left feeling rejuvenated, refreshed and energized.
We keep calling it the weekend vacation that felt like a week.
What an experience.  What a weekend.  What a treat.
We can't wait to go back 🙂
And now it's time to go get ready for the holidays.
Wishing you a wonderful long weekend with your loved ones- filled with family time and experiences that leave you all feeling refreshed, rejuvenated & energized.
Tanya
Disclosure: Our family was treated to our weekend stay courtesy of Stowe Mountain Resort. As always, I will only ever share with you products and/or services I believe in. All opinions contained within are my own and cannot be bought