For years we've been saying we're going to schedule a trip to Quebec City to visit the Ice Hotel.  Well, this year we have an Ice Hotel in our own backyard and so we decided it was time for a visit.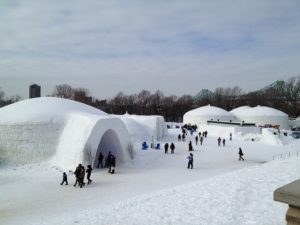 We had timed our visit to be able to benefit from the last weekend of La Fête des Neiges, but by the time we were through the Ice Hotel, we were ready to head back and there was also the matter of a birthday party to attend 🙂
We headed out to Parc Jean Drapeau and parked in the lot.  Full day parking is $16. After a picnic lunch in the car, we headed out to see the Ice Hotel which is located in the Snow Village.  The Village is hard to miss but  signage is not as clear as it ought to be, so ask a staff member for direction if needed.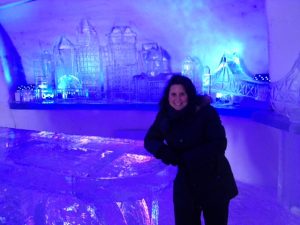 Once down the stairs into the village we headed straight for the main Ice Hotel.  The "lobby" features ice sofas around a fireplace and the "front desk" features a beautiful skyline..all carved out of ice.
We entered the hall with the reddish lights and visited rooms on either side. We kept bearing right as we went through, which took us all the way around until we were back at the lobby again.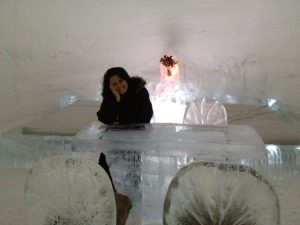 Rooms were mostly blue-lit or red Lit and almost always, you could predict the lighting colour by the velvet drapes that form the room's "door". It was amazing- beds created of ice in various sizes and formations, with real mattresses on which to lie and fall asleep.  Each room also featured a chair or sofa for a seating option.  Rooms are all numbered in the "minuses"- a very cute detail, noticed by my kids.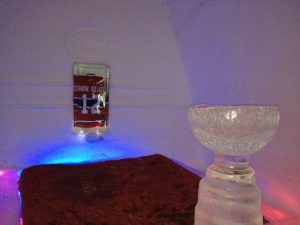 Our favourite rooms was the Habs Room (#-5) which featured a Habs Jersey suspended in an ice window over the headboard, a carving of La Coupe Stanley and another of a hockey player…we like to think it's Rocket Richard, but it's hard to be sure.  There was also a Habs symbol carved into the snow above the jersey and a set of actual seats from the old forum.  LOVED IT!
Other rooms to visit:
#-18 which features a dining room table for four
The "car room" which features a car carved of ice for the kids to sit on.
One of the last rooms which had beautiful branches (real) to decorate the headboards and had gorgeous flowers displayed in Ice "Windows" on either side of the bed.
These last two rooms were in the -20's but I can't remember the exact numbers.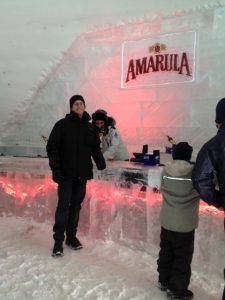 We then doubled back to visit the bar, the restaurant, the "Marché Bonsecours" made of snow and the Ice Chapel.  We thought the rooms by the Ice Chapel would be extra special- but they were similar to those in the hotel. We did not eat on site but restaurant reservations are available.  There is also an 'outdoor' snack bar where you can get hot drinks and quick eats.
Cost of entry into the Village depends on age as well as weekday/weekend. We benefited from the weekend family rate of $40 per family which includes 2 adults and 3 children.  Kids 5 and under enter for free.  Tickets can be purchased online or at on-site ticket offices – "Billetterie" en français :). The Billetterie near the Snow Village entrance had a long line-up but the Billetterie in the Aquatic Centre on the way to the Village did not, so we purchased tickets there.  You can also save time by purchasing online, but you will still have to get your hands stamped to gain access. (Not sure of that would be a shorter line/wait)
All in all, it was a fun family outing.  The kids loved it and so did we. The $56 we spent between parking & entry is not negligible but certainly offered more entertainment value, experience, interaction and fresh air than a trip to the movies!
Thinking this place must be stunning at night.  Would be a great idea for date night, even if just for a walk through & a coffee…Valentine's Day perhaps????
Another thought: Given that the Snow Village is scheduled to be open until March 31st, this would make a great outing during spring break!
For a complete list of prices & more information, click here.  It is also possible to stay overnight, schedule an event or make restaurant reservations visit snowvillagecanada.com for full details.
Have you been to the Ice Hotel in Montreal or in Quebec City?  What are your thoughts?
Have a fabulous day!
Tanya