So none of us wants to admit it, but before we know it, we'll be trying on boots & snowsuits and scrambling for styles and sizes.
Well- not so for my family- we checked out Brador Hiver Winter Warehouse & are thrilled that we did.  Other than boots- we're DONE!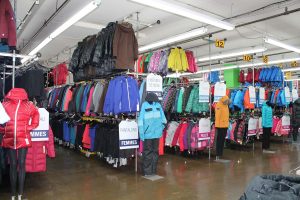 In a nutshell, Brador carries excellent quality winter wear and because it's a prior year's model, sell it at a fraction of the regular selling price. and by fraction I mean 40% OFF.  And THEY PAY THE TAXES.  Please keep in mind that these are premium quality brands are not cheap to begin with…but at Brador, they become affordable.
NOT only do they sell at great prices, but they are fussy about what they carry.  Josie, owner at Brador Hiver Winter Warehouse, walked me through & explained how they will only carry snowsuits for kids that have a rating of 5,000 mm.  "Five thousand what???" you may ask. "mm" is a waterproof rating and 5,000 mm means that the fabric can withstand 5,000 mm of rain in 24 hours before it permeates.  They've got minimum requirements for wind & pay attention to breathability as well.
If brands are your thing: They carry Gusti, Jupa, deux-par-deux, Orage and Lolé, just to name a few.
For those of us with children , we know all too well how not all snowsuits are created equally & that they can…leak. Just like boots. We also know that they can FRAY, especially at the bottoms when they are too long…or at the knees. Well, at Brador, they only carry suits with reinforced knees and hems.
They also GUARANTEE their snowsuits for the winter season (broken zippers, torn knee, loose velcro on sleeves)
What about size?  Ever have to suit up a kid who is short & wide or tall & thin?  Ever end up with a perfect jacket but bottoms that are too long or too short?
If that is the case, they will SPLIT UP A SUIT to make sure your child is fitted properly.
Did I mention they HELP you by fitting your child?  They are beyond helpful- they are also knowledgeable. They know which pieces are suited to which body shapes & sizes, and the suits are all gorgeous!
So what haven't I told you yet?
THE CUFFS: They will make sure that the cuffs fit your child.  If they are too big/loose, they will supply you with additional snaps or velcro that you can sew on to make the cuff tighter.  This is especially helpful when you want your child's jacket to last for 2 years. Cuff will be tighter this year, pushing a longer sleeve up a little higher, and looser next year, allowing the length of the sleeve to do its work. 🙂
Do they sell just jackets or just pants?  OF COURSE they do.  It's not a bad idea to have an extra pair of snow pants at home. Think of the Friday snowstorm resulting in a snow-day off for school.  The best snow play is to be had that weekend, but oops!  the snow pants were left in school on Thursday night before the storm 🙁
SIZES : Everything from infant to adult.
ACCESSORIES: They carry neckwarmers for both children & adults in a gazillion colours.  They have those awesome hats with the flaps that my kids are so into.  They even have the gloves that go way beyond the wrist that some daycares insist upon. Oh- and mitten clips that will keep your preschooler from misplacing those mittens 🙂 Oh – and did I mention that they have a bunch of kids' suits that come with hat, gloves & neck warmer INCLUDED?
BOOTS: Yes, they carry boots, too.  The brand I noticed was Kamik 🙂  That said, we had to leave & haven't even had a chance to get booted-up chez Brador – be we'll be back!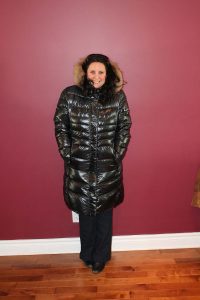 Did I mention that I love my fabulous winter coat???  It's made by Lolé, apparently somewhat of a superstar winter-wear maker, but what I love about it is it's light yet crazy warm & it looks pretty nice, too 🙂  I tried one on made by Orage that was even lighter but my hubs didn't love the look on me so we opted for this one:
All in all, I'd recommend checking them out. Make it a family trip & get everyone suited up.
For more information you can visit their website  at www.bradorhiver.com , their Facebook Page, or just show up at any of the following times:
TUE to THU 9am-5pm / FRI 9am-4pm
SAT 9am-5pm / SUN 10am-4pm
Please note that they are CLOSED MONDAYS.
You can find them at 350 Louvain St West, Montréal | 514-381-8076
Check them out…and feel free to tell them that I said they'd take good care of you 🙂 I'm not so worried.  I watched them in action for about 2 hours, they take good care of EVERYONE.
Happy Shopping!
Tanya