Sometimes I find something that I just HAVE to share. Well, this is one of those cases.
Our family travels a lot by car. We also eat in the car when we're on a long-haul drive. I usually bring 4 rectangular plastic containers to pass the food back to each of the kids who use it as their 'plate'.  The kids also use them to pass the remnants i.e. crumbs, food wrap, fruit peels & cores back to me for disposal. That said, there are somehow still plenty of 'remnants' that make their way onto the floor & the seats…
We use plastic cutlery when we travel and the waste always disturbs me. I have actually been slowly accumulating bamboo pieces that can be re-used…but that's for another post.
Well, I found these trays at Dollarama and I have to say that although they are designed for picnic use, they screamed "ROAD TRIP!!!" to me.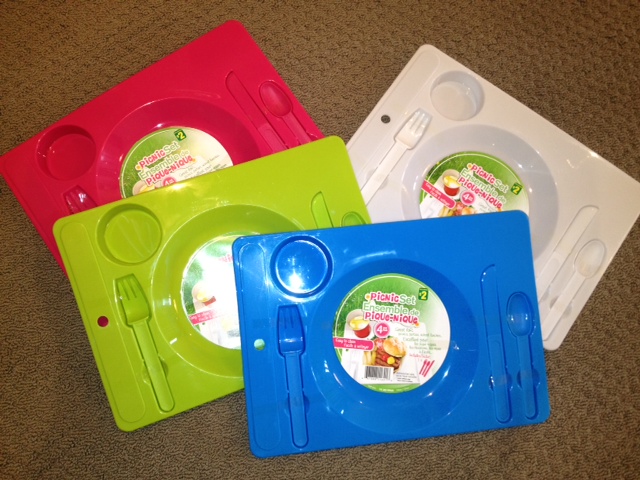 Each tray has an indentation that serves as a plate and another that can hold a beverage (I'd sooner use the car's cupholders for stability, though). It has a plastic fork, knife & spoon that slide out of their respective positions on the tray and stay put when you slide them back in.
They're also re-usable. 🙂
For $2 each, I suspect they will be well-worth it.
I bought one for each of my kids & am excited to use them on our next road trip!
Thought I'd share 🙂
Have a fabulous day!
Tanya