At Shoreline Cleanup, it really does.  Every cigarette butt collected is logged & accounted for and every human butt that shows up makes a difference.
As those of you who read my blog post last week already know, I was recently asked by Coca-Cola Canada to get involved in the Great Canadian Shoreline Cleanup (GCSC) by joining a local cleanup and by generating awareness and involvement through my social networks.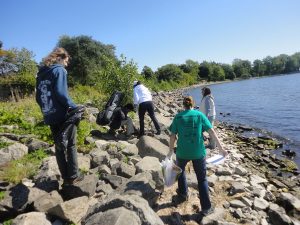 So, I spent the week having fun tweeting about how everybody's doing it and even including little call-to-action rhymes, but I think that the best way to impress upon you how important and great it is to get involved is to share my experience.
Hubby & I joined a Shoreline Cleanup close to home at a time that worked for us. After dropping the kids off at their youth program, we grabbed some work gloves & headed out to Pine Beach. We were greeted by Site Coordinator Caroline Masson, in her green I Love Shorelines T-shirt, and so we knew we were in the right place.
After a few minutes we headed out to the shore. One of us held the garbage bag, another a recycling bag, and Caroline took notes of what we collected. We all collected debris, although poor Caroline didn't get much of a chance because we kept rattling off the number of cigarette butts & random pieces of plastic that we were finding.
We had fun, making jokes along the way. The weather was extraordinary and although we were picking garbage, we were after all, walking along the beach on a glorious day- what could be bad?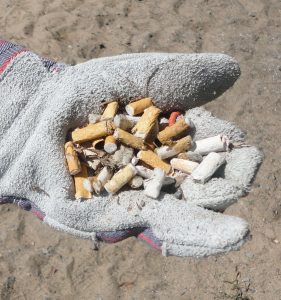 We found some pretty funky stuff, including a few condoms (ugh), a busted-up computer monitor, and a decomposing something-or-other (don't wanna know). Of course there were lots of plastic bottles, cigarette butts & pieces of glass.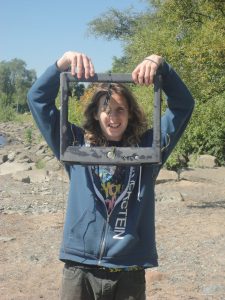 We were actually impressed with what our team of 6 was able to clean up off the shoreline in just a short hour. We all felt really good about what we had done and were surprised by how easy and enjoyable it was to do (condoms & decomposition aside).
I spoke with Caroline after the cleanup to ask if she found it difficult to organize with a young child in tow, and she said that it didn't take much time, was actually fairly easy and wasn't overwhelming at all. She encourages others to take on the role.
So dear readers, take it to heart- there are 5 days left of Shoreline Cleanup- Grab your gloves & GO! As evidenced by our team of six, every bit makes a difference, and actually, every butt makes a difference as well…we collected over 150!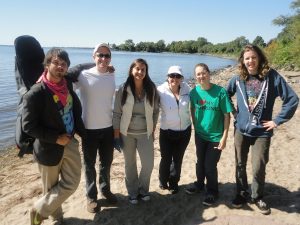 Click here to find a cleanup near you: http://shorelinecleanup.ca/en/search/cleanups .
Shout out to fellow Team Pine Peach members: Zach, Ron, Amanda, Caroline & Jason. Special Thanks to Ron & Moises for the photos!
Please write back & tell me all about it!!!
Wishing you a sparkling day…and some time along the shore 🙂
Tanya