Former Montrealer and fabulous actress Emmanuelle Chriqui (Entourage, Don't Mess with the Zohan) has recently engaged into a Power of 2 fundraising battle with NSYNC's Lance Bass.  They are competing to raise money for their favourite charities.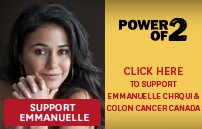 Chriqui is raising funds for Colon Cancer Canada.
It is, as she puts it, "a cause that's very near & dear to my heart".  Having lost her Mom to colon cancer and now watching on as her Dad battles with that very same illness, she describes herself as "more driven than ever" to raise funds for the cause and to remind people that colorectal cancer is 90% preventable if detected early.  She encourages people to go through early screening and to eat healthy.
So how does this work?
Emmanuelle & Lance have entered into a bet: If Bass raises more money for St. Jude Children's Research Hospital than Chriqui does for Colon Cancer Canada, then Chriqui will have to "hit the stage with Steel Panther and sing at the House of Blues on Sunset Boulevard".
If Chriqui raises more money for Colon Cancer Canada than Bass does for St. Jude, then Bass will dress up as PooFu the dog and Chriqui will walk him through LA's Runyon Canyon.
How can we help?
Click through to the Power of 2 website at www.power-of-2.org and donate $2 or more to Colon Cancer Canada
Ask 2 friends to do the same
Share this post on Facebook & Twitter
If you tweet, use #TeamChriqui to let Emmanuelle know you're in her corner supporting the cause!
Follow @PWROF2 on Twitter and retweet posts supporting #TeamChriqui & @ColonCancerCDA
Like and share the Power of 2 Facebook Page to generate awareness of this competition
In addition, you can help yourselves & your loved ones by  remembering the following:
Preventable
Early screening
Healthy diet
I have made my donation and am suggesting that my friends, family and readers to do the same.
$2 and tell 2 friends.  The Power of 2 all around 🙂
Go. Just do it. And then have yourself a wonderful weekend, knowing that you made a difference today.
Thank you.
Tanya