I have a thing for Log Cabins….A SERIOUS thing.
Especially the kind of log cabins with granite countertops and stainless appliances and a fireplace and a hot tub and enough bedrooms so that everyone is comfortable.
Air conditioning in summer is just as important to me as warm & cozy is in winter.
My hubby shares my thing for such accommodations, and so, as it turns out, do my kids 🙂
Last year, we discovered Fiddler Lake Resort and we keep going back.
Here are just a few reasons:
It's 55 minutes door-to-door from our home in the West Island…it barely qualifies for letting the kids turn on a DVD en route!
Fiddler Lake offers cottages in a variety of sizes, number of bedrooms, etc. at varying prices
There are two shared pools – one indoor and one outdoor. kids can swim in any weather.  Swimming kids are happy kids. They are also tired, mellow at-the-end-of-the-day kids 🙂
Most units have a spa (hot tub) and sauna. We are not really sauna people but the spa is fantastic! Many are found on an enclosed balcony which means, rain, shine or snow, you can still use it (and yes, I tried it in the middle of winter & it was GREAT!)
there are some cottages from rent with their own PRIVATE pools, if that's your thing.
Fiddler Lake is in Mille Isles, QC – about 20 minutes away from St-Sauveur which has a plethora of restaurants  & shopping, including a Provigo & a Metro that are just as well-stocked as those here in Montreal. Fiddler is also 10 minutes away from Morin Heights which has an IGA.
In winter you can borrow snowshoes and explore Fiddler's own snowshoeing trail.
In summer  you can go for a little pedal ride on the lake or get a little more active on the tennis court 🙂
In the winter months, we are about 10 minutes away from Ski Morin Heights and 15 – 20 from Sauveur, Avila, Olympia & Mont Gabriel
In the summer months, Parc Aquatique Saint Sauver is only 20 minutes away…
Washer & dryer in the unit – amazing to have with kids, especially for beach towels & ski gear depending on the season 🙂
As for the inside of the cabin, we have stayed in both the Deer Trail 4 bedroom (our favourite!) as well as the Rabbit Trail.  The Rabbit Trail is more or less a one-floor version of the Deer Trail.  The reason we like the Deer Trail is that the basement level tends to be the "kid-zone" where they play, do crafts and watch a movie, while Mommy & Daddy are able to share some quiet time upstairs with a cup of coffee or a glass of wine, reading or just chatting, or indulging in a Netflix binge 🙂
I will share with you some photos to give you an idea of what it's like inside 🙂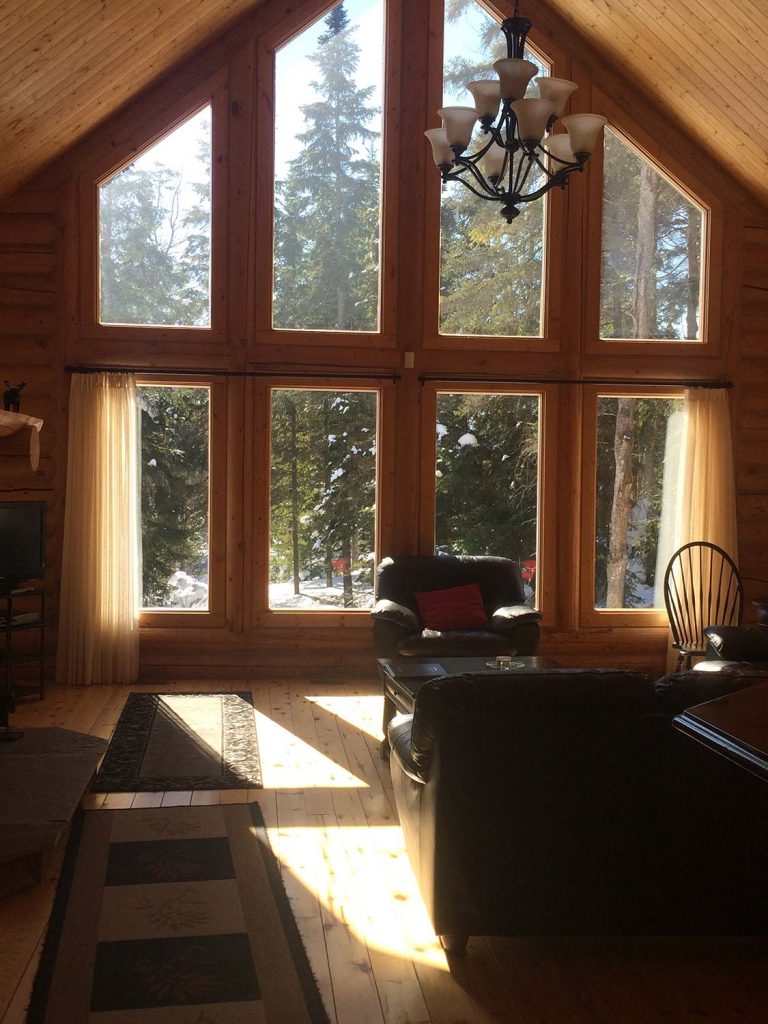 My favourite view: The sun shining through in the morning is the perfect way to start a day away from the craziness of the city 🙂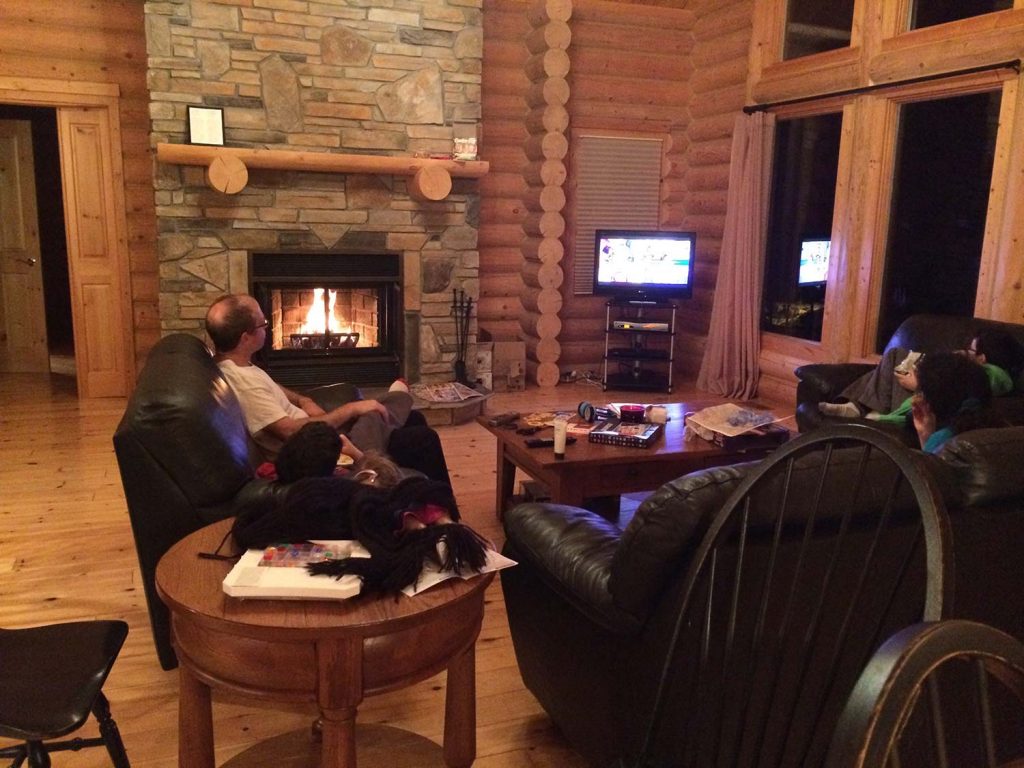 Watching some family Netflix by the fire is the perfect way to end the day 🙂
Fully-equipped kitchen, stainless appliances, granite countertops- Meal prep is a pleasure not a chore here!
Open Concept – while sitting down for a bite, overlook the den & fireplace 🙂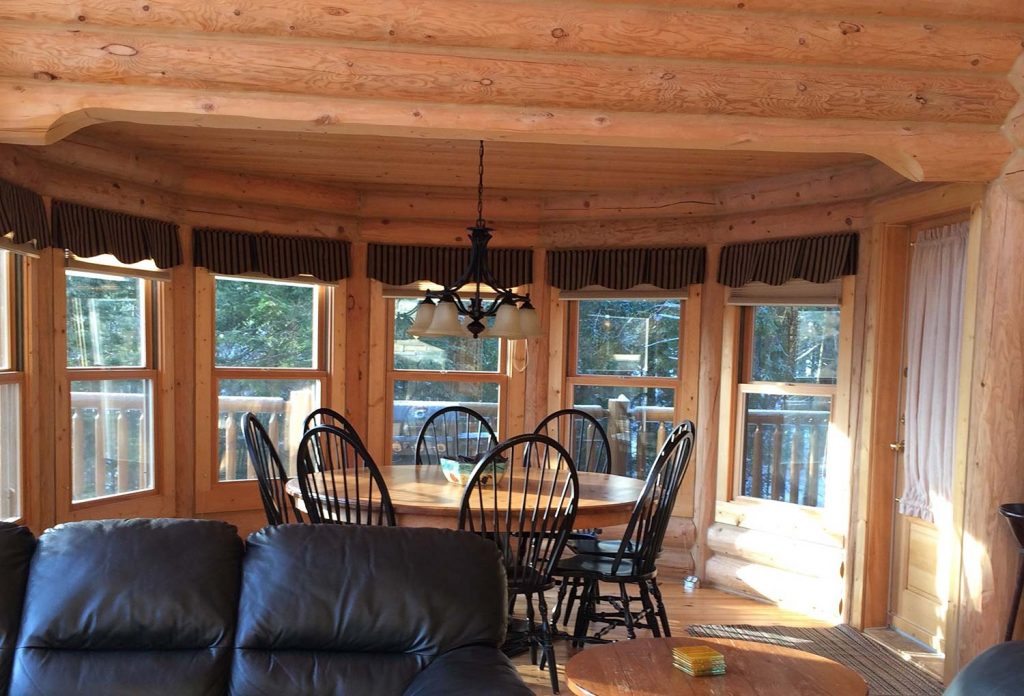 Wondering about Sleeping arrangements?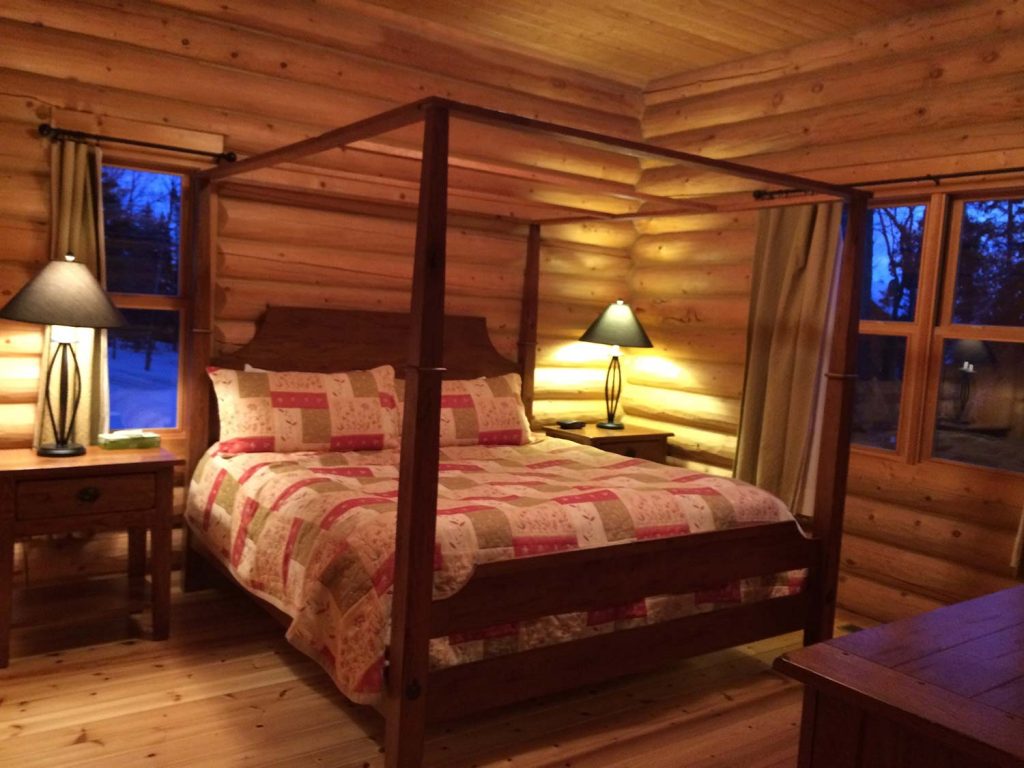 Master Bedroom (Deer Trail)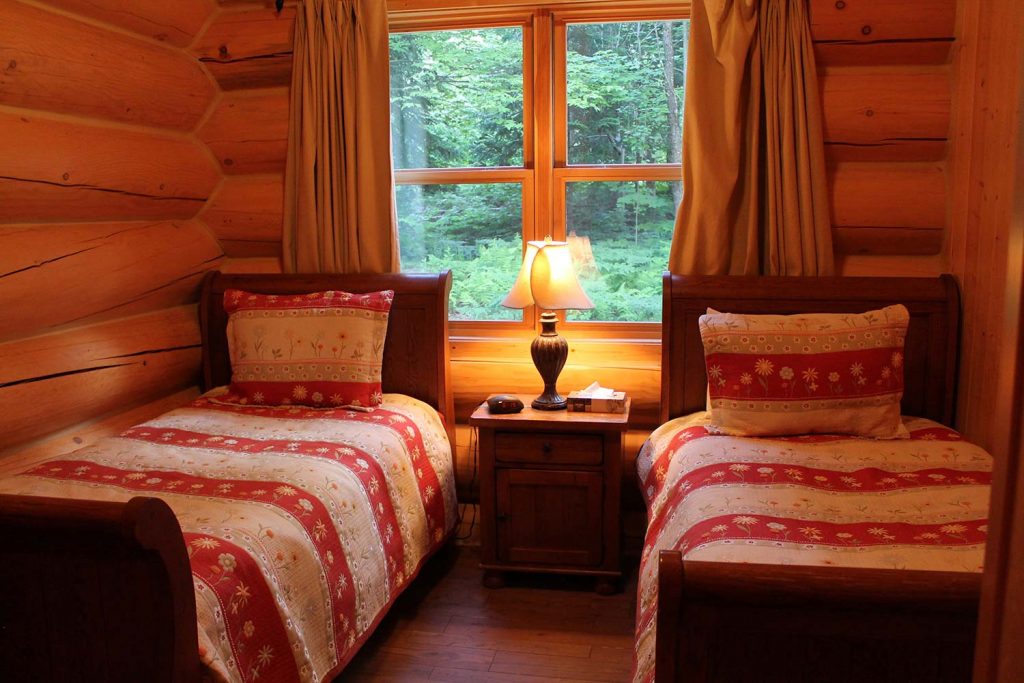 The girls' room (Rabbit Trail main level)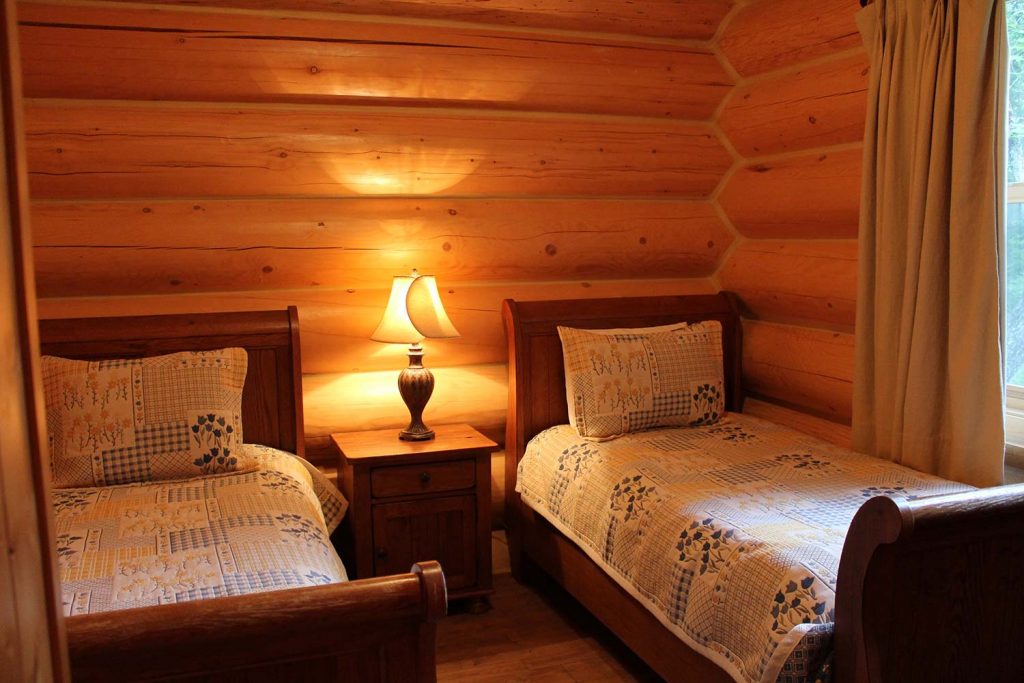 The boys' room (Rabbit Trail- main level)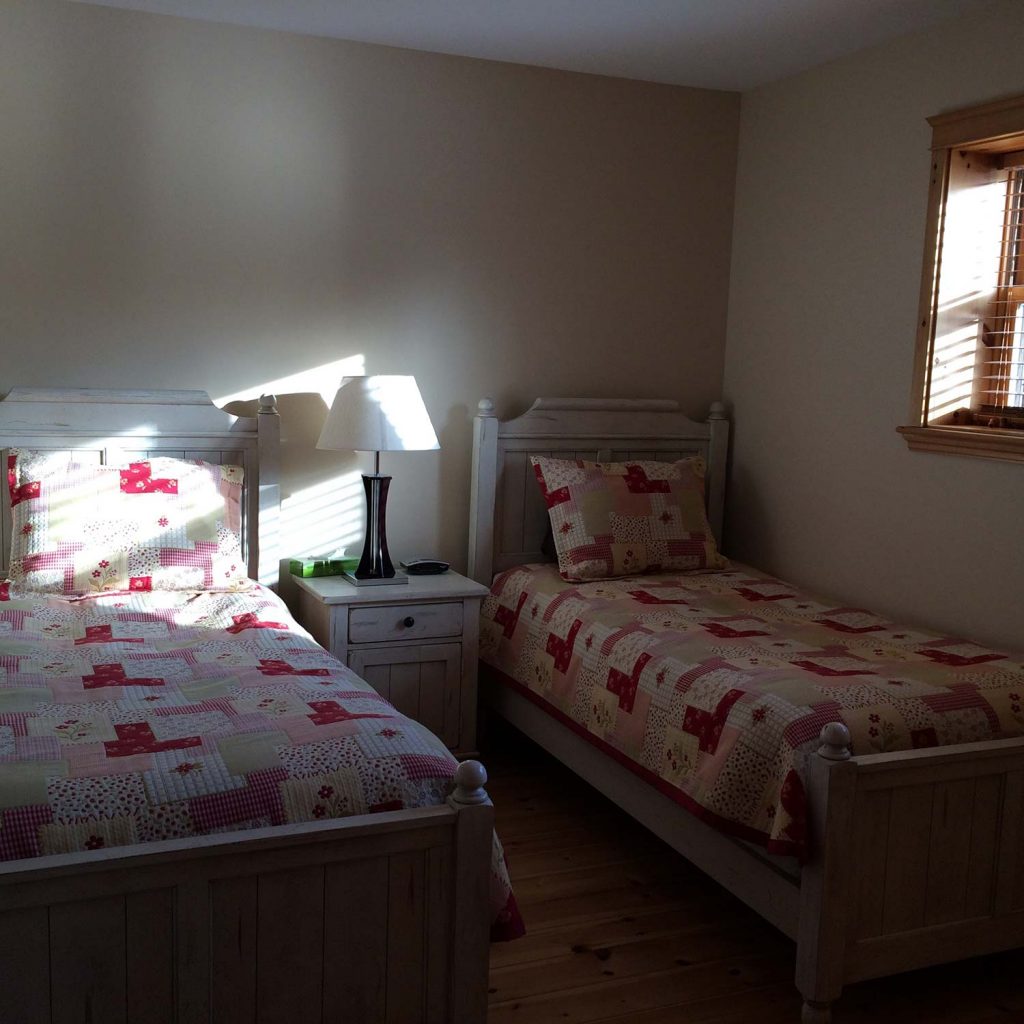 Girls' Room in Deer Trail – Bottom Level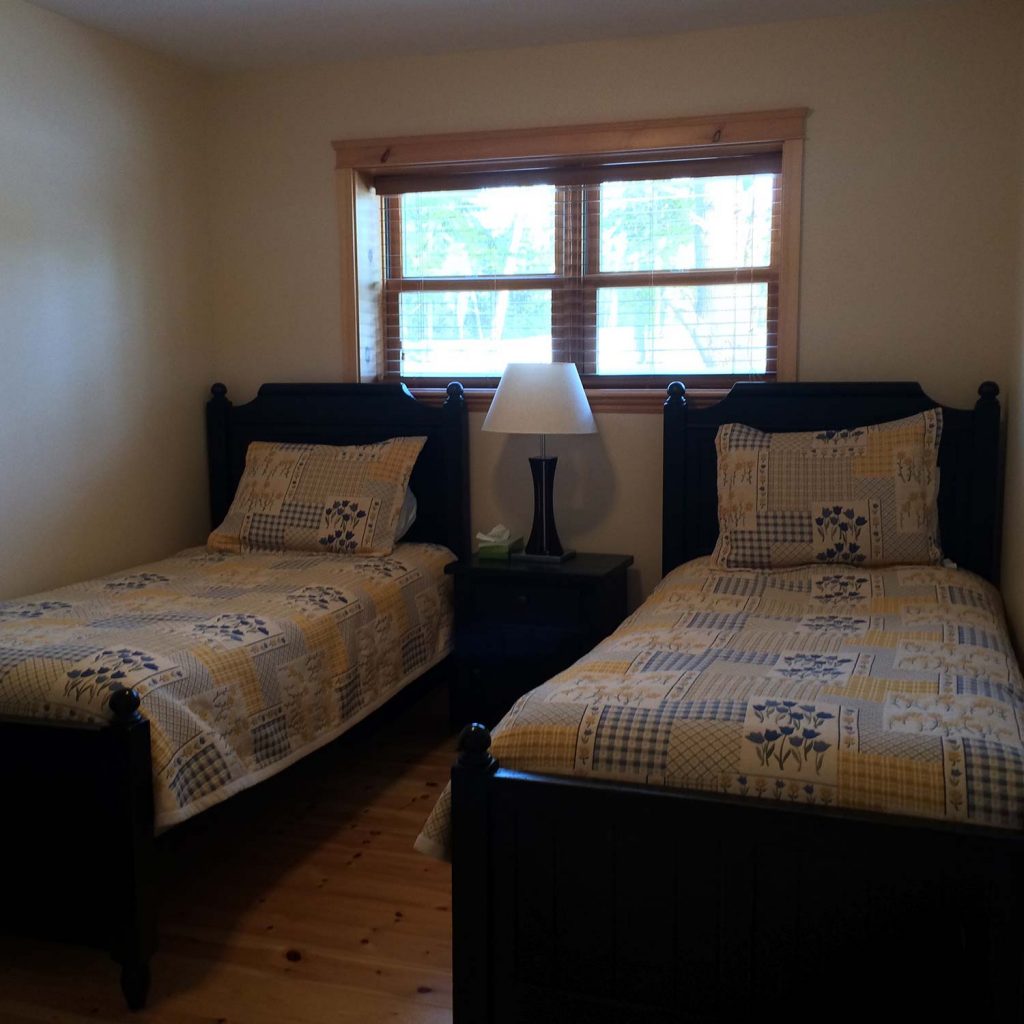 Boy's Room in Deer Trail – Bottom Level
What to do?  Indoors & Out 🙂
The Outdoor Pool – at the main house

The Indoor Pool – at the main house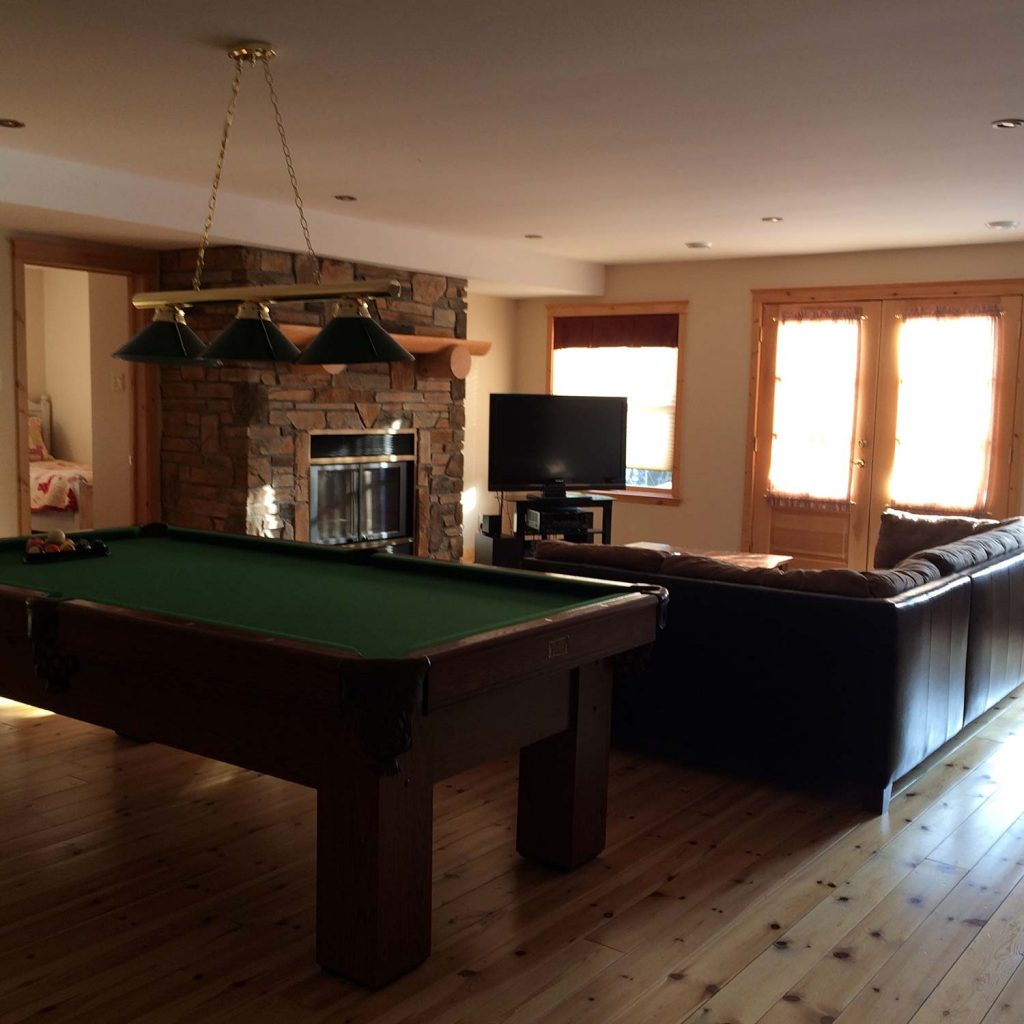 A different kind of indoor pool. LOL!
This was in our Deer Trail chalet. We played pool here, watched family movies by the fire and the kids got to spend kid time down here while Mommy & Daddy spent quiet time upstairs 🙂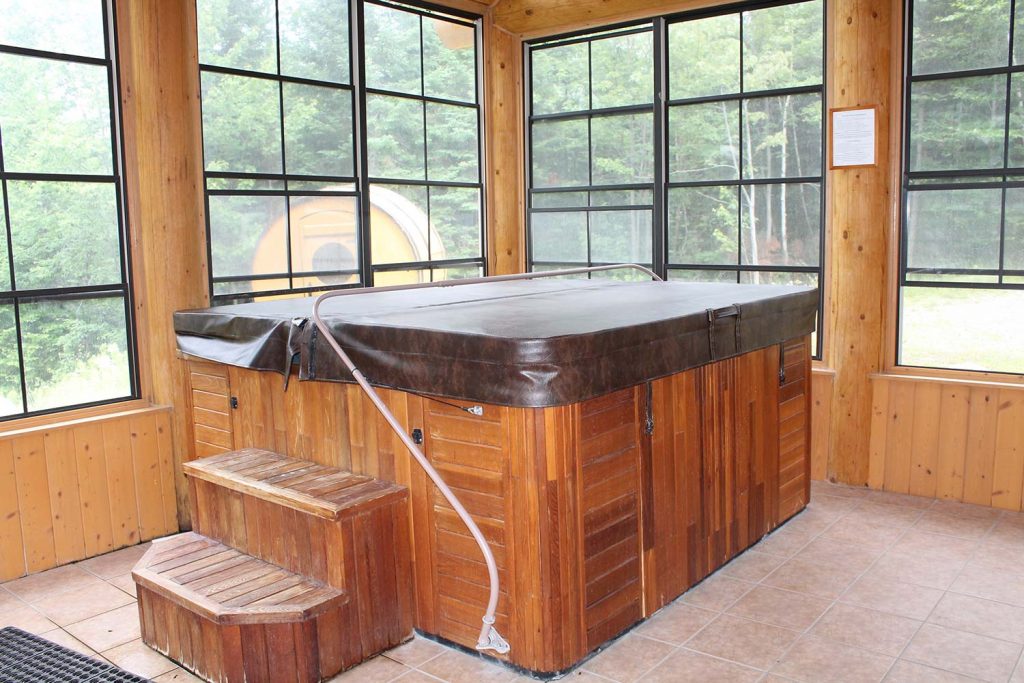 Our very own hot tub/spa on the enclosed terrace (request a unit with spa- some do not have)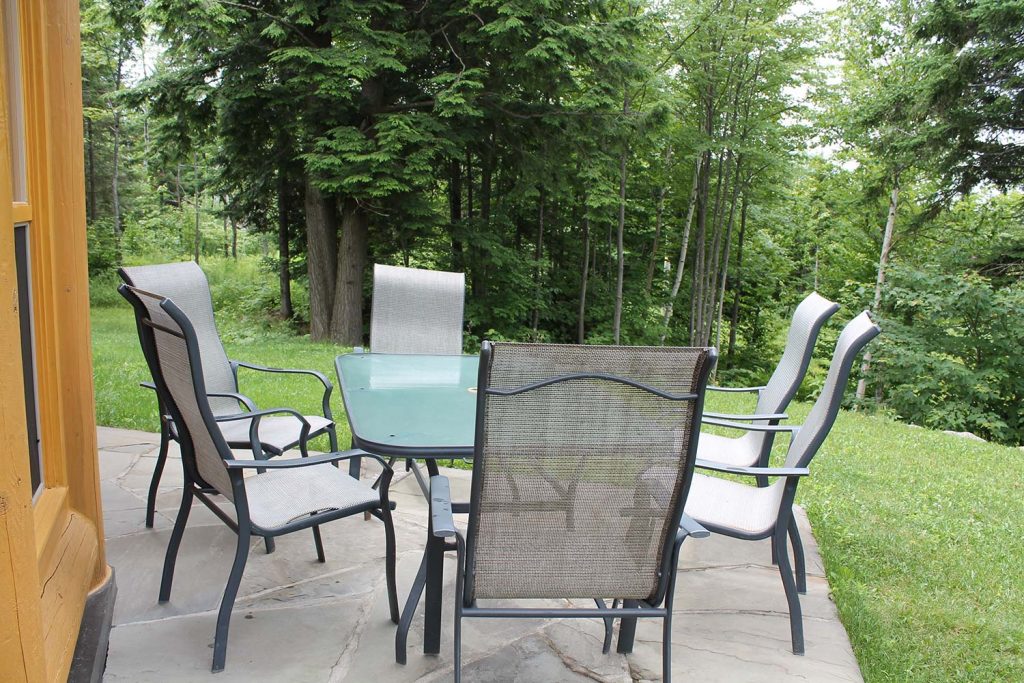 The patio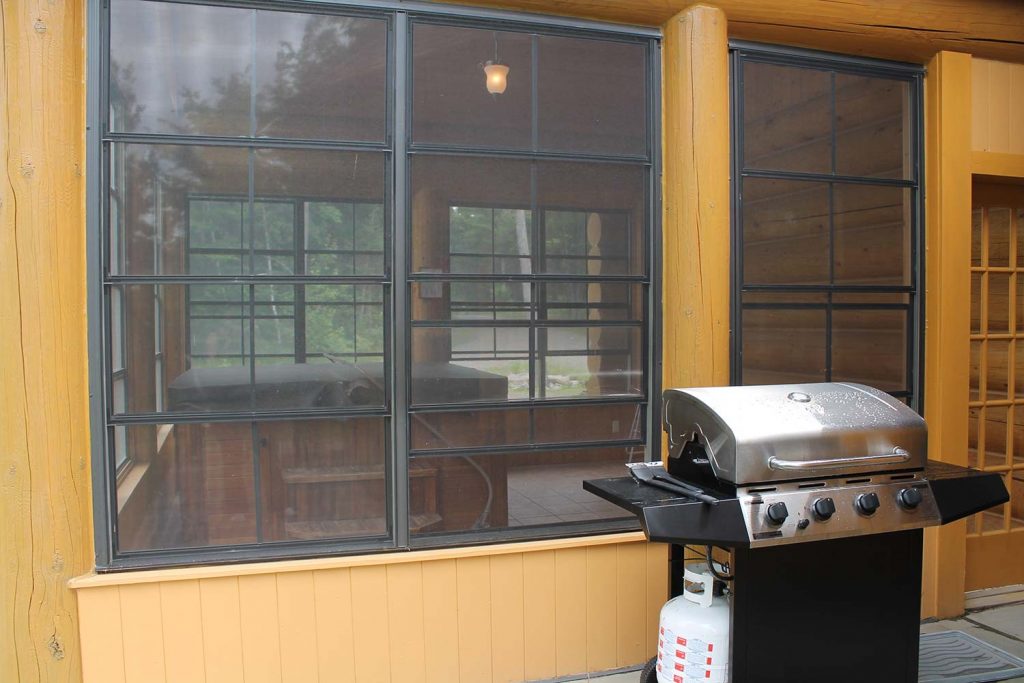 BBQ ready-to-go 🙂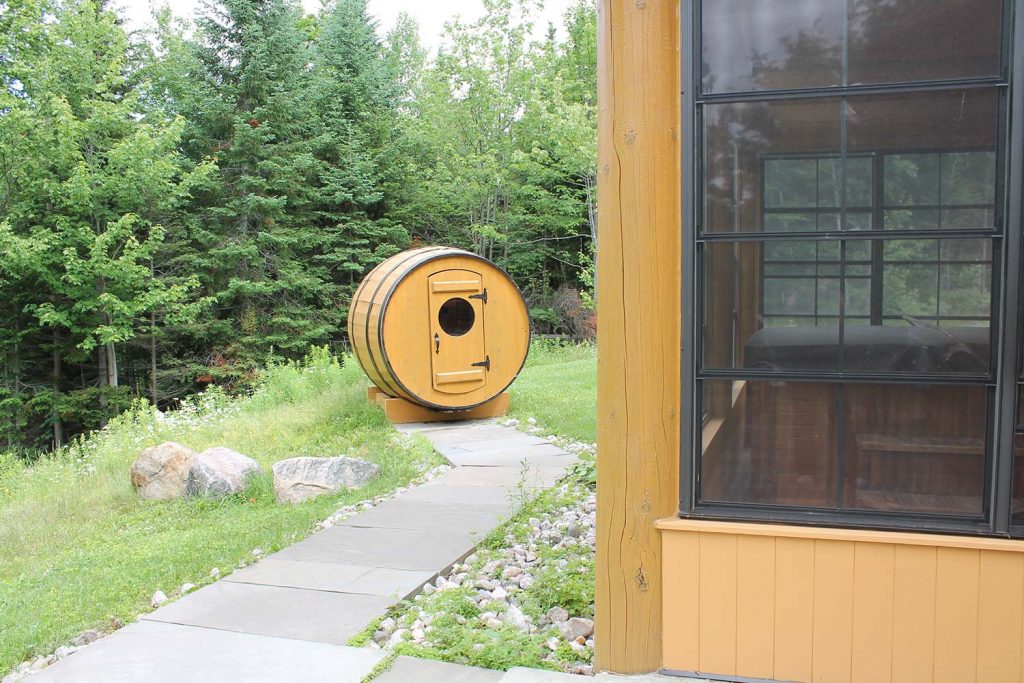 Our very own sauna – It's not really my thing but it may be yours! (If you wish to have a sauna- request it- some units do not have)
Wondering about washroom cleanliness?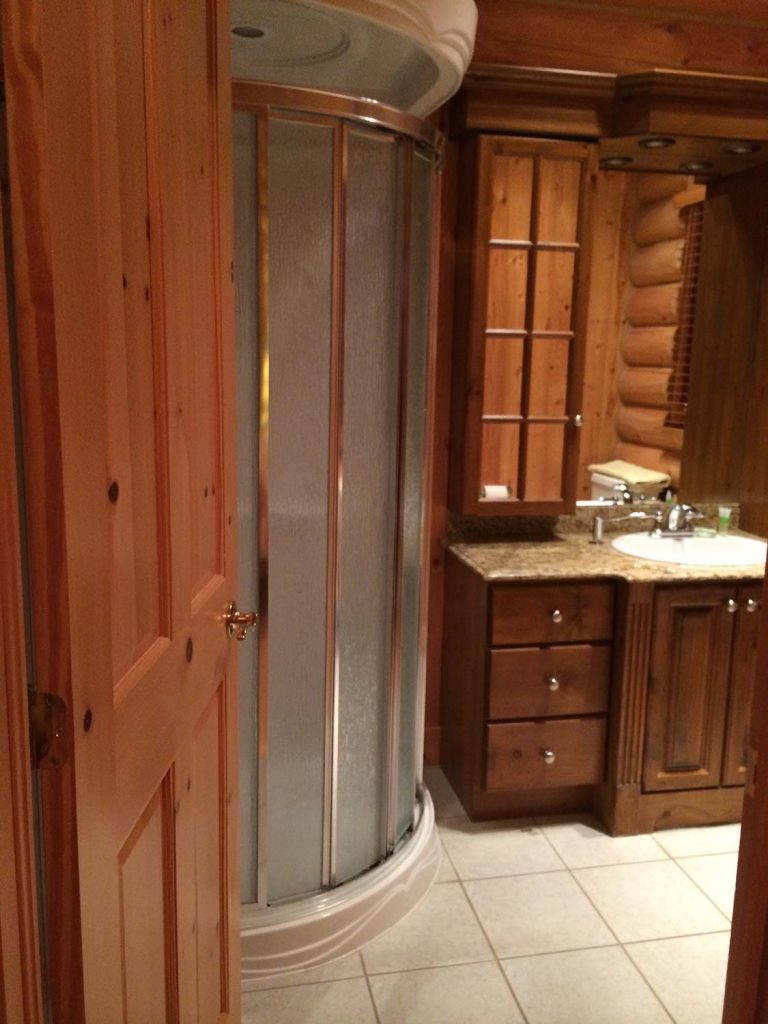 Spic & Span 🙂
Added perks: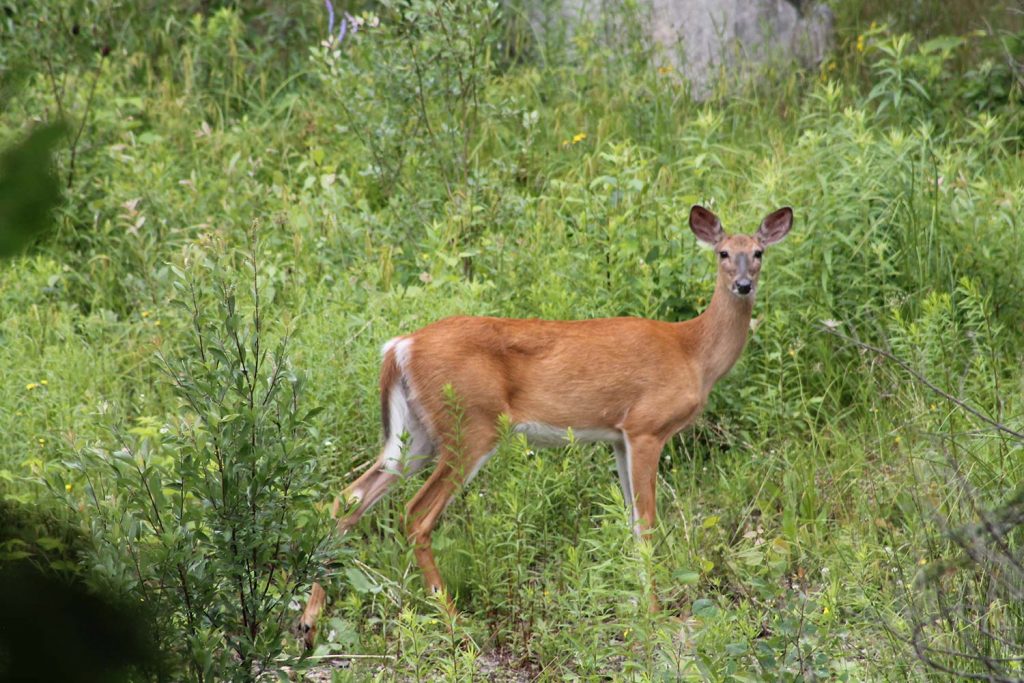 Did I mention that we saw Deer outside our window???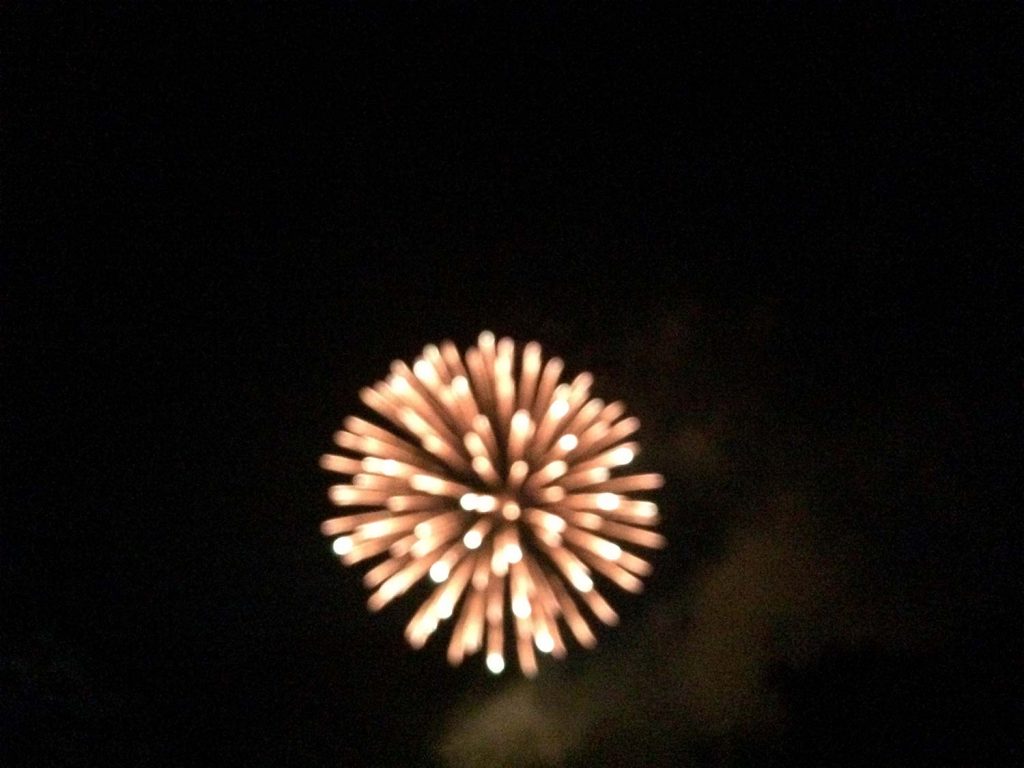 Last summer we attended the fireworks for La Fête St-Jean at Ski Morin Heights 🙂
All in all, Fiddler Lake is our home away from home. When we desire some time away from the city- it's time to book a trip to Fiddler.  I will also add that we have tried other places/chalet rentals but neither the accommodations, grounds nor the service can compare to Fiddler Lake.  Not that we had many issues – but whenever there was anything, it was dealt with promptly and graciously. Not necessarily the case in our other experiences….(I'm being polite about other experiences)
I highly recommend Fiddler Lake to all my friends and family and am happy to recommend it to my readers.  A tip for getting good prices is if you can afford to be away from a Sunday to a Friday, you can often get a great deal- weekends can be a bit more expensive but they have great specials several times per year that make a weekend at Fiddler very affordable 🙂
You can visit their website by at fiddlerlakeresort.com for more information and to see the other chalet styles & options.
Be sure to sign up to receive their newsletter and you will be the first to know about the latest promotions!  (Scroll down to the bottom of the page at the link I just provided, enter your email address & subscribe)
You can also Like Fiddler Lake Resort on Facebook & Follow @fiddler_lake on Twitter
There's a promo going on right now…so check it out and if you decide to book, tell them Tanya from montrealmom.com sent you!  They already know how much I LOVE them 😉 That's why we keep going back!
Wishing you a day where you can look forward to some time away from the everyday 🙂
Tanya