I consider myself privileged to have been able to see Disney's "Beauty and the Beast" ahead of opening day, and I have been busting to share my thoughts about it with you ever since.
Where to begin?
I don't. even. know.
The sets are simply spectacular – I wish that I had better words, but let's just say that I don't normally comment on sets in a movie but it's what I chose to lead with here. That should give you an idea.
The costumes are perfection. Not all are elaborate, but all are simply perfect and together with the sets, unimaginable talent, and a generous sprinkling of Disney magic, they bring the story to life.
Speaking of story…Disney outshines themselves in their role of master storyteller by treating us to MORE story. The film delves a little more deeply into Belle's family history as well as the Beast's, and in doing so, the significance of certain elements becomes revealed. We even get tiny hints of 'back story' for some of the other characters but I won't say more because I don't believe in spoilers 🙂
The characters are incredibly well-developed.  Each and every one of them has SUCH a distinct personality that simply shines through and each of the actors embodies their character perfectly.  What's even more impressive is the way that each and every character adds something that enhances the whole resulting in a final production that is SO much more than the sum of its parts.
About those characters and those actors…
Emma Watson is splendid as Belle. Besides being confident and beautiful and strong, she has the voice to bring it all home.  What really struck me is that she has a way of speaking with facial expressions, most notably her eyes and her lips: One look reveals whether she is concerned or angry, curious or playful, hurt or surprised.  Emma Watson IS Belle.
While Dan Stevens is not recognizable as himself for the bulk of the movie, he is spectacular as the Beast..and THAT VOICE!!! I kept thinking he could play Jean Valjean in Les Misérables.  Stevens also gets honourable mention for his 'facial expressions' – his eyes & the way he smiles (or doesn't) tell half the story…which can't be easy in all that 'getup'. You'll see…
Josh Gad – You'll have to see the movie to understand how he completely takes LeFou to a whole new level and brings so much character and humour to the production.
Luke Evans plays Gaston so well that I found myself despising him. Sure sign that Evans has done his job incredibly well 😉
I am not going to list every single character (Lumière, Mrs. Potts, Cogsworth, Plumette, Chip…..!!!!) because there is SO much more I want to share, but I am going give special mention to Kevin Kline, who plays Maurice. Not only is he simply perfect, but in the first scene that we see him, he could have been channeling the late Robin Williams…and if you loved Robin Williams as I did, then you'll understand that I mean that in the most complimentary of ways.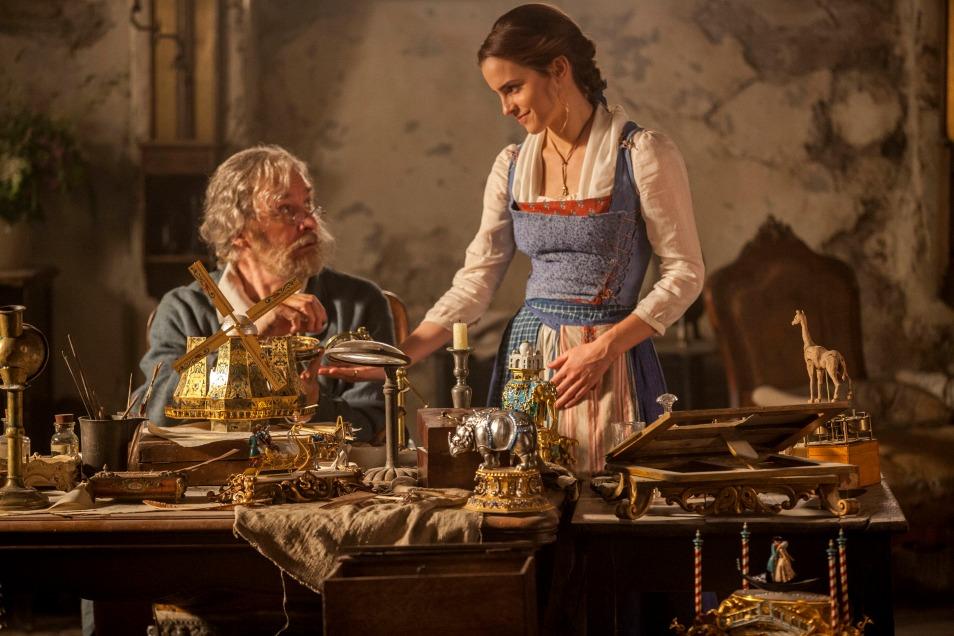 I don't need to tell you that the music is phenomenal. Alan Menken once again creates Disney magic through music. We have all come to love the Disney Classics from Beauty and the Beast over the years, but the live-action version brings us more, including How Does a Moment Last Forever, with one version of that song being performed by Quebec's very own Céline Dion 🙂
Speaking of Quebec, I'm going to add that there are multiple French expressions used throughout the film, which is set in France, and I can tell you that while you definitely do not need to know French to watch the movie, knowing it enhanced the humorous aspect of the film…You'll see what I mean.
Speaking of humour- there are so many laughs in this movie, and if you are like me, there will also be tears. Worthy of mention that some of my tears were simply because I was emotional and overwhelmed with how well everything was done..I'm not kidding- I had tears of awe.
I've been asked by a lot of parents whether the movie is appropriate for young kids. My youngest is 10 and I had no qualms about her seeing it. I can tell you that Disney did a beautiful job in the Beast transformation scenes – they are NOT scary.  I am comfortable recommending the movie to family members and friends with younger kids. The wolves can be a bit scary and there is some weaponry, including guns, but my feeling is that there is little, if anything, that was scarier or less appropriate than the original version.  That said, everyone has a different 'threshold' and the movie is rated PG, so if you are concerned, you may want to check with a site like Common Sense Media who does a great job of listing the elements that would normally be of concern to parents.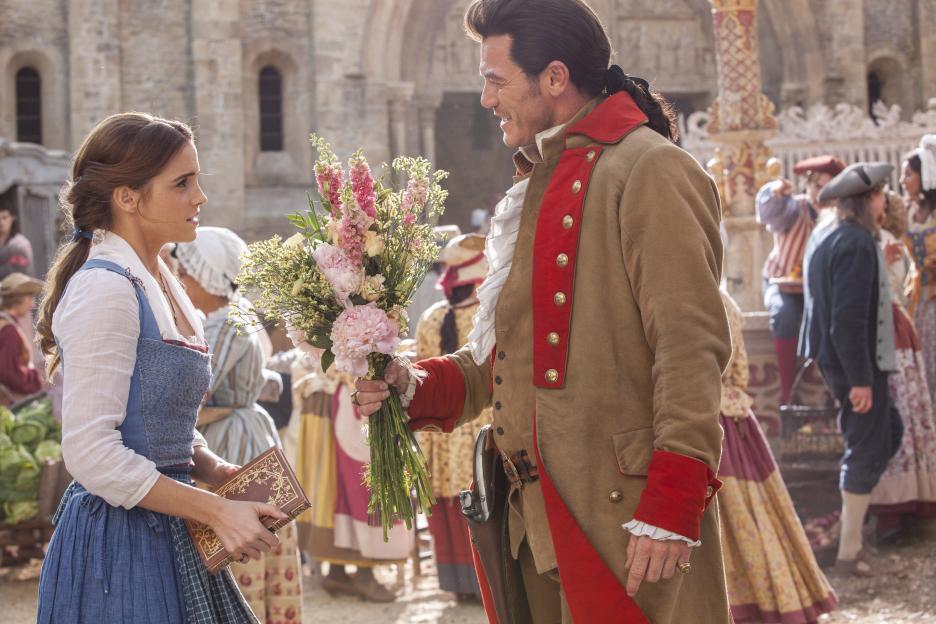 Speaking of kids…we already know that the story of Beauty and the Beast teaches the wonderful lesson that beauty comes from within. I also happen to love that in this story it is Belle who rescues the Beast, and I think that it is an important message to girls everywhere that girls can be heroes, too. Moms everywhere love the fact that Belle is a 'reader', and so do young girls who love to read! While Belle has always been a great role-model for these reasons, I feel that Disney did a very good job of showing Belle's strength even more in this film. I don't want to share too many details, but you'll see what I mean.  Early on in the movie, there is also one humourous line about 'dignity' and I have to share that as a woman and as a parent, I LOVE the message that 'funny' line sends home 🙂
Scenery, Costumes, Talent, Music, Humour, Life lessons and more, all magically brought together in a compelling and entertaining way: That's the magic of Disney.  I think it may also be the magic of Director, Bill Condon 😉
What did my family think?
The imagery was incredible.  I didn't think I would appreciate it as much as I did.

~ The Husband
It was sooooooooo good!!!

~The Teenage Daughter
I told all of my friends they HAVE to go see it!

~The 10 year-old Daughter
More story. More music. More magic.
Ever just the same…ever a surprise, Disney's Beauty and the Beast delivers on the classic story, but with some added surprise elements that IMHO, make it the best version of the story ever told.
I'm going to leave you on that note. Go see Beauty and the Beast. You won't regret it.
Wishing you a weekend filled with Beauty,
Tanya
Disney's "Beauty and the Beast" is a live-action re-telling of the studio's animated classic which refashions the classic characters from the tale as old as time for a contemporary audience, staying true to the original music while updating the score with several new songs. Opens in Theatres Friday, March 17, 2017
All images in the above post ©2017 Disney