You've dropped off the kids, and as the door to the minivan closes, you begin calculating how long it will take you to get to your downtown appointment.
Your stomach grumbles. You suddenly realize that in all the hoopla of finding mittens & packing lunches, you forgot to eat. AGAIN.
I'll just grab a muffin or a bagel on the way. AGAIN… you think to yourself.  You're calculating once more, but this time it's fat & calories.
Sound familiar?  I'm sure it does.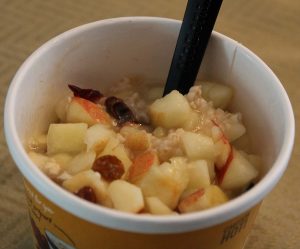 Well, now you can grab something delicious & nutritious while you're on the go.
What is it?  Fruit & Maple Oatmeal from McDonald's. Yes, I said McDonald's. I know…I usually give you good advice but you're wondering if I've lost it this time. Seriously Tanya? SERIOUSLY.
I was just as sceptical as you are. UNTIL I TRIED IT. I was BLOWN AWAY by the fresh cut apples, dried cranberries & plump raisins that topped my cup. I was shocked at the wholesome look and at the satisfying feeling after I tried it.  Like I had done something good for my body as opposed to just shoving something in to 'shut my stomach up'.
Still sceptical?  I understand. So was I, so I did a little investigating. As it turns out, the McDonald's oatmeal offers more fibre (5g) & protein (4g) than a serving of Quaker instant oats (with Apples & Cinnamon). It's also got a whole lot less sodium. If you compare them side-by-side, which I did, there's no question as to which one you'd rather dig into. It's not only the appearance, by the way, it's in the TASTE.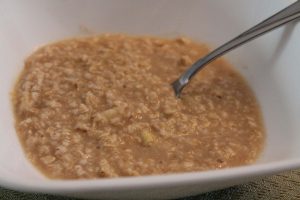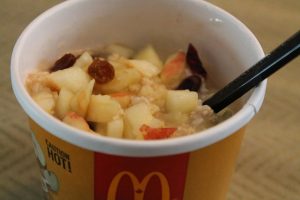 The Quaker instant looks & tastes…well…instant.
The only thing that bothered me at all was the sugar content.
It's to be expected, however that any food containing raisins & dried cranberries is going to have a little extra sugar from those ingredients.
Also, we all know that getting food to go always comes at some nutritional cost, be it fat, sodium or sugar.
In this case I am happy to incur an extra bit of sugar for the benefit of getting a wholesome bowl of oatmeal with all its benefits while I'm on the go.
It's worthy of mention that I did not use the maple sugar packet that comes on the side, as I didn't feel it was needed.  I gave a sprinkle of it a try just so that I could tell you what I thought and it is good, but even if you like it sweeter, I don't think you need the whole packet.
You don't have to take my word for it…You can TRY IT FREE at participating Canadian locations when you a buy any size hot McCafé specialty coffee between January 30 and February 3, 2013 🙂 (And YES, it's available throughout the day 😉 )
And after you do…tell McDonald's Canada what you think. They want to hear from you! (I do, too!)
Follow @McD_Canada on Twitter and tell them what you think using the hashtag #TastetheGoodness between January 30 & February 3rd for a chance to WIN one of the TastetheGoodness prize packs to help kickstart your day! (No purchase necessary, but you'll have to provide the correct answer to a skill testing question 🙂 ) Follow @McD_Canada on Twitter for full details!
Still have questions?  McDonald's will answer them through "Our Food. Your Questions" available at the following link: http://yourquestions.mcdonalds.ca
STAY TUNED as later this week, montrealmom.com & McDonald's Canada still have a few surprises in store for you 😉
Until then – Stay warm 🙂
Tanya