In light of the upcoming holidays, I have created this letter for you to use, adjust and share with friends or family, as you see fit.  Don't forget to change the name at the bottom and adjust book titles to your kids tastes!
Hope you find it helpful 🙂
************************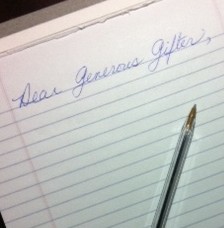 Dear Generous Gifter,
Since the business of gift giving is no easy task, I thought that I might alleviate some of the burden  by offering some gifting guidelines  I recently spotted on montrealmom.com:
(1) Good Things Come in Small Packages: As you are aware, we are considering relocating due to lack of storage space.  Small, easy-to-store items are appreciated and may save our family a lot of money if we can stay where we are.
(2) Less is More: The less pieces, the better.  Toys with many little pieces:
present a choking hazard if they fit through a toilet paper roll, which they almost always do
injure parents who step on them, resulting in screams and sometimes profanity in front of the children (especially jacks-those hurt like a …witch)
get lost…and swallowed… by the vacuum…and jam the system…the system that requires an $80/hour service call that takes 3 hours to schedule and 3 weeks to happen, thus increasing the occurrence of dust and increasing the risk of respiratory issues in the household.
(3) Kids need Room to Breathe: Speaking of dust…Although they're cute & cuddly, stuffed animals collect a lot of dust and present a problem for children with allergies and respiratory issues.
(4) Silence is a Virtue: Enough about respiratory issues, let's discuss auditory issues. On behalf of my spouse & myself, we prefer all things silent.  Silent toys don't suddenly come to life at night when the battery is low, producing cries, giggles and other creepy noises. (Also, there is a slight possibility that if your gift does such a thing it will be thrown out the window to join Elmo's musical storybook and some of his friends).
(5) Never underestimate the importance of Independent Play: Kids need to be able to play independently of their parents.  Games that can be played by children on their own will foster this value…and will also get played more often.
(6) Anti-Gun Legislation: Given that this is strictly enforced, all form of weaponry, including water pistols and violent video games cannot be used in our home, no matter their Gifter of origin.  Please don't waste your money, Dear Gifter, as they will be confiscated by import control immediately and leave everyone disappointed.
(7) For the Love of Reading.  The kids LOVE to read!  The older ones are into into Percy Jackson and Harry Potter and the little one is all about Disney.  Books are small and fulfill all of the above requirements!
(8) Clothing with Character Contrary to popular belief, kids appreciate gifts of clothing, when their latest fave character or music star is plastered across the front, or when it's something new & trendy for our little fashionistas.
(9) The Gift of Choice: The kids are getting to an age where they love to choose.  Giving them a gift card to the book store or to the mall allows them to choose something for themselves.  In deciding on how to use their gift cards, they also learn about choosing how to spend their money wisely. Fun AND educational. Bonus!
(10) Nothing Beats the Gift of Time: A gift card bundled with a certificate for an outing with you to go out and spend it is extremely special.  It will be hard for us to part with our child the day of your outing, but it will prove to be great bonding time for you both, so we will be pleased to accommodate.
We can't thank you enough, Dear Gifter, for all your generosity, as well as the time and effort that you put into each gift.  That's why as soon as I saw these guidelines I thought of you. I do hope that you'll find them helpful.  If you still need additional help, you can find gift ideas on montrealmom.com, as well.  Click here for gift ideas for school-age kids but there are additional lists for kids of different stages- just go into the GEAR/Toys & entertainment section.
Looking forward to seeing you at our holiday dinner,
With much Love,
Tanya
**************************
Do you have any gift giving guidelines you'd like to share? Please do as they'll be helpful to all those who  click through to the post following receipt of this letter!
Have a Terrific Tuesday!
Tanya