As parents we experience a lot of 'moments'. Some are happy, some are sad, some are infuriating and some are exhilarating.
We try to make the most of our 'moments' in order to create lasting memories. Sometimes, we end up creating lasting memories, unintentionally, just because of some quirky thing that we started doing that ends up being our own special 'trademark'. That trademark may not be planned or perfect, but it is perfectly us, in the eyes of our child(ren).
This post is dedicated to my husband who has a great knack for doing this kind of thing…It's his #Dadication 🙂
If you were to ask my kids what's for a bedtime snack the night before an early morning flight, they would answer you in unison: RED LICORICE!
Why? Because years ago, the night before we had to be up at 4AM for an early morning flight, I had said that I wanted everyone to go to bed early. When they were running around upstairs I asked 'what's going on?'… and then I smelled it: Red licorice. My hubby had such a smirk on his face…I was NOT happy…but the kids were.  🙂
Was it a perfect parenting choice in that moment? Probably not, but guess what? The kids have an amazing memory of something fun that their Dad did for them the night before a trip…That's #Dadication.
A few years later we were getting ready the night before another early morning flight…and wouldn't you know what made a mystery appearance once again?
You got it. Red Licorice.
No longer a one-time deal, it's now become a tradition, and something that our kids will forever remember about their Dad. It's no better a decision today than it was all those years ago, but it does make us laugh…It's #Dadication.
Another example is on the morning of exams. As the kids get their coats on and grab their bags to head out for the bus on Exam days, my husband whips out his iPhone and plays 'Eye of the Tiger' by Survivor (the Theme song from Rocky). It's his way of building them up before their exams. They love it. I love it. ( I actually think it's pretty perfect, too). It's another perfect example of #Dadication 🙂
There are lots of other ways that Dads can show their #Dadication…like a mystery bag of cookies appearing in an otherwise 'junk-free' lunch. Like when the bag of chips suddenly appears in the pantry even though it wasn't on the shopping list, or when we suddenly hear the sound of the blender and we know it's time for smoothies or milkshakes.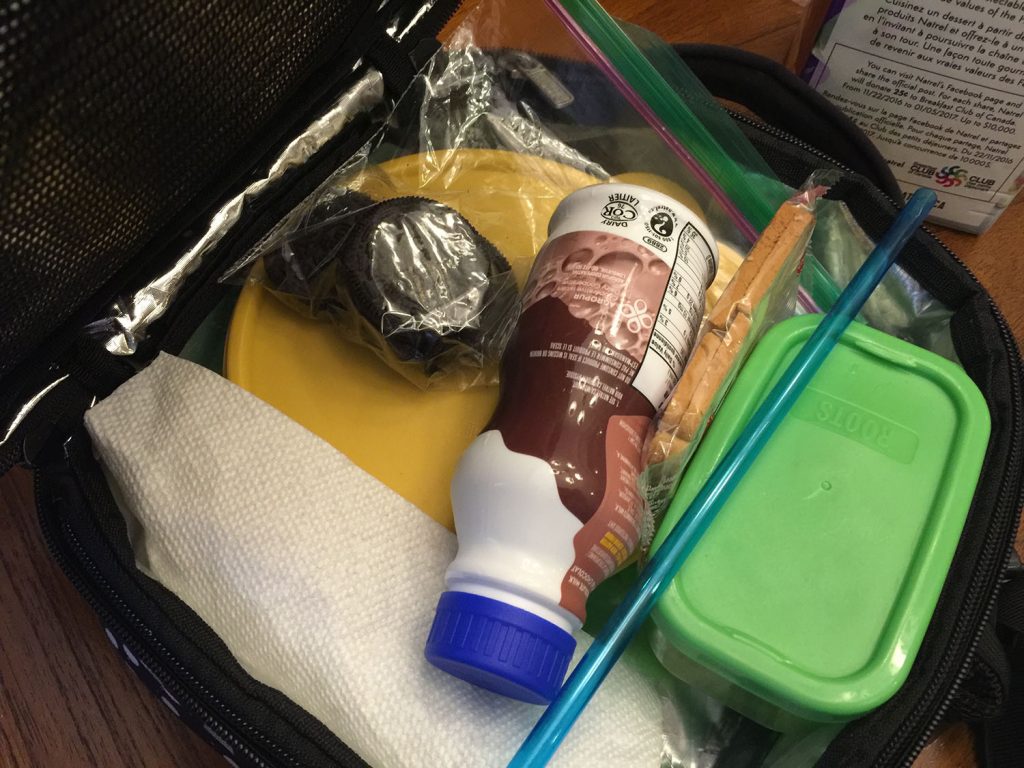 Yes, these are the things that our kids think about when they think about their Dad (and the things I think about when I think about him as a Dad). His traditions. His moments. His funny little quirks… His #Dadication.
And we love him for it.
By the way, I know you're loving the term #Dadication…The idea of celebrating #Dadication is actually part of a McDonald's Canada campaign featuring Etienne Boulay, former Montreal Alouette Footballer, now Dad Blogger at Ma famille mon chaos. He's got all kinds of #Dadication going on!
In fact, that's one of the ways my hubby shows his #Dadication as well: When we're taking a road trip, he'll 'inspire' the kids to be on their best behaviour so that we can pick up McD's for lunch (or sometimes a snack). He just has to suggest it and two of my kids immediately begin discussing what they will & will not include in their beloved Mediterranean Veggie McWraps , LOL! What's kind of funny is that in doing a little research, it seems this type of #Dadication is quite common…but while our family enjoys vegetarian options at McD's, others are in love with the fact that McNuggets as well as the fact that they are made with 100% seasoned chicken breast and no artificial preservatives 🙂 Either way, McDonald's seems to be a common way that Dads show their #Dadication 😉
What about the Dad in your life? (or are you, who is reading this right now, a Dad?) Do you have any examples of #Dadication? I would love to hear your stories!
You can share them in the comments section or via social using #Dadication 😉
Tanya
Disclosure: As a proud member of #TeamMcDs, I am partnering with McDonald's Canada to bring you fun content and brand-related news. As always, the opinions on this blog are my own and can never be bought  🙂