As many of you know I recently wrote about my experience with Tide purclean. I am still loving how beautifully it cleans even though it's 65% bio-based.
Disclosure: I have received products and have been compensated to put Tide purclean to the test. As always, the opinions on this blog are my own and can never be bought
I am also loving that in addition to being committed to developing sustainable products that still perform the way we want them to, Tide is teaming up with WWF-Canada, in support of their Count for Nature movement,  encouraging Canadians to help nature thrive by taking some form of meaningful action to help the environment.
The partnership was announced last week by Canadian singer-songwriter Nelly Furtado, who is also an advocate for the environment.
"As a parent, I consider the products, and their ingredients, that I use at home and with my family, as well as making sustainable choices whenever I can. This includes how we conduct our laundry—washing with cold water, limiting the amount of loads per week and choosing the right laundry detergent," said Ms. Furtado. "I'm thrilled that a brand I trust, like Tide has created an environmentally-friendly laundry detergent that actually works, but is also gentle on fabrics. I'm honoured to team up with them as they launch NEW Tide purclean and work with Tide to bring attention to WWF-Canada's Count for Nature movement, and invite Canadians to take action with me."
Some ideas suggested by the Count for Nature movement include planting native plants or participating in a Shoreline Cleanup ( I did this a few years ago and you can't imagine how good it felt when our team realized HOW MUCH garbage we cleaned up off the shoreline…the number of cigarette butts alone was insane!)
You should know that tweeting your actions can also make a difference! Until November 30, 2016 at 11:59PM EST, every time someone tweets to @Tide, sharing an action they take to help the environment, using both #purclean and #CountForNature, Tide will donate $1 to WWF-Canada's Count for Nature Campaign. 🙂
Tide understands that in order to actually make a difference, not only to companies have to develop products that are more environmentally friendly, but they have to make sustainable products that actually perform well.  That way, more people will use them and the impact on our planet will be greater.
That's why when they developed Tide purclean to be free of dyes, chlorine, phosphates, they also developed it to be hypoallergenic and gentle which makes it a suitable choice for the entire family's laundry 🙂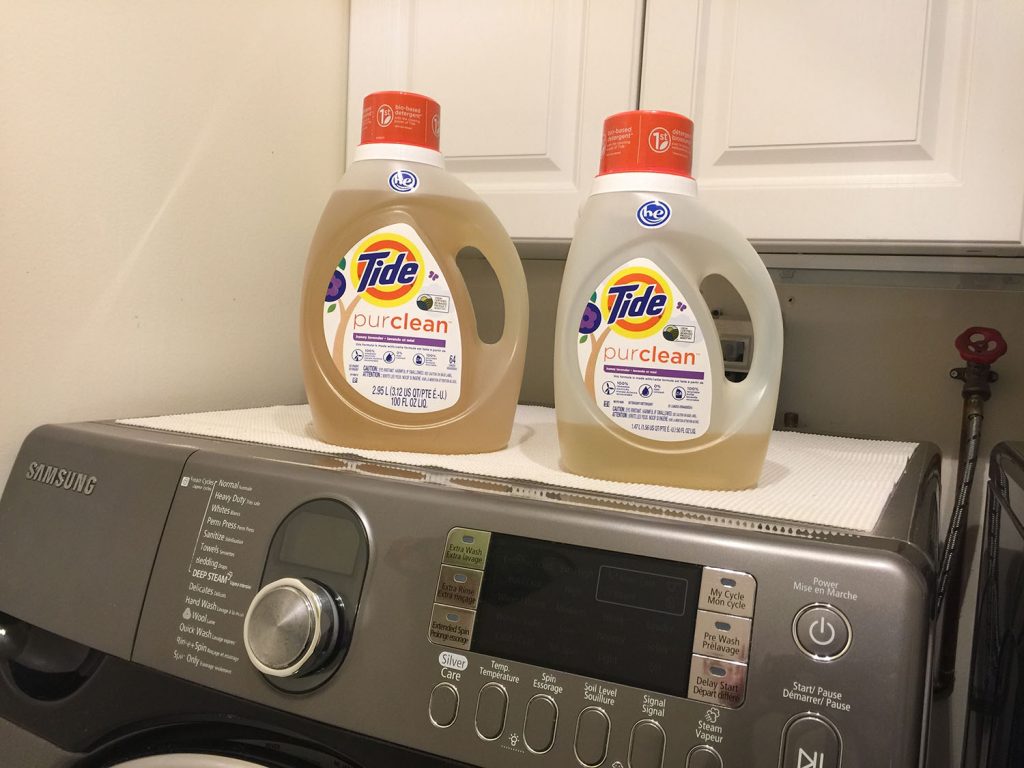 I can personally vouch for the performance of Tide purclean. I was impressed when it took out my tomato stain & even more so when it got rid of an oil stain!  ( You see that second, larger bottle?  That's the one I bought on my own AFTER I was happy with the performance of the Tide purclean I was sent to try out!)
I am also impressed with Tide's decision to take an additional step forward with the Count for Nature movement.
I encourage you to to check out how you can make a difference!
Give Tide purclean a try…I suspect you will NOT be disappointed 😉 Click here for a $2 coupon you can use to buy some. FYI it is available in the Honey Lavender scent that I have tried as well as in an Unscented version.
To join WWF-Canada's Count For Nature movement, please visit: wwf.ca/CountForNature_purclean
Looking for a little more information about Tide purclean and Tide's commitment to sustainability? I encourage you to visit:http://tide.ca/purclean.
Wishing us all a sustainable, porcelain future where we all count ourselves in for Nature 😉
Tanya