Just over 2 years ago, I was invited to try out Provigo's new grocery pickup service – known in Quebec as Click & Go…and I LOVED it! I wrote a post about it then and am editing it now in order to re-share it in light of everyone in self-isolation and quarantine due to COVID-19.
While delivery service is likely the ist option for anyone doing groceries, this option still beats going into the store. You can remain in your car, text the store that you have arrived at your set time, and the groceries will be brought outside to you.
For the seniors in your lives, some of whom may be sheepish to order online- then go over what they need by phone and order online for them, again, ideally for delivery, alternatively for pick-up via Click & Go. 
So…What exactly do I LOVE about it?
Let me name just a few things:
The convenience of ordering WHENEVER I want to from WHEREVER I am and being able to pick up my order at a time that makes sense for me;
The fact that as long as the time slot is available, I can order to pick up in as little as two hours from the time I place my order;
Having everything brought to my car – All I have to do is park in one of the designated parking spots, call the number displayed on the sign in front of my car and my groceries will be brought out to me 🙂 Not only is this a huge time-saver but this will be even more appreciated in the cold winter months!!!
The fact that my PC Plus Points are linked – I earn my PC Plus points and can benefit from my offers – and that saves me money 🙂
The fact that there are so many stores where this service is available in and around Montreal, including my local Provigo 🙂 While I actually believe that if your local Provigo does not offer the Click & Go service, it may actually be worth driving to one further away ( especially if you can avoid waking up napping babies in the back seat in order to drag them into a grocery store), it's still even better knowing that your pick up is just a few minutes away.
That you can create a 'permanent' shopping list in your account to make ordering faster than ever- just go to your list and click how many (if any) of each item that you want. Saves you 'browsing time' 🙂
That my local Provigo carries Kosher Meat and that I can order it online. This is not a concern for everyone but it is a concern for me. The fact that I can order my meat in advance and know that I will be able to pick it up at a certain time will alleviate the stress of wondering whether or not I will find the cut of meat I am looking for and worrying about whether or not I may have to drive into the city to find it;
The fact that when I placed my first order, Rasha from the store called to inform me that the meat I ordered scanned as 'expired'. She further explained to me that the meat was not in fact expired but that the expiration date on the meat I ordered was 3 days away, and that they don't usually pack meat for 'Click & Go' orders if the expiration date is less than 5 days away, which sets off the scanner to advise that such meat should not be packed. That said, the meat was really NOT expired. She offered me the options of removing the meat from my order, accepting the meat which would expire in 3 days, or changing my pick up time to later that day when they would have received a fresher batch of meat and repacked my order with meat that would expire in 5 days (or more). I chose to take the meat as the 3-day-away expiration date did not bother me, and I can tell you that the meat that I received was of excellent quality, freshness and taste!
The fact that Rasha also asked me about the Granny Smith apples I had ordered. She thought that the bag of organic ones looked better and asked if it would be ok to substitute them (same price). I readily accepted;
These last two points get extra-honourable mention because that phone call from Rasha and the care and concern that she put into my order completely BLEW.ME.AWAY. I actually picked up the phone to call my mother-in-law, my Mom, my husband and my friend afterwards to tell them about it – that's how blown away I was!
The fact that Provigo carries President's Choice including my all-time favourite store-bought Samosas 🙂
The fact that I can use my own grocery bags, if I so desire (which I chose to do!)
The fact that when Rasha brought out my order, she also brought me a complimentary "Click & Go" shopping bag which included a few recipe cards, a banana and a bottle of water ( It's almost like they knew that these are my go-to car staples, LOL!)
The fact that this service is not only great for generally busy people but also more specifically for:

Moms of small children who would rather let the kids nap in the car while driving to and from the store to pick up their groceries ( and not have to unbundle them in the store in the winter, only to bundle them back again to get them back to the car)
Senior citizens who (when not in isolation) can benefit from assistance placing groceries in the car and who, in the cold winter months, can drive from their garage to the pick up area and back without being exposed to too much cold (other than opening the car window / trunk)
I know that you still have questions (as I did)…so let me just get right to it:
Q: Do I have to order within a specific time frame?
A: You can order whenever you want, from wherever you are. The only thing you have to keep in mind is that the Provigo team requires time to prep your order, so the soonest you can pick up is the next available time slot which is at least 2 hours after placing your order. Also, since the last pick-up time slot of the day is between 5-7 PM, then if you order after 3 PM, the next available pick up time would be in the morning. Check your local store to confirm available pickup times.
Q: If I get interrupted in the middle of making my order will I lose my whole order?
A: Your items remain in your cart for as long as you remain signed into your account. This is HUGELY important for me because I get interrupted at least 20 times each day, so it is highly unlikely for me to be able to sit down and complete my order in one feel swoop. I am more likely to start at the office, continue in the waiting room at the doctor's office, continue after dinner for 5 minutes and complete with my eyes closing just before drifting off to sleep after midnight.
Q: I'm concerned about someone else choosing my produce and meat…Can I really trust them to do a good job?
A: I was equally as concerned and not only did they choose beautiful produce and meat, but since my experience with Rasha and her phone call (that I mentioned above), I now have faith that the staff at Provigo are putting the same care into choosing my order as they would for their own families. I also love that there is a "Note" section where you can make special requests e.g. "Please choose green bananas, as we will only eat them in a few days"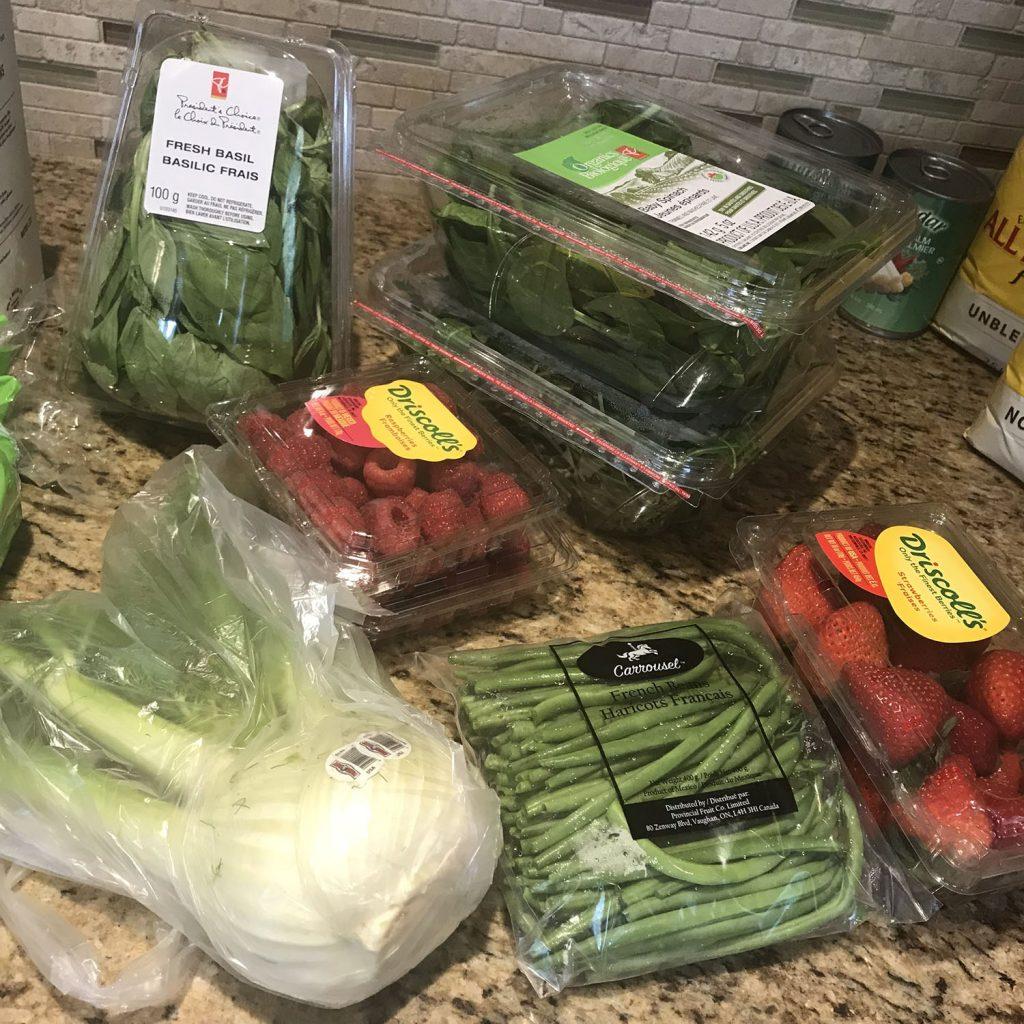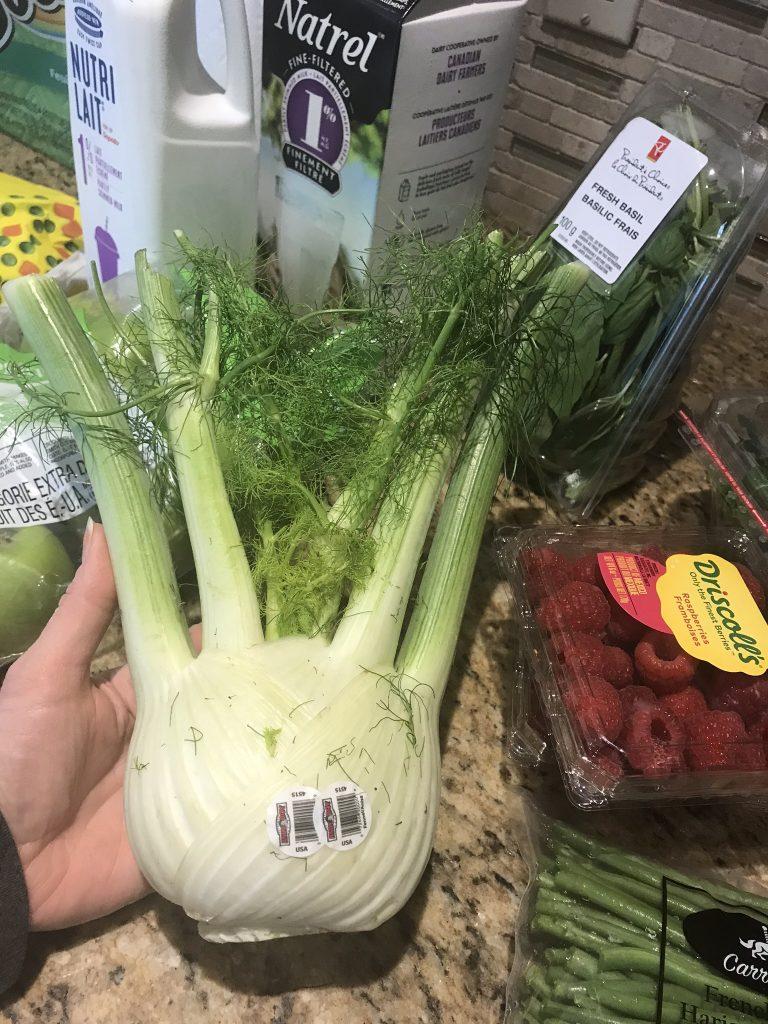 Q: Does my local Provigo offer this service?
A: You can click here to visit the Provigo.ca website and enter your postal code to find out 🙂 
Q: Are the prices the same online as in-store?
A: Yes they are! That said, there is normally a minimum $30 order and a $3 to $5 fee for using the 'Click & Go' service, but I find it absolutely worth it.  That said: I understand are being waived during the time of the COVID-19 pandemic.  Please do not hold me to this as things are evolving so rapidly and may have changed at the time you read this post.  Regardless, even if the fee is applicable, it is worth every penny, especially at this time. 
Q: Are we supposed to tip?
A: At this time it would be recommended NOT to Tip so as to minimize close contact between people. I asked that question under 'normal circumstances' and was also told that NO, we are not supposed to tip. That just makes me feel even more that the nominal $3 service charge is a 'real' $3 and is beyond worth it given the time savings and convenience.
Q: Is there any way that the service can be improved?
A: There are a few things that I felt could be 'tweaked' but none of them would deter me from using this service again ( and again, and again…). I will share with you so that you know what to expect:
I would LOVE to be able to shop for Joe Fresh clothing online and have that delivered to my car as well. This is not currently an option;
When I first started making my order, I didn't realize that not all of the fruits and vegetable options were on the 'carrousel' of featured items, and that I may actually have to search for items by name. For example, I wanted to buy fennel, but it was not showing up on the carrousel. When I searched for it, I found it readily. The good thing is that if I add these items to my saved 'shopping list' then in the future I won't have to search for them at all 🙂
I found that when I searched for an item, or an aisle, that I had to go back 'home' to get out of the filtered search. This was a bit annoying, but not the end of the world. Also, this problem would be solved if I were shopping off of my pre-saved list, which is what I intend to do moving forward.
Once you try it, I hope that you will come back and leave me a note in the comments section to let me know how you liked it and what you did with the extra time you had because you weren't roaming the grocery store!
Happy Shopping!
Tanya
Disclosure: Although I had been compensated for my original post in 2017, when I originally tried out Provigo's Click & Go Grocery Pickup Service, I have not been compensated to edit and share this post at this time. I will only ever share with you products and/or services I believe in and I truly believe that this service, at this time, is a true lifesaver. All opinions contained within are my own and cannot be bought 🙂