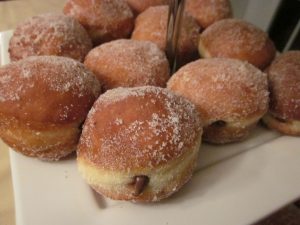 As the holiday season fast approaches, we are already thinking about what to serve for our family celebrations.  This delicious treat will work well at any celebration.  I will point out that they make excellent 'sufganiyot' – the doughnuts traditionally served for the holiday of Hanukkah (although traditionally they'd be filled with jam).  I can't say enough about this non-traditional version. Not only are they beautiful but they are absolutely scrumptious.  My guests just can't get enough.
As you know, I believe in giving credit where credit is due: I found this FANTABULOUS recipe in a Canadian Living magazine in December of 2007 and it has been our family tradition to make them for Hanukkah ever since. That particular issue still sits on my bookshelf, lest I somehow lose this precious recipe.  Thank you Canadian Living, for adding this non-traditional, traditional treat to my family's holiday repertoire!
The photo above is my own picture of the recipe brought to life by me… which means that if I can make it, then you can, too!  I will admit that my T-Fal Deep Fryer makes the task and clean-up much easier 😉
I was able to locate the recipe in the Canadian Living site, but before I share I just wanted to add one thing:
BONUS montrealmom.com TIP: The excess bits of dough left over after cutting out the doughnuts can be cut into 3-4″ pieces (they will be oddly shaped, that's ok), fried,  and then rolled or dipped in Cinnamon Sugar immediately after removing from the hot oil..ADDICTIVE!!! (especially when they're still warm). To make cinnamon sugar, Combine 3 Tbsp. sugar with 1 tsp. cinnamon.
I'm not generally an advocate of deep-frying, but there are a choice few exceptions and this is definitely one of them!!
UPDATE Dec 2017: There is a new link to the recipe on the Canadian Living website.  I have however noted two typos in the recipe that will affect your preparation of it, so please note that:
Lines 4 & 5 call for

1/2 cup 

warm milk

1/2 cup 

warm water

This is WRONG- It should say 1/2 c. warm milk OR 1/2 c. warm water. ( Please note that this has nothing to do with the 1/2 c. warm water in line 1 of the recipe which is for the yeats starter. That remains part of the recipe.

Similarly, Recipe calls for:

4 cups 

canola oil for deep-frying, enough to submerge food

4 cups 

safflower oil for deep-frying, enough to submerge food

4 cups 

vegetable oil for deep-frying, enough to submerge food
Again, there should be the word "OR" in between each of these…you only need to choose one!
And now…without further ado…please click here for the recipe 🙂
Do you have any twists on traditional holiday foods that you'd like to share?  Would love to hear from you!
Have a marvelous day & enjoy!
Tanya