Several months ago, I was invited to meet with a brand who developed a line of skin care products that I had not yet heard about…it's called skinfix.
I actually almost passed on the invitation but was intrigued that the products are all-natural and further intrigued that the product is Made in Canada.
I was WOWED.  The vast selection of products was spectacular and the story behind the product line was the best.  I love the stories behind brands…don't you?
You can read the whole story on their website, but essentially, the 'recipe' was developed by Thomas Dixon around 1850 in England and passed down from generation to generation, until it ended up with his great, great, great, granddaughter Karen, in Halifax in 2006 who developed the Skin Fix line of products based on the family 'recipe'.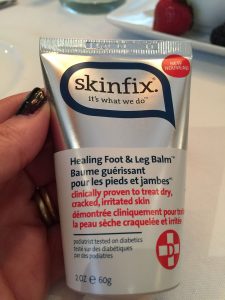 After the event, I received a goody-bag filled with lots of different products from the skinfix line.  The one I was most excited to try was the Healing Foot & Leg Balm.  I'll admit it- my feet are way.too.dry. Whenever I get a pedicure, the pedicurist comments. I'm well-aware of the necessity & benefits of self care, I'm just not all-that-good at actually practicing it, LOL!
I was AMAZED at the results I saw within days of using this balm. I kept meaning to blog about it, butI never seemed to get around to it.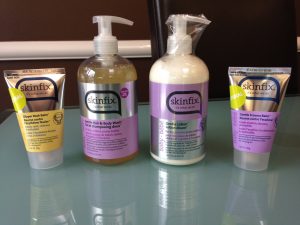 Recently, I was asked to review the skinfix Baby line.  Given that I don't have a baby, I enlisted the help of my sister-in-law to be my "Tester Mom".
She was actually the perfect choice, because she is actually quite particular about what goes on her kids' skin.  Like so many Moms, she leans towards all-natural products so she was really excited to try skinfix.  Its formula uses natural botanicals and is free of nut ingredients, fragrance, soy, parabens, phthalates and sulfates that won't strip away baby's natural moisture, promising a no-rash bath time solution 🙂
She tried the baby wash and her feedback was as follows:
"Skinfix: the 3 products tried tonight are incredible! Body wash / shampoo is lovely.  All 3 tried it. Comparable to my beloved *other brand* and after 5 years of devotion we will likely switch.  Loved the product and also the Made in Canada factor"
I can tell you that when my sister-in-law refers to her "beloved" brand – she does NOT use that term lightly. That was the ONLY brand she used on her kids…so this was a BIG compliment to skinfix.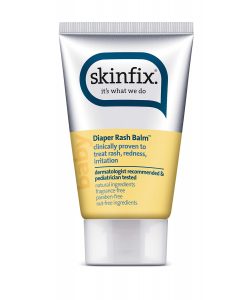 She went on to tell me about the body lotion and the diaper rash cream:
"The lotion was light to put on and left the skin baby soft. We tried the diaper rash cream. It was great going on but I'll have to let you know the result in the morning. We'll try a few more times before confirming but so far we're impressed!"
The lotion is actually formulated for dry, sensitive and eczema-prone baby skin and although nut allergies are gratefully not part of the equation for my sister-in-law, it's good to know that the Diaper Rash Balm is formulated without nut-ingredients for those babies with tree-nut allergies
My sister-in-law continued to use the various products on her kids (as did her friend who was visiting with her own kids for a few days) and they both LOVED the skinfix!
They also both love the fact that it is MADE IN CANADA…
SO.DO.I.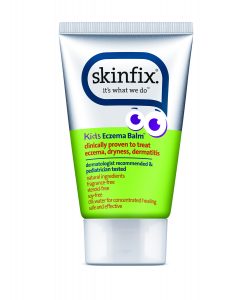 Now I haven't even bothered to mention that skinfix has products designed especially for kids with eczema. Any parent whose child suffers from eczema is usually willing to try anything.  Fortunately, my kids do not have issues with eczema at this time, but I did use the skinfix Rash Repair Balm on a little rash that my daughter had and it did miraculously stop bothering her and go away!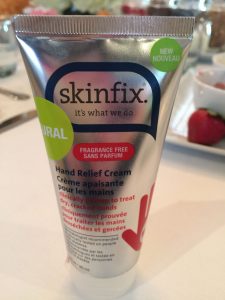 I would also be remiss not to mention that skinfix has an entire line geared towards Diabetics (which you can recognize by the red logo) They appreciate the issues that those with diabetes can have with their feet, or with their skin in general. Although the line is geared towards Diabetics, anyone can use these creams and balms.  In fact, the Healing Foot & Leg Balm and Hand Relief Cream that I used were from this particular line and they are both excellent!
All-in-all, skinfix is great.  Like they say about their own name "skinfix – It's what we do" – Because it really is what they do – fix skin.  Whether it's Baby's skin, your own skin or your diabetic Dad's skin…skinfix has something for everyone.
It's no surprise that the Dixon Family's secret recipe survived all these years…because when you've got something good, it stands the test of time:)
Wondering where to find skinfix?  You can find it in Quebec at Pharmaprix and Jean Coutu.  You can also find it at skinfixinc.com.
And don't forget…it's MADE IN CANADA!
Wishing you a smooth day 😉
Tanya
Disclosure:  As with all sponsored posts, I will only ever share with you products and/or services I believe in. All opinions contained within are my own and cannot be bought