Imagine if you could earn some extra cash while you are waiting in line, sitting on the bus, or simply relaxing on the couch?
It's actually possible with an App called Caddle®.
Some of the ways that you can earn money with Caddle® are by:
participating in paid surveys – I've done 2 of these so far and they have been very SHORT- only a few 'multiple choice' questions and you just click on your response – not long answers to be typed in. One of the surveys literally took me less than a minute!
watching ads and engaging with brands
getting 'cash back' on purchases that you've already made by simply snapping a photo of your receipt and uploading it. It has the same effect as the coupon, but you don't have to remember to bring the coupon to the store, you just upload proof that you purchased the product during the offer period, and the 'coupon' amount will be added to your account. (Note that some offers are available in limited quantities so the sooner you upload your receipt, the greater the likelihood that you will be able to cash in on that offer)
Best of all…you do all of this on your smartphone – wherever, whenever!
When I first heard about Caddle®, I thought it was going to be complicated.  It's not. In fact, it is surprisingly simple to use.
Every Thursday there is a new set of offers, surveys and other opportunities to earn cash back, so it's a good idea to check in each Thursday to see what new offers / surveys / ads to watch may be of interest to you
While some offers are for particular brands of product (like the ROYALE® offer below) while others are simply for a product category. As an example, this week you can get $0.25 back if you purchase bread – any brand, at any store in Canada. All you have to do is upload your receipt showing that you made your purchase, during the offer period, and the money will be added to your account.  There are also similar offers this week for cucumbers and deodorant… any brand, any store.
One more thing to note is that sometimes taking part in a survey or otherwise engaging with a brand via Caddle® will unlock another offer, for example, filling out a survey may 'unlock' a coupon, or an ad to watch, offering up yet another opportunity to earn some more spare cash 🙂
As soon as you've earned $20 in your account, you can cash out- Caddle® will mail you a cheque- It's that simple! Cha-Ching! You can also choose to keep your cash accumulating in your account and cash out later, if you prefer.
This week, Caddle® has some special offers available at Shoppers Drugmart & Pharmaprix for all of you ROYALE® fans in Quebec 🙂
Save $0.75 when you buy any ROYALE® bathroom tissue or Tiger Towel® Paper Towel Product.
Save $2.00 when you buy any 2 ROYALE® bathroom tissue or Tiger Towel® Paper Towel products.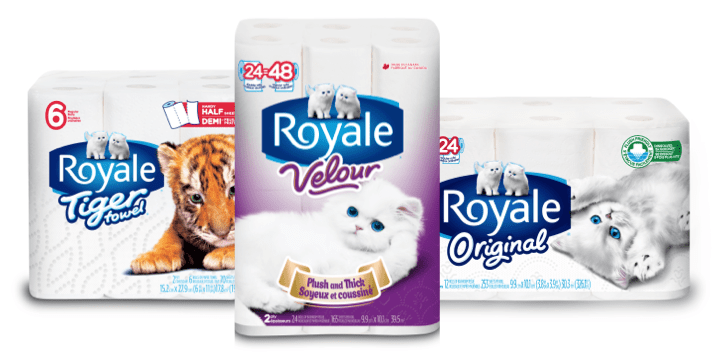 If you're still not understanding 100%…maybe this short video will help to clarify it 🙂
Wondering if this is all legit?  I wondered the same thing before agreeing to even try it out. I'll be completely honest and share that the fact that the App was featured on CBC's Dragon's Den made me feel 100% comfortable to try it.
I have already told friends and family about this.  I mean, who doesn't want to turn spare time into spare change? I even told my Mom & Mother-in-law about it – they are both tech-savvy and why not earn a few extra $ when they have a spare moment?
Want to know more?  You can visit the caddle.ca website.
Already convinced?  Just search up 'caddle' on your smartphone or tablet and Download the Caddle® App to start making spare change out of spare time right away!
I'd suggest that you follow them on your various social media platforms but don't do that YET…Once you have the App, that's another way that you can earn some spare cash 😉
If you're in Quebec, don't forget to take advantage of at least one of the great offers from ROYALE® !
Wishing you a great day, with time and CASH to spare 😉
Tanya
Disclosure: As with all sponsored posts, I will only ever share with you products and/or services I believe in. All opinions contained within are my own and cannot be bought 🙂