Disclosure: I am a P&Gmom/mamanP&G. As part of my affiliation with this group I receive products and special access to P&G events and opportunities. As always, all opinions on this blog are my own and can never be bought 🙂
Let me start off my saying that I am relatively new to the whole hair colour thing. I was resistant to "messing with nature".
Among my friends – only one other had not yet done it.
Then just under 2 years ago, my white (grey) hairs started to get kind of "kinky" and bent out of shape. This bothered me. The colour was one thing, but I didn't like this business of changing texture!
So I went to the salon & had a "gloss' done. While it looked great, let's just say that I had a very itchy reaction to it.
I went back several months later (since the gloss is semi-permanent) and the colourist adjusted some things (even added milk & Splenda into it to prevent a reaction …Did you even know that that is a thing????- Don't try that at home, kids!).  It was better but still itchy.
About a year after my first gloss experience, I became a #PGMom and at our first "welcome to the program" evening I learned a lot about hair care and there was much talk about hair colour at home.
I wondered if I would have a better or worse reaction if I did it at home.  Also- Is it truly possible that the product would be just as good?  Professional Hairstylist Denis Binet was on site and insisted that the P&G products were just as good quality-wise as salon-grade.
I thought about trying to do it myself.  P&G sent me coupons.
I didn't have the courage. My coupons expired 🙁
Months later, I found the nerve.  I went out and bought "Natural Instincts" by Clairol, figuring this would be the least risk of allergy and closer to natural, therefore less chemicals etc etc.
I must have spend an hour pondering between the darkest version of brown and the black.  My hair is so dark it looks black to most people, but it is NOT. ACTUALLY. BLACK.
I chose. I brought it home. I read the instructions with trepidation. I read the warning labels.
I chickened out.
I went back to the salon. My colourist is a sweetheart but I was not thrilled with the colour. It was way too dark.
Went back months later. Too light.
I was so tempted to try it on my own but I was also terrified.
What if chose the wrong colour?  
What if I really messed it up right before one of my segments on Breakfast Television?
What if I had an allergic reaction?
Could this ruin my hair?  Can colour in general ruin my hair?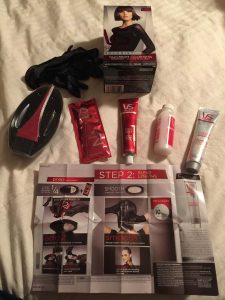 I resolved to try it at some point during the summer months when I take a break from my segments on BT. That somehow minimized the risk of exposing a potential hair disaster to those who love me enough to look past a botched colouring job, LOL!
I went out and bought my colour in the beginning of August.  I took my sweet time selecting a colour and finally settled upon Vidal Sasson Salonist in Darkest Brown (That seemed pretty close to describing my hair!)
I worked up the nerve to do it on a Thursday night in the middle of August.  I couldn't find the box.  I literally went out to buy another box before I lost my nerve.
I came home pumped to do it. I read the instructions and realized I had forgotten about the skin allergy test.
I mixed up a small amount of the colour and applied it to start my 48 hour test.  The colour application would have to wait until this was done 🙁
NO REACTION!  This was looking good 🙂
2 nights later Vidal Sasson & I had a date.  I watched some of the the videos on the site (which were actually helpful!)
They explained how the new hair that grows from the roots received colour differently than the rest of the hair that has previously been coloured.  That's what makes Salonist different.  The treatment for the roots is different than the treatment for the rest of the hair.  It ensures the best application of colour by the new as well as previously coloured hair.
I understood, was pretty sure I knew what I had to do and I was ready to go!
But wait…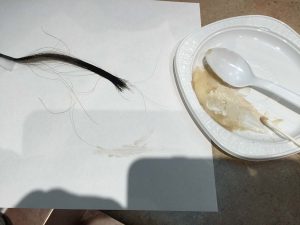 First I did the "strand test" to see how long I had to keep my colour in to achieve my best colour. (Would I ever get to the colouring part??) Result: 20 minutes would be just fine.
I mixed the 2 ingredients as instructed and divided the resulting colour 'cream' as instructed ( You use most for your roots and then mix an additional serum into the remaining 1/4 for the rest of your hair – I will explain more later in the post.)
I started to part my hair & paint my roots using the brush that comes with the kit.  It wasn't as bad as I thought!  I was worried about running out of colour so I used a little bit less than I probably should have- that's ok, I'll know for next time!
Once all of my roots were done, I massaged it all in a bit and went to have a Samosa break with my hubby while we waited for the next phase.
20 minutes later, I mixed in the serum with the reserved 1/4 of the cream and it was time to massage the new mixture into the rest of my hair.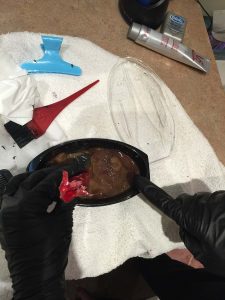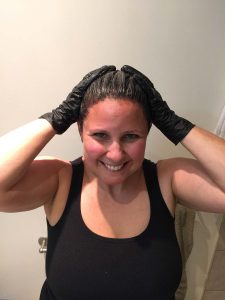 I waited another 10 minutes and it was time to rinse / wash it all out.
This was actually the most terrifying part of all for me.  I was TERRIFIED to get it in my eyes as I rinsed.
I then figured I might as well use the Pantene Expert FADE DEFY Shampoo that I had received form P&G – designed especially to preserve hair colour.
I also rinsed with the VS Colour Preserving Conditioner.  I actually have continued to use this once weekly, as recommended – there is enough in the tube for 6 weeks.  For the rest of the week I use the Pantene Expert FADE DEFY conditioner.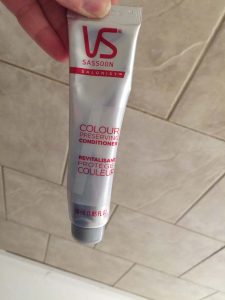 My hair was still wet but it looked GREAT.  It also FELT great.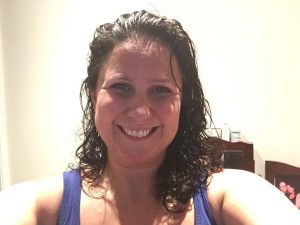 I joined my hubby downstairs for a bit and then it was time to go to sleep as we were leaving on vacation the next morning.
When I woke up I was thrilled with the colour- So was he.
You may have to zoom in to see the white, but check out my BEFORE: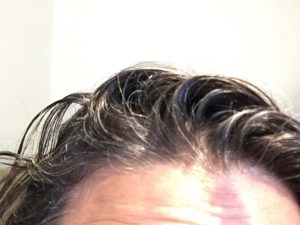 Just last week he told me AGAIN that my colour has never been this close to my natural colour – in fact he is convinced it is exactly my natural colour.
I am converted.  I will now colour my hair at home and happily put the saved money in the vacation fund 🙂
Better colour. Easier process.  It's even faster if you consider that I don't have to find a time I can actually make it for an appointment, I can just do it at home one night, without displacing myself and it's way more budget-friendly!
Perhaps more importantly, I loved how my hair looked and felt again.
I actually LOVE it and I was shocked by the simplicity.
This experience will be included on my list of fears that I conquered this summer 🙂
Do you colour your own hair?  Do you, or have you ever had fears about it? I would love to hear from you!
Should you use this experience as inspiration to embark upon your own hair-colouring journey, please remember to carefully read all the instructions before you start!!
Wishing you a day where you find beauty while conquering a fear, all the while saving time & money;)
Have a fabulous day!
Tanya