This morning I decided to prepare Challah dough on FB live.  I shared the recipe I use for making challah in the Bread Machine. It is the same recipe for making it in the Stand Mixer, but the order in which the ingredients is added changes.
This is the Bread Machine Recipe.
Click here if you are looking for the Stand Mixer Challah Dough Recipe
You can watch my Facebook LIVE video preparing the dough below 🙂
Next up… Braiding:
Now to brush it with 'egg' wash:
And Now…Out of the oven: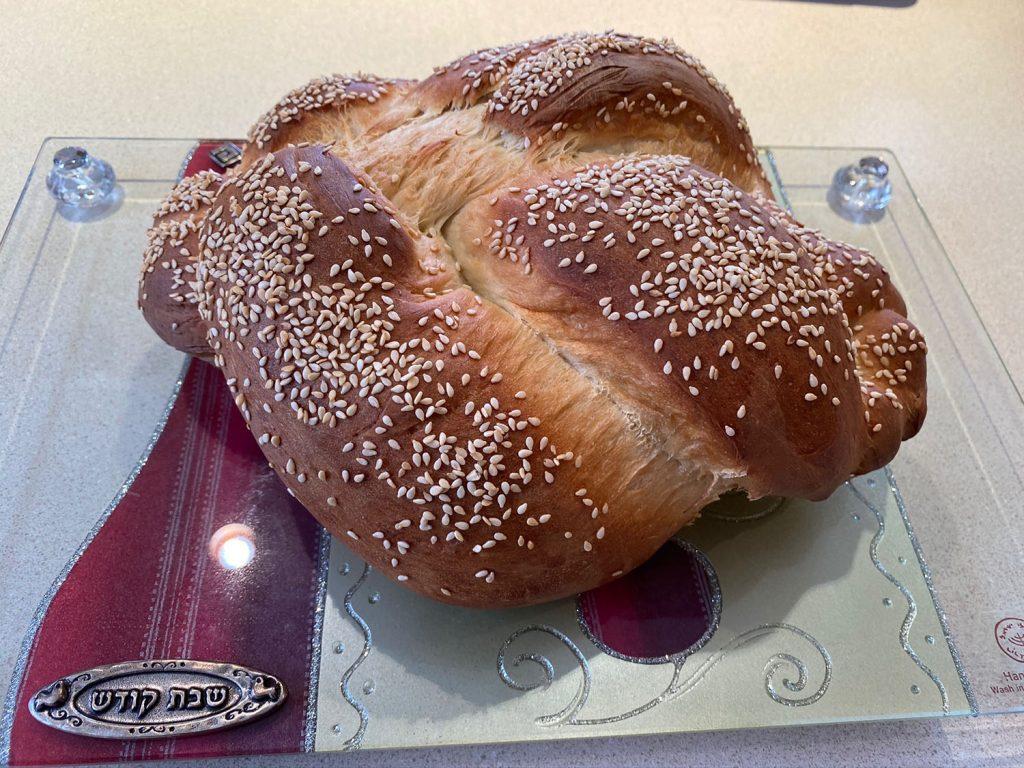 Here's the recipe 🙂

BREAD MACHINE CHALLAH DOUGH
Ingredients
3/4 c. lukewarm water
1 egg, beaten ( or 3 Tbsp Aquafaba* for a plant-based version)
3 Tbsp sugar
3 Tbsp canola oil
1 tsp salt
2 1/2 c. flour (I use unbleached)
1 1/4 tsp. yeast
For egg wash:
1 egg yolk + 1 Tbsp water, beaten together ( or 1-2 Tbsp Aquafaba*)
Sesame seeds, for sprinkling
Aquafaba is the liquid that you drain out from canned chickpeas.  Drain into a mason jar and keep refrigerated for up to 1 week to use as an egg replacement. 3 Tbsp is the equivalent of 1 egg
Method
Place all ingredients (except those for egg wash & sesame seeds), in order given. into bread machine pan
Set machine to dough cycle/setting & start
When dough is ready (usually 1.5-2 hours later, depending on your machine), remove dough & separate into 3 equal pieces
Roll each piece into a thick strip (about 2" in diameter)
On a parchment-lined cookie sheet, attach the three pieces together at the top.
Braid Challah.
Cover challah (still on parchment-lined cookie sheet) with a tea towel and allow to rest 20 minutes
Meanwhile, preheat oven to 350°.
Prepare the egg wash
Remove tea towel, brush Challah with egg wash & sprinkle sesame seeds over top
Place in oven & bake until golden brown 20-30 minutes
Wishing you all a Shabbat Shalom!
Tanya