If you are looking for an app to help your child learn to read in French, or even to IMPROVE his or her French reading skills, then you have to check out Boukili!
When you create an account for your child, you will be asked various questions to establish your child's level. Once that is established, Your child will be prompted to choose books / stories that may interest him or her ( that will be at his/her level).
The app will then guide your child through the interactive reading and exercises and you, as a parent can get a weekly report emailed to you about your child's progress. ( PS – If you are like me and don't like your child's name associated with internet / app accounts, you can use an alias for your child's name- no problem 🙂 )
I could write all about the app, but truthfully, given that it's free & a super easy set-up, I'd recommend you download it & give it a whirl for yourselves!
I can however tell you some of the things that impressed me about Boukili:
It is designed to help learners that are at all different levels- not just beginners 🙂
Although it's an app designed to learn to read in French, you can create the account, etc all in English, so even if your own level of French is not super strong, you can feel very comfortable to set it up.
There is a "Suitcase Function" that allows you to pack up a certain number of books to take with you ( offline), which is perfect if you will be travelling by plane or without WiFi for a period of time.
The kids really seem to have fun & enjoy interacting with it.
As a parent you can send messages to encourage your young reader 🙂
It's FREE!
Perhaps the best testimonial that I can give you comes from my daughter herself, in the form of a note that I found on my bed last week: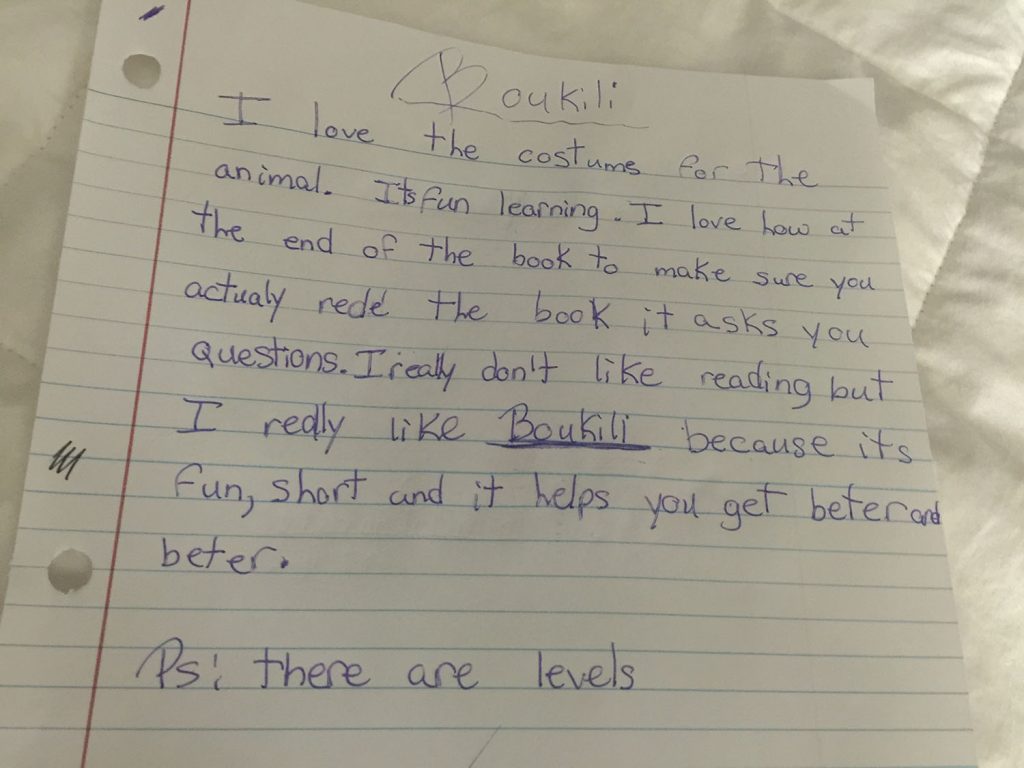 Need I say more?
Check it out at boukili.ca/en.  You will find links to download on the site 🙂
Happy reading!
Tanya