When I was invited to see BOOM at the Segal, I honestly hesitated.
Besides it falling in an extremely hectic week, I wondered if the target was a generation ahead of mine.  That said, it happened to fall on date night and my hubby was open to accompanying me, so I said yes…and I never would have known what we missed had I said no. There are many reasons that I recommend going to see BOOM…here are a few:
1-TheTalent that is Rick Miller.
To say that his Talent is beyond words doesn't even do him justice.  Unmatched perhaps begins to approach it.  Unexpected… for those, like myself, who did not know of him previously…unexpected definitely covers part of it.  Jaw-dropping would be accurate in my case because I spent the 1st ten minutes of the show with my jaw literally dropped open – only to move when my husband whispered – "He's unbelievable" and I managed a muted 'uh-huh'. Captivating would also be appropriate, as I was literally captivated from the get-go. Multi-faceted might begin to approach it but I feel is even a bit of an understatement.
You see, this show is beyond acting & song & dance…It is truly an unmatched, unexpected, jaw-dropping, captivating experience and it is all brought to you by the multi-faceted (for lack of a better word – literally) Talent that is Rick Miller.
By the way, for those of you who think I've forgotten the rules of grammar by capitalizing the T in Talent…I haven't. The Talent that is Rick Miller deserves a capital T.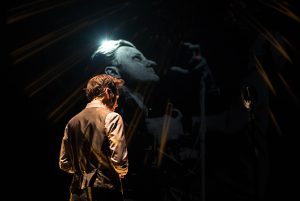 When intermission hit I couldn't wait to get onto Twitter…and The Talent that is @RickMillerActor was the content of my tweet. The halls were abuzz and we just kept hearing the same word over & over "The Talent" "His Talent" "How Talented".
If you are apprehensive of any other reason that I suggest for you to go see BOOM…Go see it anyway, because The Talent that is Rick Miller is something to behold and I promise he will not disappoint.
That said there are SO many other reasons to go see BOOM:
2-The SHOW.
It is unlike anything you have ever experienced.
In all my rambling about Rick Miller, it seems I have forgotten to mention that this is a one-man show. WAIT!  Before you stop reading…I did not say a uni-dimensional show with one character played by one actor. Absolutely not. This is a very multi-dimensional show involving 100 different characters, all played by Rick Miller…sometimes in the same scene!  Without giving away too much, Rick Miller plays everyone…from his Mom to Sir Winston Churchill to Steppenwolf to his Mom playing Janis Joplin….He plays absolutely everyone, and he plays them brilliantly.
And then…there's the MULTIMEDIA that brings it all together. Again, I don't want to spoil anything for anyone, but the show is pulled together using digital imaging onstage and on a very different and special screen (not spoiling it) that is used so brilliantly that it elicited 'aaahhs' and nods and laughter (and another jaw-drop from me) at various parts of the show.
3-The Music.

You don't have to be a Boomer to enjoy music by Buddy Holly, Elvis or the Beatles. I am naming only a few of the multitude of artists whose music is featured. It is also worthy of mention that the way the music is woven into the production adds exponentially to the way the audience enjoys it.  Not saying more- go see it, you'll get it 🙂
4-The History.
Let's get this out of the way – I am NOT a history buff. In high school, although I was a strong student, I deplored memorizing dates and names and reading about this war and that battle. As a parent of a daughter who wrote a history exam last year, we discussed how there are so many better ways that history can be taught in the 21st century. Oddly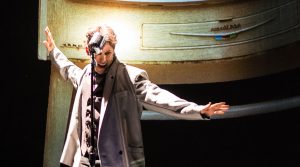 enough, although I despised studying history, Historical Fiction is probably my favourite reading genre. My husband, daughter & I discussed how we need a talented writer (and possibly producer) to write books or make movies that bring  historical events 'to life' in a manner that makes them so interesting to absorb and remember. It's all about the storytelling.
Rick Miller has accomplished this with his production of BOOM. I literally whispered to my husband during the play: THIS is how history should be taught. He brings three storytellers to life and has them recount the facts. At this point, different members of the audience are reacting in different ways.
5-It Appeals to Multiple Generations.
If you are a Boomer yourself, you may find yourself identifying with one or more of the storytellers, remembering these events as they happened and, as suggested by The Segal's own Lisa Rubin, in the biggest #ThrowbackThursday of your life. You'll likely find yourself feeling nostalgic 😉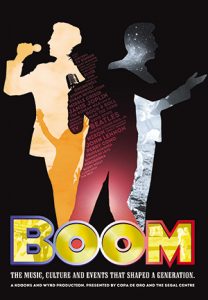 If, like me, you fall into the Gen X category, you will still identify with much of the references to the "tech of the time"  (Think rotary phones and a big Zenith TV) and you may remember your parents' telling of some of the stories in their own words as well. The nostalgia of it all will not be lost on you, either.
If you're a millenial, you'll likely recognize & enjoy much, if not most, of the music. You may also find that this is the closest you've ever come to understanding the history of the period. Those stories your grandparents told you may seem a little more interesting.
Younger?  You, too may find that BOOM has given you insight into what was going on in the world at that time.  You may also find yourself suddenly more interested in hearing stories from your grandparents.  I suspect you will still appreciare the music and no doubt you will enjoy Rick Miller's genius just as much as everyone else 🙂
I was asked if BOOM would appeal to every generation, my answer is that it is definitely appropriate for anyone in high
school or older. (In fact, I think every high school should be taking a field trip with their students to see BOOM!). I still believe that school-aged kids can enjoy it and learn from it, but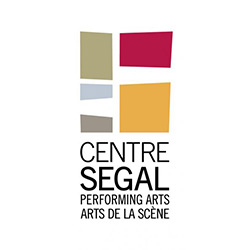 I will mention that there is discussion of drugs and alcohol as I know that some parents may not be comfortable with this, so it's up to you to decide.
I see I have gone on & on about the show.  I hope that you will forgive me. There are just not enough words to say about the masterpiece that is BOOM.
I strongly recommend that you reserve your tickets now, because I strongly suspect that the shows will sell out soon.  If you go online to buy tickets, you can already see that many of the shows already have limited availability. For your convenience I am including the link to the Segal's website where you can buy tickets – Just click here.
On that note I'll wish you a little BOOM time over the next few weeks 😉
Tanya