In honour of Father's Day, I will share this recipe for my hubby's favourite cake.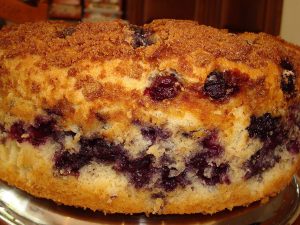 Like all good recipes, this recipe has a story behind it:
On a hot summer day a few years ago, I had many over-ripe peaches & lots of raspberries.  I thought of substituting these items in my regular coffee cake recipe which was based on the classic & delicious recipe for Sour Cream Coffee Cake in Second Helpings, Please by the fantabulous Norene Gilletz.  Over the years I had adjusted measurements & replaced butter with canola oil as well as increased the nut content. That became my version of Norene's cake.
On that particular summer day, I tried the raspberry peach combo instead of using walnuts & it was delicious but a bit soggy.
The following week I had blueberries in the house & so I used those.  I added some flour to the berries in order to absorb some of the juices.  In addition I just HAD to add some lemon zest because blueberries & lemon make a beautiful pair.  Thus was born Blueberry Coffee Cake, now a staple at our family gatherings and my hubby's fave (OK…I'll be honest – tied for favorites with Norene's walnut version!)
Ingredients:
1 c. canola oil
1 1/2 c. sugar
3 eggs
1 c. sour cream
1/2 tsp. baking soda
1 Tbsp. vanilla
Zest of 1 lemon
3 c. + 3 Tbsp flour
3 tsp baking powder
3 c. blueberries (divided)
1 tsp cinnamon
Pinch nutmeg (freshly grated)
Topping Ingredients:
1/8 c. sugar
1/2 c. blueberries (divided)
1 tsp cinnamon
Directions:
Combine topping ingredients in a small to medium-sized bowl bowl. Set aside.
Spray a spring form tube pan with non-stick spray
Dissolve baking soda in sour cream. Set aside.
In a separate, large bowl, mix together: oil, sugar, eggs & vanilla & lemon zest
Add flour (1 c. at a time) & baking powder (1 tsp. at a time) alternately with sour cream
Mix by hand just until moistened after each addition
In a separate bowl, combine blueberries, nutmeg, cinnamon & 3 Tbsp flour
Smooth out 1/2 the batter into pan
Sprinkle 3 c. blueberry filling over top
Cover with remaining batter
Sprinkle  topping over cake
Bake in preheated 350° oven for 55 minutes or until toothpick inserted in cake comes out clean
Enjoy!
Please let me know if you try the recipe & how you like it. I would hear what special recipe you are preparing this Father's Day. Please share!
Happy Father's Day to the special Dad(s) in your life.  Wishing you all a fabulous weekend,
Tanya