I was fortunate to attend the Premiere of Blended with Adam Sandler & Drew Barrymore on Wednesday Night and I have to tell you that I loved it!
Although the storyline was light and predictable, the jokes kept the entire theatre laughing out loud the whole way through.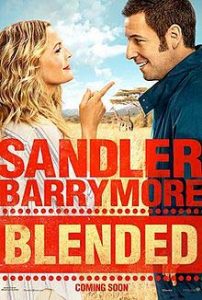 You absolutely do not have to be part of a blended family to enjoy the movie 😉
As far as the kids are concerned- there is definitely some sexual content, although not overly explicit as well as some "language".
It's fairly rated as PG-13.  You may still deem the movie appropriate for a child under 13, depending on your child as well as how you feel about the themes that are touched upon – no pun intended 😉
For more information and a glance at the trailer, you can visit the official BlendedMovie website .
Warning- Side effect of this flick may be an overwhelming desire to book a luxury vacation in Africa…I'm still trying to figure out if that place really exists!!!
If you're looking for something light and a good laugh, check it out 🙂
Wishing you a fantastic weekend filled with laughter & love 😉
Tanya