I was thrilled to be invited to a special screening of Marvel Studios' BLACK PANTHER last week and given that I do not like spoilers, I'm going to do the best that I can to tell you why we loved this movie so much without giving too much away.
BLACK PANTHER starts with the story of the 'Black Panther', which instantly grabbed us in. As with most Marvel movies, the usual elements of story, action, humour and imagination were all present, (together with special effects of course!). I will say that I enjoyed the storyline of this movie more than the average Marvel movie- it was deeper and carried with it SO many messages. I truthfully wondered if I was reading too much into it but upon discussing with my husband as well as another blogger and friend who attended- we all felt the same way.
I don't want to share everything that was special about the messaging because I feel like it would in fact, be giving too much away- so I'll share this much: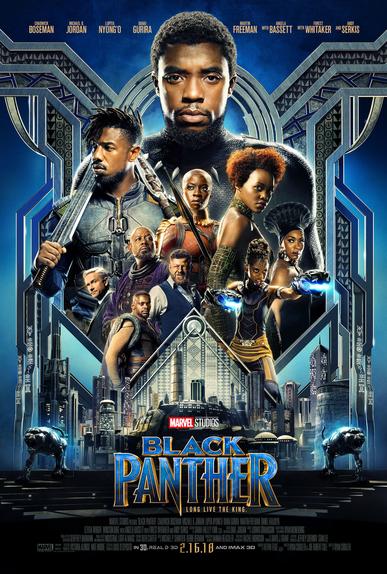 BLACK PANTHER features strong, smart, powerful African heroes that originate in 'Wakanda', whom the whole world treats as a 'third world' country, and yet they are spectacular and successful people.  While the story weaves components based in reality together with the fantasy that makes for a great story, I don't think that it is a complete coincidence that Marvel Studios released this film during Black History Month. I also think that it pushes people to ask 'What if…?'  I happen to love 'What if?' because these are words of curiosity, words of open mindedness that lead to creativity, innovation and the betterment of our planet.
Speaking of the betterment of our planet, the story deals with the struggle faced by powerful nations to take the initiative to better the world, even when it means putting their own nation(s) at risk. If that sound like it touches on foreign affairs and policy…it kind of does, and in a manner that is food for thought with everything going on in the world today.
The casting is incredible- from the phenomenal Lupita Nyong'o as Nikia to Chadwick Boseman as the Black Panther. Danai Gurira is outstanding as Okoye and  Iwould be remiss not to mention that Angela Bassett is spectacular as Ramonda. Letitia Wright, as Shuri, was adorable and had the audience laughing almost every time shoe opened her mouth. Her character was  endearing, intelligent, lovely and humorous all at once and she was one of my favourites 🙂
I would love to see more movies like this. Great storyline, adventure, action, humour, even some romance and the cherry on top is that the messaging was just MARVEL- lous!
I will add that both my husband & I loved it as did all four of my kids, ages 11 through 16. BLACK PANTHER worth taking in while it is in theatres. It opens today 🙂
FYI – Unlike some other Marvel Movies- There was no 'language' so don't let concern over that deter you from having your kids see it!!  
Let me know what you think!
Tanya