You may have popped in a few times or even be a regular at a location in the city.  You may simply have driven by & wondered…but in all likelihood, if you're a Montrealer, then you've heard of Ben & Florentine.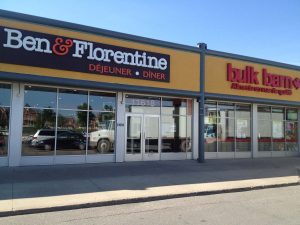 Well, the good news is that Ben & Florentine is now open in the West Island community of D.D.O., in the Marché de l'Ouest!
I am particularly pleased because one of my favourite things to do when I do go out for lunch is to go out for breakfast at lunch!  I find my options lighter & healthier & the tab not too hefty on the wallet 🙂
I went to try it out last week and was pleased. Fresh & yummy food. Pleasant service & atmosphere.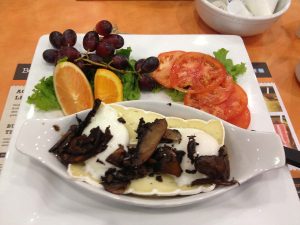 The menu offers all the classics, from eggs & toast, to oatmeal, bagels, lox & cream cheese, sumptuous crêpes or waffles & of course, my favourite, the Benedict 🙂 (Although I take mine sans-hollandaise)…and there's more.  Did I mention the SMOOTHIES?
I can tell you that I thoroughly enjoyed my Brie & Portobello Benedict (my FAVOURITE combination) as well as my coffee (which is not always the case at the places I frequent)
I will definitely be back.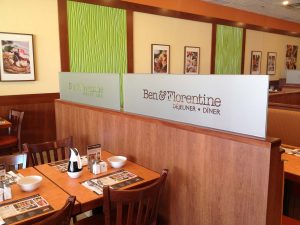 Ben & Florentine is a great place for a mommy-meetup, to take the family for breakfast or brunch on the weekend ,or even the business lunch for the busy mompreneur.
And the best part? For the month of June, you can get 15% off your meal at this location, just by mentioning to your server that you read about Ben & Florentine on the montrealmom.com blog!  
Should you wish to experience Ben & Florentine elsewhere in the city, just visit benandflorentine.com for locations.
So go ahead, check it out!  It's located right next to the Bulk Barn in Le Marché de l'Ouest.  And if you're going, drop me a line…maybe I'll drop by to say hello  😉
Wishing you a delicious day,
Tanya