My kids having just returned from their first real sleepway camp experience, I can tell you that I was incredibly grateful to have a good amount of Mabel's Labels on hand…in particular the "TagMates".  If you don't already know Mabel's Labels TagMates, then you NEED to get to know them. In addition to clothing labels, they have labels for 'stuff' that are dishwasher safe. The large circles you see in the photo are Shoe Labels. They also have beautiful 'bag tags' that can be used for a variety of purposes.
Note: I always remind parents to be vigilant about how visible your child's name is on the items that you label, especially things that will be work or carried outside, such as schoolbags, lunch boxes or anything else.  We don't want strangers to pretend to know our kids because they've been able to see their names
Their designs are fun and fabulous, and I was able to find a design to fit each of my 4 children's very DIFFERENT personalities 🙂
In case you are interested, my all-time, ultimate FAVOURITE label available right now is what I will refer to as the #Canada150 theme. My eldest daughter chose a sleepaway pack in this theme in the turquoise/purple combo and I also chose a generic "TOLEDANO" pack that anyone in the family (including Mommy!) can use 😉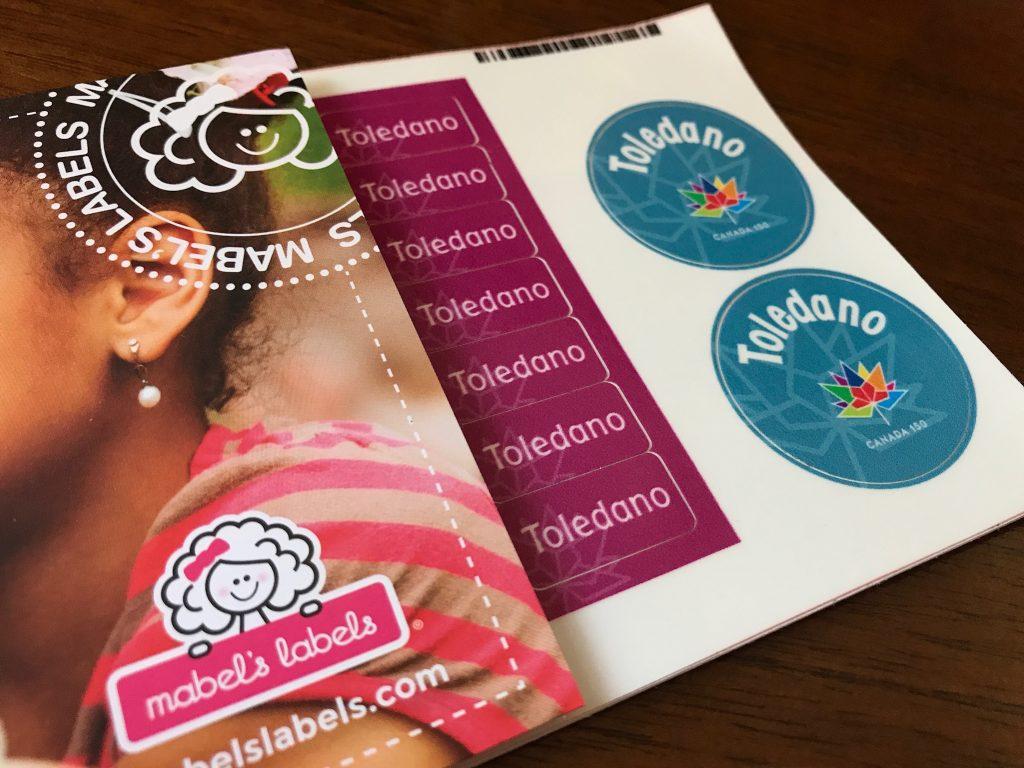 Now back to those TagMates…What are they exactly?
They are these wonderful little labels that you just peel & stick onto the clothing brand or care label that is already sewn into your child's garment…and that.is.all.
No ironing, no sewing…just peel.stick.move on.
Can you say life-altering?  Yes you can!
While TagMates were particularly helpful for camp prep, I can tell you that they make my life easy throughout the year. You see, whenever I buy new clothes, especially for my twin boys, I like to affix a name label inside…and my reason may be different than you might expect. You see my boys are 14 years old and other than their school uniforms when they change for gym at school, I have little reason to concern myself with them losing clothing. So why then would I spend money on labeling the rest of their clothing?
I label for Peace and Harmony in my Family.
WHAT???
I know. You're extremely puzzled right now…unless you've already figured out this trick…and then you're smiling, thinking "So it's not just my kids???"
Here's the story: Since they were little, my twin boys have worn similar sizes. I cannot tell you how many times (when they were younger) the morning started with "He took my pants!" or  "He's wearing my shirt!"
Now for t-shirts that were easily identifiable as belonging to one or the other (due to colour or print), there was no issue.  The issue was with the navy pants or the khaki shorts, of which they each had a pair. It got even more complicated when they each had multiple pairs of navy pants and several white polos as part of their school uniform.
The solution? I ordered labels with their names and began labeling almost all of their clothing (for socks & undies I chose either different colours or styles for each of the boys and that solved that).
The problem then was that all the labels had to be ironed on, so if I was too busy to do it right away, there were often a few weeks of "He took my…." mornings before I buckled down and got the ironing board out.
They still were the same school uniform and so the labeling continues to be important. Tag Mates are a lifesaver.  When I buy them the next size up of pants, shorts, whatever, I try my best to get the Tag Mates on the same day that I bring the clothes home.  Sometimes we are in such a rush ( e.g. I bought the black pants the day of the event) that I forget, and without fail, we have the same issue.  That said, you can imagine that the issue is far less frequent now that I don't have to iron on the labels!
Another discovery that happened many years ago is that sorting laundry to be folded and put away by its rightful owner is a breeze when things are labeled. That's why not only my boys but my girls also have their clothing labeled.  It minimizes frustration on the part of my young helpers and as a result reduces one source of conflict between the siblings ( now to work on the others…)
Now, I feel it important to note that some clothing companies have gone 'tagless'.  For these items, it's a good idea to keep a supply of iron-on labels on hand. I did learn when labeling everything for my daughter however, that while many tops do not have the tag at the back of the neck, they often have a clothing care label tucked into the side of the shirt.
Now…How will Bear Paws save you money in this labeling endeavour, you ask?
Well, with the purchase of select packages of Bear Paws cookies, you will receive a coupon code to save $5 off of your purchase from Mabel's Labels! Just think, you can buy Bear Paws for Day Camp snacks if your kids are still in Day Camp and use the coupon for ordering labels for Back To School.  Perfect, right?
If your kids are not in Day Camp, then Bear Paws also make a great snack for family outings and road trips. I love that they come individually wrapped, which makes things easier, and summer is supposed to be about making things easier, right?
Finally- you can even buy your Bear Paws for Back-To School now and use the coupon right away for those labels!
If you don't know Bear Paws, then you might like to know that they are made by Dare Foods and that Dare follows a 'made better' philosophy which considers, among other things, not only what they put into their food but what they leave out 🙂
Two great brands and one great promo that is definitely worth taking advantage of 🙂 Bear Paws are available in the snack section of pretty much every grocery store and Mabel's Labels are available at mabelslabels.com.
So go ahead, make your kids smile by getting some Bear Paws, and make yourself smile when your Back-To-School labeling of clothing and supplies is SO much easier 🙂
Wishing you a day that you can label 'fantastic' 🙂
Tanya
Disclosure: As with all sponsored posts, I will only ever share with you products and/or services I believe in. All opinions contained within are my own and cannot be bought 🙂