In our house we LOVE traditional toys: Blocks, Puzzles, Lego, Dominos.  We also love Straws and Marble Runs, K'nex and Meccano.  We're into board games and then there's Playmobil…the kids ADORE it.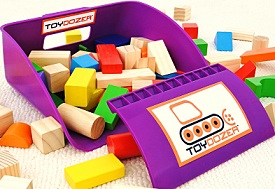 What do all these toys have in common? Pieces…pieces & more pieces.  Some smaller, some larger, some barely detectable without a magnifying glass!  They involve hundreds, if not thousands (and believe me, it feels like MILLIONS) of tiny, little pieces!
Who wants to clean it up?  I surely don't and the kids…not so much.  So what happens?  The rule of "Put the toy you were playing with away before starting to play with a new one" gets thrown out the window.
The worse part?  The little pieces from one set get mixed up with those from another set.  Then it becomes a sorting issue…
Then one day I get an email about a product designed by mom Amy Bradley specifically to pick up little pieces.  It's called the Toydozer.
Concept is as simple as can be: It is basically a dustpan-like piece called the "gatherer" that resembles the blade of a Bulldozer and another plastic piece that is called the "scoop".  One uses the scoop the get all the pieces into the gatherer and then dump them in the appropriate bin or box!
My kids LOVE it!  I LOVE it!
Caveat: For the first time ever, my kids began to fight over who got to clean up!  Thankfully, Toydozer generously supplied us with a couple of extras to solve that problem 🙂
Allow me to share further:
Usually, a post-playdate, everything-out-of the box mess requires what I call "clean-up coaching" where an adult has to be with the kids & coaching them through the cleanup:"Can you please put away all the dolly stuff?" while "you're in charge of putting away the lego" and "you're responsible for the marbles", etc.
During that time, if I am the coach, I also pick up odds & ends from all over.  It's a lot of back & forth & up & down and it is EXHAUSTING!
During our last such mess it went more like this: while each of the kids was on their assigned task, I "Toydozed" all the pieces to one spot, sat down with one of the kids and we sorted.  Each of the kids took turns putting away little piles and it was quicker & smoother than ever.
It was at that moment that I was SOLD.
I think the Toydozer is a great addition to any home. At $18.99 it's affordable and having read this blog, you can order at 20% off using the discount code of BLOGGER20.  They're advertising FREE shipping so basically for just over $15, you can have this baby delivered to your home by ordering online at www.toydozer.com.
Don't forget to follow Toydozer on  Facebook!
Of course, if you'd like to WIN one, just enter our giveaway!
**********THIS GIVEAWAY IS NOW CLOSED. Congratulations to our winner, Robyn! ***********
Her are the rules:
In order to ENTER THE GIVEAWAY you must:
Leave a comment in the comments section of this post answering the following question: "What is your greatest cleanup hurdle with your kids?"
Correctly enter your email address as the winner will notified via email.
Once you have entered by answering the question above in the comments section, Here's how you can get additional entries:
Follow @montreal_mom on Twitter (leave your Twitter handle in the comments section of this post)
Follow @toydozer on Twitter (leave your Twitter handle in the comments section of this post)
Tweet this giveaway by retweeting this post (1 entry for every RT, you can tweet up to 2 times daily- please leave a link to each tweet in the comments section of this post)
Add montrealmom.com/blog to your RSS Feed (leave note in comments that you have done so, use same email address for both comment & RSS Feed)
Write about this giveaway on your blog/website and leave me a link to your post in the comments section (counts as 4 entries!)
Read any other post on the montrealmom.com blog and comment on it (please leave a comment on this post as to which post you read & commented on)
The giveaway ends at 11:59 PM on Monday, June 18th, 2012.  Winner will be chosen at random and will be contacted via email on Monday, June 18th, 2012. Please make sure your email address is correctly entered in the comments section as the winner will notified via email. Winner must answer a skill-testing question before claiming prize. Open to Canadian & US Residents only.
This post is part of a Toydozer blogger outreach campaign. Participating bloggers have been provided with a complimentary Toydozer to review and have been compensated for their time.
Wishing you a day with less mess!
Tanya