As many of you know, I am a huge fan of the Flipp App.  I wrote about it several times and even used to do my weekly "Flipp-Out-Friday" with what I considered to be the week's best deals.
Well, as we have now entered the month of August and Back-To-School is around the corner, some of us are already in Back-To-School planning mode. From school supplies, to uniforms, to thinking about lunches and snacks and the containers that we will pack them in, there is inventory to take at home, lists to be made, shopping to be done and money to be spent…or saved 😉
ENTER FLIPP.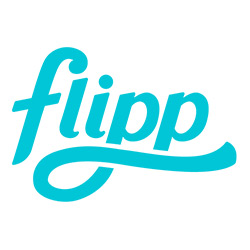 If you don't already know about this wondrous little app, it basically allows you to peruse the flyers of retailers around you on your smartphone or mobile device.  Additionally, you can use it to search for a particular item to see where you can find the best price.  Not that this can be a food item, an electronic device or a swimsuit.
In our family, whenever we need to buy something particular, one of the kids (usually my son) will say "We need to check Flipp!" and we have often saved money because of it <3
We've saved money on everything from cauliflower to air filters to iPod Nanos – all with Flipp!
So how can you use Flipp to help save money for Back-To-School?
1- After taking inventory of what supplies / uniforms / clothes / you have on hand ( that is still usable and / or fits), make a list of everything that you need
2- Search for the various items you require on Flipp and note where it is best to buy each item on your list. (Sometimes the item you are looking for will be on sale at various retailers. If this is the case it can be helpful to take note). TIP: You can search by product name or by brand 😉
3- Decide which retailer(s) you would like to shop at that will save you the most money and whether you will shop at just one retailer or several.
4- Lunches tend to be known as a big stressor- make a list of great lunches that can be prepared easily (think leftovers!) and another list of snacks. Create a shopping list of lunch ingredients and snacks. During the week or two before school begins, search where the best prices are for the items that you need.
5- If you are already in a store and noticing the school supplies, but wondering if the item is cheaper elsewhere, just open up Flipp on your phone and check! I was actually at Walmart the other day and heard two women debating whether they should buy their sunscreen there or elsewhere – I couldn't help myself- I told them about Flipp and how helpful it can be in those situations- and then proceeded to look it up for them!
Interested in learning more about Flipp?  Click here 🙂
Ready to download the Flipp App now?  Here are the links to the Flipp App:
Wishing you a day where you Flipp Out about how easy it is to get your Back-To-School planning and/or shopping done…without flipping out from the stress 😉
Tanya
As with all sponsored posts, I will only ever share with you products and/or services I believe in. All opinions contained within are my own and cannot be bought