Air Fryer Mozzarella Sticks
As part of my continued effort to experiment with the Hamilton Beach Air Fryer, I was inspired to try making my own mozzarella stick. I was inspired by a recipe that I found on staysnatched.com ,  but I prepared it somewhat differently due to the ingredients I had available and also, because I prefer a shorter mozzarella stick.
The recipe that I am sharing with you below is the one that I prepared: They came out fantastic, and the kids LOVED them.
BONUS: The assembly of the actual sticks can be done in advance (and should be done at least 1 hour and 15 minutes in advance to allow for 1 hour of freezing time prior to air frying.)  Why is this a bonus?  Because if your kids are home and need an activity to keep them busy have them make a batch ( or three ) to freeze.  That will keep them busy for a while doing something productive that does not involve a screen.
WARNING: Freezing the breaded sticks ahead of time is key.  A few from the batch I made still oozed a bit, but most remained intact and were De-lish!
Ingredients:
10-12 mozzarella cheese sticks, cut in half
1 egg, beaten (in its own bowl, large enough to accommodate a mozzarella stick)
1/2 c. flour
1 c. breadcrumbs
2-3 tsp granulated garlic
1-2 tsp paprika
salt & pepper, to taste
your favourite marinara sauce, for dipping
Method:
Mix together the breadcrumbs, granulated garlic, paprika, salt and pepper in a bowl
Create a 'breading' station by lining up, in order:

cheese sticks
flour
egg
breadcrumbs
plate for breaded sticks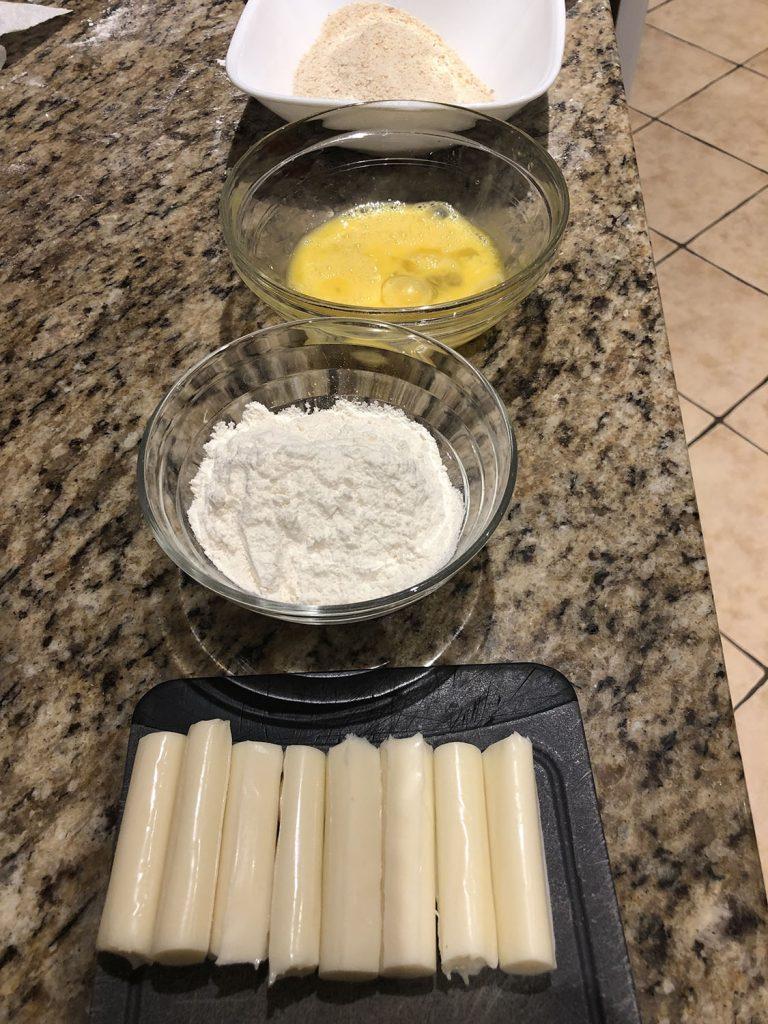 Dip each stick in the flour, then in the egg, then in the breadcrumb mixture, paying attention to coat the entire stick including the ends
as then plate on the 'ready plate'
Freeze for at least one hour
Spray air fryer basket with nonstick spray
Arrange 10 of the prepared and frozen mozzarella sticks in the basket in one layer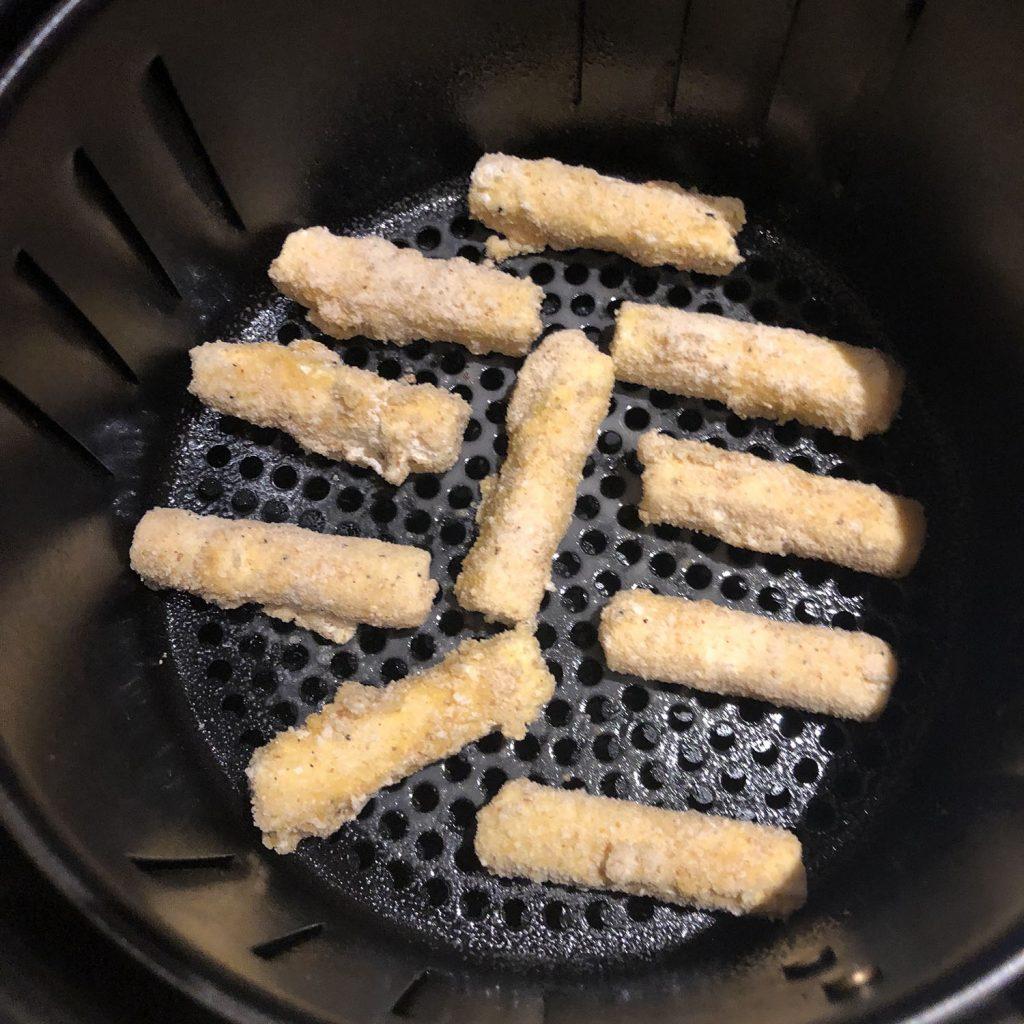 Air fry 10 mozzarella sticks at a time, at 400 degrees for 10-12 minutes, turning over once about halfway through cooking.
Serve with your favourite marinara sauce and enjoy!
EASIER VERSION: Buy pre-made frozen mozzarella sticks and Air Fry them 😉
This is one of many recipes I tried in the Hamilton Beach Air Fryer.  For more click here 🙂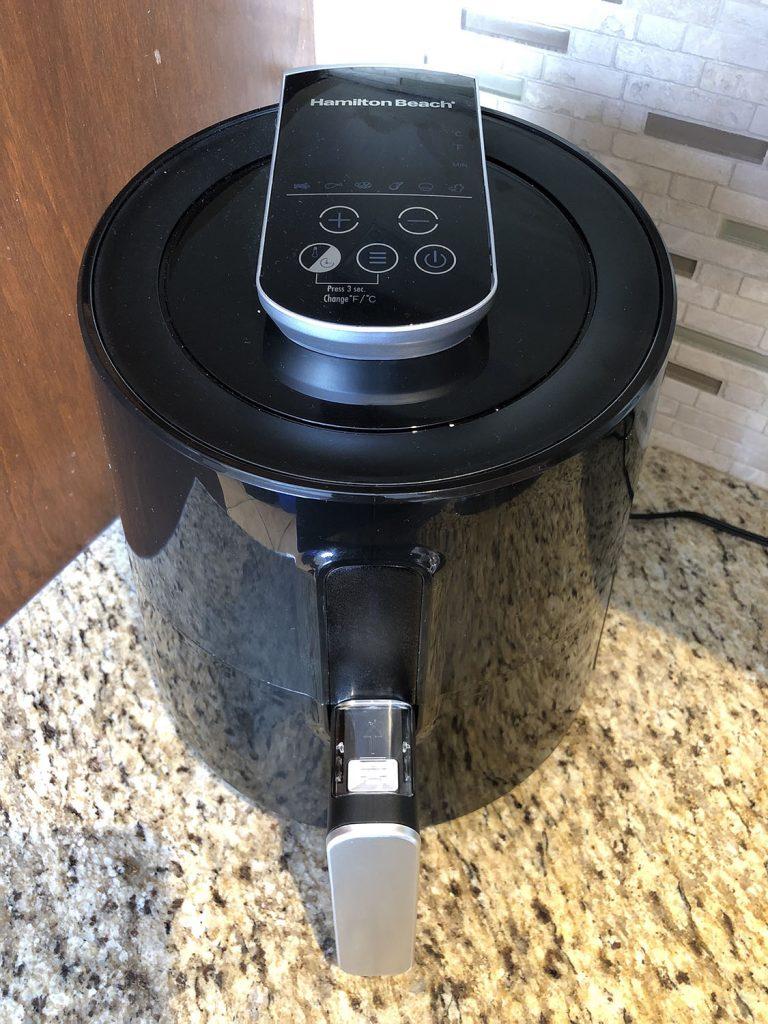 Happy Air Frying!
Tanya
Disclosure: The Hamilton Beach Air Fryer was offered to me for review. I will only ever share with you products and/or services I believe in. All opinions contained within are my own and cannot be bought 🙂