While in the US over winter break, I discovered this fabulous shop (which has over 175 stores throughout the US) and the whole family fell in love with it.  What's so fabulous? It's accessory heaven!  It's Charming Charlie!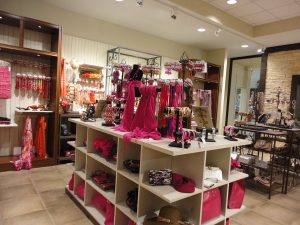 You can find every type of accessory imaginable, from purses to headbands, from jewellery to scarves.  You can even find tops and boots and bejeweled lanyards (Blogher anyone?!?!).
What makes this store even more special is that it is ORGANIZED BY COLOUR. There's a pink section, a lime green section, a yellow section (and of course black, white & silver).  I'm not going through all the colours but you will find corals and orange, teal and turquoise, and the list goes on…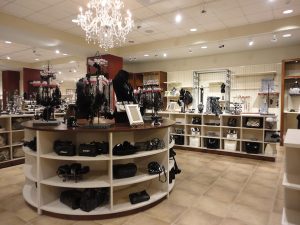 And if just being able to shop this heavenly experience isn't convincing enough…let me add this: PRICES ARE REASONABLE.  I mean really reasonable, like my rhinestone-flower headband for $9.97.  There are great items for under $10! Stunning bracelets and necklaces in every style imaginable (and gorgeous!) in the $10-$20 range.  I really mean it. REASONABLE.
And the piece-de-resisitance for moms of daughters? CHARLIE GIRL. On the side of the main store, in a 'separate' store, but attached, is an entire section dedicated to young girls. Also, for the most part, organized by colour.
In addition, the accessories & clothing to be found here are STYLISH and AGE-APPROPRIATE!!!!
As a mom of a ten year old fashionista, allow me to tell you that it's exceptionally difficult to find stylish clothing for girls that is age-appropriate.  I don't want her buttoned up in a sailor's outfit but plunging necklines and black lace are not my idea of age-appropriate. Not at 10 and not at 14! But that's pretty much what's available.  And not just for 10 year olds…once they hit about 6 or 7…good luck! Any moms of girls with me on this one???
Well, Charlie Girl offers fashionable tops that are cut with flair.  They offer hats and purses in every shape and texture, sparkly or matte, in a veritable rainbow of colours.  There is something for everyone.  My girls left with sequined caps that they recently wore to the night party of a Bar-Mitzvah and received so many compliments.  Price tag? $12.97 (and they paid for part..but that's for another post!) Note: not all locations have a Charlie Girl section, but the one at the Gulfstream Village in Hallandale, Florida does.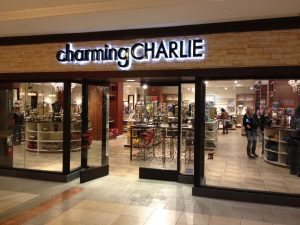 I have included some photos of the store in this post, but you should know that they are taken at Charming Charlie Albany, because those I took in Hallandale were in my iPhone which had been stolen on the way home (fodder for another post as well).  Unfortunately the Albany location doesn't have a Charlie Girl, so I don't have any photos 🙁
I have recommended this store to at least two friends who came out with raving reviews…I have no doubt that if you love accessories and fashion, you will LOVE Charming Charlie.
To get a peek at the type of things they carry as well as a list of locations visit www.charmingcharlie.com.  NOTE: What you see on the website represents a fraction of what you'll find in store and different stores carry different items.  Also what's on the site is not necessarily in store & vice-versa.
What a fun experience! With spring break coming up & many families headed south of the border, I just had to share.
If you get a chance to visit, let me know what you think!
Wishing you a charming day 🙂
Tanya