I often get emails asking me if I know of charitable initiatives that are 'kid friendly" in that they are initiatives in which kids can participate and complete with a feeling of having "done good", "given back" and "helped out" as well as an understanding of how they have accomplished this.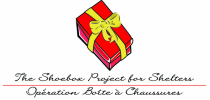 This past October, I had the pleasure of interviewing Jessica & Ben Mulroney and in doing my research, found out about an initiative that was started by Jessica's Mom in Montreal several years ago and then brought to Toronto by Jessica and her sisters-in-law and greatly expanded throughout the country due in large part, to the efforts of Jessica's sister-in-law, Caroline.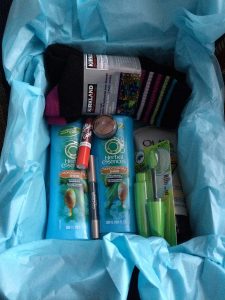 The idea is to donate shoeboxes filled with 'little luxuries' to women in shelters.
What is meant by little luxuries?
Perfume, lotions, makeup, cozy mittens, a nice scarf …all those little things that can make a woman feel special.
As women we know how it feels when we 'indulge' a little, when we get "treated" to a little something 'special'. The idea behind The Shoebox Project is to gift women in shelters all over the country with little such indulgences that will help them to feel special.
It's an easy project to do as we all tend to have shoeboxes lying around and we can fill it with little luxuries.  The kids can even help choose and pack it all up. Even the youngest kids can help decorate it 🙂
It's an opportunity to discuss the following with your kids, depending on their age & level of maturity:
giving to someone in need;
the existence of domestic violence;
the importance of mutual respect between spouses (and all family members, for that matter);
that sometimes a little luxury or indulgence can go a long way in making a woman feel very special, despite the fact that she may be in dire circumstances;
that charity isn't always just about filling people's basic needs for warmth & food but their emotional need to feel cared for and loved, and even a little bit pampered 🙂
that spending a short amount of time to put together a gift for someone you don't know can have a tremendous impact and can make you feel good in the process as well.
That said, it's such an easy project that I have no doubt that you can pull it together in no time – which is good because the DEADLINE is THIS FRIDAY!!!
I apologize & next year I WILL remind you earlier!!
Ideas of what to include:
Body or hand lotions
Mascara, lipstick, nail polish and remover
Nail kit
Hat, scarf, gloves and mitts
Perfume
Brush, comb
Deodorant
Socks
Toothbrush, toothpaste and dental floss
Shampoo and conditioner
Don't forget that you can toss in some of those great makeup & perfume bonus samples that you get & keep 'saving'…Those little samples will make a woman feel special and smile- inside & out.
Important Guidelines
Value: Please keep the value of your shoebox contents to approximately $50.
Packaged Goods Only Please: Please make sure that the gifts are all packaged, sealed and unused!
Regular or Small Size Goods Please: Please no jumbo sized products
Only nut free products and no candles please
Decoration: The exterior of the box matters! You may decorate your shoebox with a pretty holiday paper but please ensure it is not wrapped shut as it must be opened for inspection before it can be distributed.
Inspirational Quote: Feel free to include a poem, a card or an inspirational quote that could resonate with someone who is homeless this holiday season.
Drop off Information:
Bring your shoebox to one our three drop off locations by Friday, December 6th:
Finally, SHARE this initiative with friends so that they can get on board as well!
Post photos of your shoebox or your shoebox-making party on twitter (tweet to @shoeboxcanada) or Facebook. Remember to use the hashtag #ShoeboxLove !
You can learn more about The Shoebox Project as well as sign up for reminders by email or even make a donation at: http://www.shoeboxproject.com/index.html.
If you'd like to see my interview with Jessica & Ben & see what Jessica has to say about the Shoebox Project, you can watch the video below.  In a rush?  The shoebox project dicussion starts at 16:20
So, without further ado: Grab your kids, have them help fill & decorate a box, and drop it off.
You will brighten someone's day EACH & EVERY TIME they use one of the items you've sent.
You will make a woman going through a hard time feel special and pampered.
You will teach your children about the importance of giving and about how giving can take on many forms.
Go ahead- Show some #ShoeboxLove!
Wishing you a day where you are blessed with the ability to do for others,
Tanya