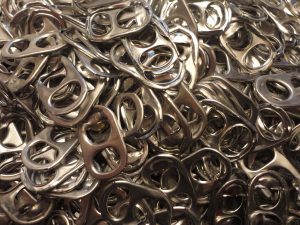 We teach our kids about recycling.  We teach our kids about giving back to the community.  This initiative is one that allows them to do both and doesn't cost a penny.
The students at Centennial Academy are collecting metal tabs from soda cans, soup cans or any cans with pull-tabs and they will give them to the Mount Sinai Hospital.  Mount Sinai will then bring these tabs in to be recycled and get paid for them by the recycling center.  The funds collected will be used to purchase wheelchairs and other necessary equipment for the hospital.
Some of you may have already heard about this initiative.  Others, like myself, may collect these tabs but are not sure where to bring them.  No matter the case, I have been inspired by Jonah, a student at Centennial Academy to get the details of this fabulous initiative and I hope that you too, will be inspired to do your part to help.
Rather than writing a long post about the initiative, I thought that hearing about it straight from Jonah might prove slightly more inspiring and so I chose to interview him for this post.
I invite you to watch the following video and then I encourage you to collect all of your tabs and bring them over to Centennial Academy.
Centennial Academy is located at 3641 Prud'Homme (H4A 3H6).  You can drop off your tabs on weekdays between 7:30 AM -5 PM.  It's a good idea to call 514-486-5533 in advance to make sure that the school office is open for their regular hours on the day that you wish to drop off your tabs.
Please share this post via email, Facebook, Twitter or by just calling those within your circles to let them know. Let's help Jonah and the Tab Committee of Centennial Academy achieve their goal of 1 million tabs by the end of the school year!
Wishing you a meaningful Monday,
Tanya