This is NOT just another article.
This is a Call to Action.
I am done with complacency.
My feeling is that we have all been taking this "lying down" and should Bill 60 come to pass, we will have ourselves to blame for not even trying to stop it.
If you do not have the time to keep reading, I ask you to just scroll to the bottom and do 1 or all of the 5 Action Items I suggest.
Until recently, I have been sitting by on the sidelines as this whole "Charter" issue has been playing out. I was happy to Like & Share posts via social media and felt no need to add yet another article to reiterate what everyone else was saying.  So many are outraged by the proposed charter that I was certain that "THEY" would do something about it.  THEY would mobilize.  THEY would create a petition. THEY would stand up for our rights.
Who are THEY, anyway?
I waited.
People continued to vent their frustrations on Facebook, Twitter and in the blogosphere. Others lamented the situation at book clubs and coffee shops, around the water cooler and around the boardroom table, but lament as they may…nobody seemed to be physically mobilizing.
It was time to find out if anybody was DOING something, but I somehow didn't know about it.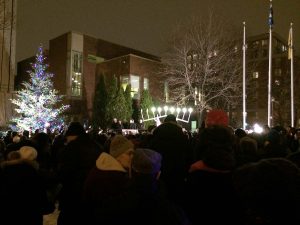 I made a few phone calls, coincidentally on the day that the City of Côte St-Luc announced their rally for religious freedom, which I attended along with several hundred others. Kudos to Mayor Anthony Housefather and the City of Côte St-Luc for mobilizing its citizens of all faiths and inviting others to join in.  This was, at least, a START.
I also found out about the existence of a group called Québec inclusif. A group that I had not yet heard about nor had any of the friends or colleagues to whom I mentioned it, all of whom are very much concerned about the situation in our province, and yet their manifesto already has nearly 28,000 signatures.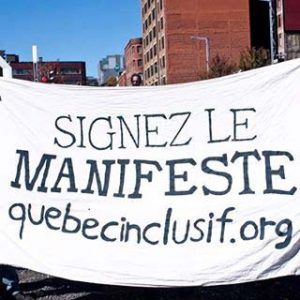 I looked into it further: Québec inclusif  was started by a group of academics and professionals from the legal, philosophical and journalistic fields, joined by citizens of all backgrounds and origins and includes both separatists and federalists, as well as others with no firm position on Quebec's constitutional future. The one thing that unifies all in Québec inclusif is the fact that all are against the proposed Charter of Values.
I have decided that supporting Québec inclusif is the best way for me to stand up and be counted as well as to be part of a large entity with the power to mobilize.
That said, I am taking the following 5 ACTIONS to STAND UP for MY Rights. MY Values.  MY QUÉBEC:
(1) Sign the Québec inclusif Manifesto: You can find the English version right here: http://quebecinclusif.org/manifeste-2/english/.
(2) Attend the Québec inclusif Cocktail with special guests Daniel Weinstock and Jean Dorion. It's taking place on Monday Dec 9 at 6PM. TO PURCHASE TICKETS: http://www.eventbrite.ca/e/6-a-8-pour-un-quebec-inclusif-tickets-9507369799 (Details in both French & English on the Eventbrite site)
(3) Like & Share via FB, Twitter and email:
This post
The fact that you've signed the manifesto
The fact that you're attending the cocktail
(4) Make some form of financial contribution to Québec inclusif.  Some of us can afford $10 while others can afford $1,000.  Every little bit helps and is important so that THEY have the ability to stand up and mobilize on behalf of all of US.  Contributions can be made at: http://quebecinclusif.org/devenir-membre/.  Note that a $10 donation qualifies you as an official member of Québec inclusif.
(5) SHOW UP.  When something is happening – BE THERE.  Stand up to be counted.
I know that we are all BUSY with work, kids, family & friends.
That's because we are fortunate enough to live in one of the greatest places on earth, with our biggest issues being freezing cold weather and a whole bunch of man-made (or in this case woman-made) problems.
PLEASE take the time to do these 5 things, or at least some of them.
We need to STAND UP for OUR Rights. OUR Values. OUR QUÉBEC.
Our kids are counting on us.
To our kids we are the "THEY" who will "take care of it".
Wishing you a day of taking ACTION,
Tanya