Wednesday night, Jewish families will begin celebrating the festival of Purim.
I can talk about the story but as usual, I'd rather talk about the food (about the hamentaschen in specific!)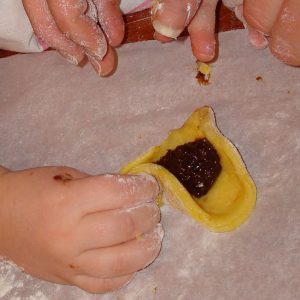 Hamentaschen are triangular cookies filled with yumminess in the center and are traditionally eaten on and around the festival of Purim.
There are recipes abound for these yummy treats and many, many good ones.  I have decided to share with you the recipe that I use as year after year I get many compliments and requests for it. Not only are they delicious but they are a fun and easy baking activity to do together with the kids!
The dough recipe that I use is a recipe by none other than the fantabulous Norene Gilletz.  It is her Basic Oil Dough and can be found in any of her (three) processor cookbooks including the latest edition:  The NEW Food Processor Bible: 30th Anniversary Edition (Whitecap).
It's easy, it's yummy & makes a delicious soft dough that everyone seems to love…
Norene's Basic Oil Dough
1 medium seedless orange (quartered but NOT peeled)
2 eggs
3/4 c. sugar
1/2 c. oil ( I use canola)
2 tsp. baking powder
2 3/4 c. flour
Using steel knife, process orange until fine (about 25 sec.)
Add eggs, sugar , oil. Process just 10 sec.
Add baking powder & flour. Process with several on/off turns – just until flour blended into dough-DO NOT OVERPROCESS. Dough will be fairly sticky.
Remove from bowl with a rubber spatula onto a lightly floured board
Divide dough into 4 pcs.
Flour each & roll to 1/4″ thickness
Cut into 3″ circles & place a spoonful of filling in each
Bring sides upwards to meet & pinch together to form triangle
If desired brush with egg wash (egg yolk blended with 1 tsp water) (I skip this step & they still come out great!)
NOTE: They freeze well
Filling
My filling recipe is rather simple but often simple is best 🙂
Dried Fruit (for pitted prunes-check to make sure all actually pitted,)
Boiling water
Rehydrate fruit with boiling water (about 10-15 minutes)
Put rehydrated fruit in processor, reserving water
Puree fruit in processor (or blender)
Add water a little at a time to soften puree to desired consistency
Some examples of what I use:
Pitted Prunes, or
Dried apricots, or
Dehydrated strawberries
(2 1/2 – 3 c. dried prunes will yield approximately the right amount of filling for this recipe)
Norene suggests: a combo of prunes and apricots with some raisins and dried cranberries. This year I may try rehydrating dried cherries…I'll keep you posted on how that works out! Many people make a poppy seed filling…I haven't tried to make that yet, but it is delicious!
If you have a hamentaschen recipe that you'd like to share…please do!
To all those celebrating: Happy Purim!  To everyone who is or who is not celebrating…Hope you enjoy the hamentaschen!!!
Have a glorious day!
Tanya