As many of you know, my teenage daughter and I are big fans of Gilmore Girls

See : A New Bonding Ritual with my Teenage Daughter: Gilmore Girls Weekly on Netflix
Ever since we found out that we'd be getting a Gilmore "revival" series on Netflix we were THRILLED!  we have also been waiting to find out WHEN it would air.  Well, the cat is out of the Bag

Gilmore Girls: A Year In The Life will launch everywhere that Netflix is available on Friday, November 25 at 12:01am PT. ( That's 3:01 AM EST)
You check out the date announcement video on YouTube here:
Gilmore Girls: A Year In The Life includes four 90-minute chapters, each spanning one of the four seasons: Winter, Spring, Summer and Fall. Gilmore Girls: A Year in the Life is created by Amy Sherman-Palladino, who executive produces, writes and directs the four 90-minute chapters with Daniel Palladino. The project is from Dorothy Parker Drank Here Productions in association with Warner Bros. Television
My calendar has been marked for Nov 25th at 3:01 AM EST…
Now we may have to binge-watch just a little to be up-to-date by then 😉
Until then, remember to :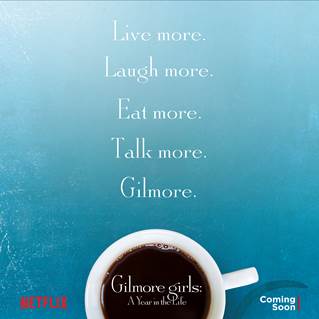 😉
Tanya
Disclosure: I receive free Netflix streaming as part of the Netflix #StreamTeam. As always, all opinions contained within my posts are my own.