Have you ever fantasized about stone countertops?  I certainly have.
Well, I have decided to stop fantasizing and made a decision: we are switching from laminate countertops to stone!
Some water infiltration around the faucet on one of the counters has caused the pressed wood to rot, so rather than just repair that one counter with the same laminate countertop, I've decided to go with stone all around 🙂
This way, I won't worry about the same problem recurring and the best part is that now when I watch my segments on montrealmomTV, I won't keep thinking that everything would look so much better with stone counters!
If you've ever looked into doing a counter renovation, you already know that there are A LOT of choices when it comes to kitchen counters.
I actually visited Home Depot to meet with a kitchen expert to go through the various choices of counter tops and discuss the pros & cons of each.  Here's what I learned:
Laminate counters are:
very budget-friendly
come in a plethora of patterns & edges
can actually look so much like stone that you actually have to touch them to be sure they are laminate!
BUT you can run into issues such as we did (with the water seepage).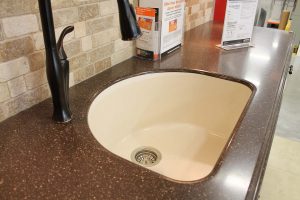 Corian
is a 100% man-made solid surface
is both mouldable and repairable
has a beautiful, smooth look and feel, but it does not really feel like stone
can be moulded into one virtually seamless piece (including both sink and backsplash!) – which also means less caulking and less maintenance.
Marble
is natural & beautiful
is porous: can stain from wine, grape juice, oil, etc.,
needs to be sealed fairly frequently (every 8-12 months).
is too much maintenance for me ( as a mom of 4 in a high-traffic kitchen!)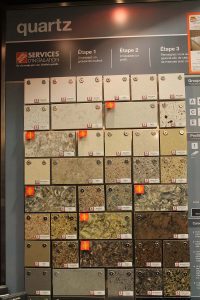 Silestone
is made of up 93% quartz (crushed stone) and contains a small percentage of resin (7%) to bind the quartz.
may not be liked by strict 'purists', as it's not 100% natural but it's stunning and depending on the colour you choose, the resin can be imperceptible.
is non-porous & does not require sealing.  EVER. (Busy moms have gotta love that!)
is beyond stunning! It can look very similar to granite or even marble…without the concern about it being porous.
is not designed to hold very hot items directly on the unprotected counter surface. Since the resin is sensitive to high heat, there's a chance that a very hot plate or pot can leave a ring or a mark on the countertop.  That said, keep a good stock of trivets handy and you should be more than ok 😉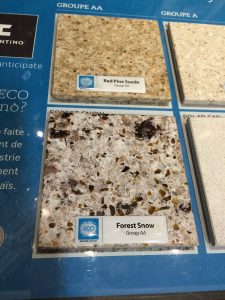 Eco countertops
take recycling to a whole different level.
are made from 75% recycled materials such as mirror, glass, porcelain, earthenware and vitrified ash (even 94% of the water used in its manufacturing process is re-used!)

are bound by an environmentally friendly resin which comes in part from corn oil

will sometimes sport recognizable pieces of broken beer bottles – Cool!
are beautiful.
promote that good feeling that comes from recycling and repurposing. way to feel doubly-good about a stunning new stone countertop!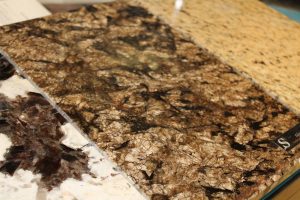 Granite
is classic, natural and fabulous 🙂
is actually porous (many people don't realize this)
needs to be sealed about once/year BUT now….
Home Depot offers an exclusive "Stoneguard" protection which effectively pre-seals your granite countertop and guarantees it sealed for 15 years!
Tile
is worthy of mention because people do it, but was not even up for discussion in my case
has a nice country-feel to it, but I just kept picturing the grout getting full of stains & dirt
is WAY too high-maintenance for me 🙂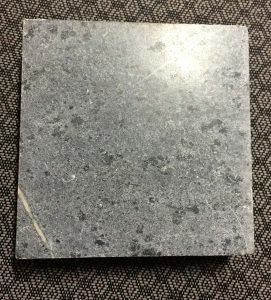 I could go on…there are soapstone counters too!  Not only are they gorgeous, they are super-original!
Once you know what TYPE of counter you'd like, you can then choose your COLOUR & EDGING…but that's for another blog post;)
To get a real feel for what's available, you should ideally visit your local Home Depot, or if that's not immediately possible check out their website (although the website doesn't cover ALL of the available choices.)
You should also note that if you are planning to go into the store, you will likely have lots of questions or may even be hoping for an estimate.  If this is the case, then it's a great idea to book an appointment.
I can tell you from experience that the kitchen experts take the time with you to answer all of your questions and to provide the guidance you need.  That also means that they are incredibly busy (especially if there is a promotion on granite counters such as the one that is on right now!)
So, rather than just 'dropping by' , make an appointment so that you can really get a better understanding of the process, the options and the answers to any questions you may have, without feeling like you have to wait for someone else's consultation to be over.
To find the phone number for your local Home Depot. Just visit homedepot.ca and click on the "Store Finder" in the upper left of the navigation bar 🙂
SO…WHICH countertop did I finally choose?
That's not a straightforward answer…
I had actually originally chosen to go with the Silestone because they offer both beauty and practicality and I am NOT the type of person who would be sealing my granite counters every year. BUT then… during my research, Catherine at Home Depot taught me about the Stoneguard protection and completely rocked my world!
The beauty of classic granite without the worry about sealing was within reach! I took a look at the options and together with the hubby settled on a choice of Granite that we both adore 🙂
Best of all….it was even cheaper than our original choice in Silestone! BONUS!!!
(In a future post I will explain that the pricing of stone counters is dependent on the colour that you choose….so stay tuned to learn more) 🙂
I am insanely excited about finally getting stone counters and just as excited to share my learnings with you as I go through the process.
From choosing a colour to the ordering process, from preparing the kitchen for measurements to installation day, I hope that you will join me on my journey.
And when it's all done, we'll have to make something fun together on my new kitchen counters….
Wishing you a day where dreams come true…be they #StoneCounterDreams or otherwise 😉
Tanya
As with all sponsored posts, I will only ever share with you products and/or services I believe in. All opinions contained within are my own and cannot be bought