Do you know about Beario, the Starlight Bear?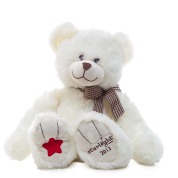 Beario is the 5th, limited-edition collectible Starlight Bear.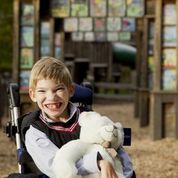 Beario was designed by Dylan, a seven year-old who lives with spastic quadriplegic cerebral palsy, together with his brother, Connor.If you're planning to gift a teddy bear this holiday season, here are a while bunch of reasons you may like to gift Beario:
He's super-cute & cuddly 🙂
A percentage of the proceeds of your purchase go to the Starlight Foundation, bringing laughter, joy and hope back into the lives of children with serious illnesses.
He's been designed by a very special seven year- old  boy and by purchasing Beario, not only are you supporting the Starlight Foundation, but you are supporting Dylan, showing him that his efforts have made a difference.
If your child or "gifted" is old enough to understand, Beario is an excellent way to start conversations about:

giving back to the community;
being grateful for the gift of health;
how even kids with unfavourable circumstances can make a huge difference in the world.

Beario is one of those gifts that keeps on giving…if you're like me, they are my favourite kind of gift to give.
If there's a special little someone in your life who is a Super Mario fan, they's love to know that the star on Beario's paw is there because Super Mario is Dylan's favourite video game character .;)
At $14.99, he's affordable, too.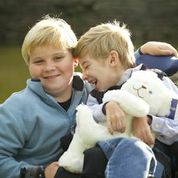 So much to cuddle.
So much to talk about while we cuddle.
So much to be grateful for.
So much to give.
That's what the holidays are all about.
That's what Beario is all about.
You can find Beario at your local Toys R Us or online at www.toysrus.ca/beario
To whom will you gift Beario this year?  I'd love to hear!
Wishing you a wonderful week of joy & perspective,
Tanya