Welcome to the montrealmom.com EVENT CALENDAR!
In this section you will find a printable calendar with information on events, lectures & plays around Montreal that will be of interest to:
Moms & Dads
Couples
Kids
Family
ONGOING: Check links for dates & times:
Through the Echoes presented at the PY1 pyramid, Quai de l'horloge / Clock Tower Pier, Old Port of Montreal, QC. (Aug 7-Sept 29) Through the Echoes / Au-delà des échos is a 60-minute immersive experience presented inside the PY1 pyramid, the first travelling show venue created by Guy Laliberté and Lune Rouge Entertainment. A sweeping multimedia epic imagined by multidisciplinary artist Gabriel Coutu-Dumont, the show is a technological and emotional odyssey about the evolution of life, from the Big Bang to the present. The audience—the lead character—is at the very core of the experience, free to move and explore. Surrounded by lasers, 360-degree projections, kinetic aerial stage elements, atmospheric special effects and grandiose lightscapes, spectators will explore the thread of time and space—from our origins to possible futures—as in a waking dream. The show is not recommended for children under 8 years old. NOTE: TELUS customers Get 15% off the purchase of tickets. To take advantage of the offer, text PY1 to 7777.
Superpower dogs 3D – IMAX®TELUS Theatre, Get ready to meet some true-life superheroes. Explore the world through the eyes, ears and noses of elite rescue dogs as they dive head first into the heat of the action in this immersive live-action 3D IMAX® adventure.  Meet a pack of bona fide top dogs from around the world and learn about the powerful bond they share with their human counterparts as they work together to save lives.
La Ronde is open for summer fun for the entire family! Check the website for more info!
Spiders – From Fear to Fascination at the Montreal Science Centre. Dare to venture into the world of spiders! Forever seen as formidable and frightening, these extraordinary creatures aren't really as dangerous as we think. Explore an immersive and amusing space that reveals the secrets —and the lighter side— of these enigmatic critters through interactive games, augmented reality, hundreds of preserved specimens, and over a dozen living species.
Volcanoes 3D – IMAX TELUS Theatre at Montreal Science Centre – Embark on a riveting adventure that explores how the Earth we know today came to be. For billions of years, volcanoes have been shaping our world. Despite the threat that they pose, the rich soil that surrounds them has attracted countless civilizations to settle nearby. Both a source of destruction and creation, discover like never before the power they hold.
IMAX®TELUS Theatre: Pandas 3D – Prepare yourself for an endearing encounter with little panda bears learning to be big. Watch these adorable rascals playing, tumbling, nibbling, and sliding at the Chengdu Panda Base in China where life as a panda cub is such a delight it's almost… unbearable!
Guided Tours of the Tea Garden at Botanical Gardens – A small, unassuming secluded garden that is absolutely unique! It is not, as one might think, a place where tea plants are grown, nor is it somewhere for drinking tea. So, what is it? Come visit this very special garden in the company of a nature interpreter, who will help you decode and appreciate its many symbolic elements. As you stroll along the path, you will see the attention paid in designing and creating this garden, designed to evoke a wild trail leading to a teahouse. A maximum 10 visitors at a time may tour the Tea Garden.Cancelled in case of rain.
Guided tours of the First Nations Garden – Stroll along the paths with an Indigenous nature guide and contemplate the beauties of the hardwood and softwood forests and tundra. You'll learn about the First Nations' vision of nature and its benefits. Immerse yourself in the fragrances, colours and textures of these living environments where tradition and modernity go hand in hand.
Tiny Tots Mornings –Skating at Atrium Le 1000 de la Gauchetière. 11AM-12:30PM for children 12 years and under & their parents. Saturdays 7 Sundays. Admission: $7.50, Children 12 & under: $5
Saturday, September 7th
Lufa Farms' Open House – Lufa Farms invites you to join us for a tour of the world's first commercial rooftop greenhouse. Meet their team and see how they grow veggies on Montreal rooftops year-round. Make sure to sign up for a time slot that matches your preferred language on their Eventbrite page. This event is FREE entry.
Sunday, September 8th
West Island Mommies 8th Annual Family Fun Fair – in Collaboration with Overture with the Arts: Families will have the opportunity to visit with close to 40 local vendors from the West Island to see what kinds of products and services they offer. It's a great opportunity for moms and dads to learn about what is available to them in their local area and perhaps to do a little shopping. The event is FREE, so come on out and enjoy the day with us!  In addition, there will be things for the kiddies to do as well! Storytime with the Princess, Meet and Greet with Peppa Pig and Olaf. Demos from some local dance companies, etc., Face Painting with Doodlebugs Face Painting, Meet Darth Vader and StormTrooper, Light Saber Training. The first 200 people to arrive will receive a free re-usable bag filled with lots of great information and goodies from local companies. For more info,  click here to see the Facebook Event.
Lufa Farms' Open House – Lufa Farms invites you to join us for a tour of the world's first commercial rooftop greenhouse. Meet their team and see how they grow veggies on Montreal rooftops year-round. Make sure to sign up for a time slot that matches your preferred language on their Eventbrite page. This event is FREE entry.
Sunday, September 22
Push For Your Tush 5K/10K – Push For Your Tush 5K walks / 10K runs are Colorectal Cancer Canada's (CCC) largest annual fundraising initiative in support of our mission: to reduce the incidence and mortality of colorectal cancer in Canada. Push is a fun, family-friendly atmosphere where survivors are celebrated, the lost are honoured and supportive communities grow, all while raising much needed funds and awareness to save lives! 2019 marks the inaugural year of Push For Your Tush in Montreal. Join us on September 22nd to celebrate this big day! This family event will feature a selfie station, healthy food, raffle, games and CCC's own Giant Colon Tour!  9am at Angrignon Park, 3400, Trinitaires Blvd, Montreal, QC H4E 4J3 Register at pushforyourtush.ca!
Wednesday, October 9
DISNEY ON ICE PRESENTS DREAM BIG! at Place Bell – Laval, 7PM.
Thursday, October 17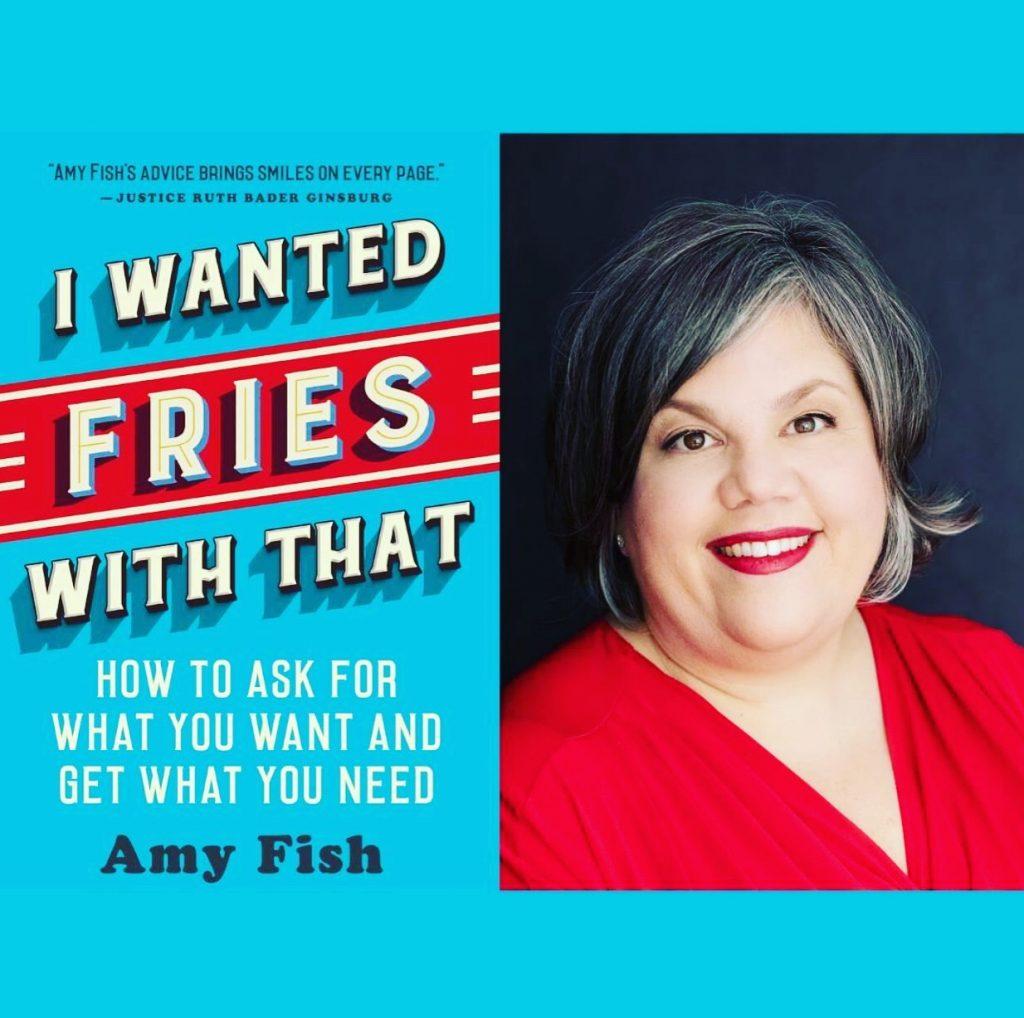 Amy Fish launches I Wanted Fries With That presented by Drawn & Quarterly Bookstore and The Jewish Public Library. 7:00 PM at 5151 Chemin de la Côte-Sainte-Catherine, Montréal, QC H3W 1M6. Click here for tickets. (Presentation in English).  You will get a FREE signed copy of I Wanted Fries With That with entry. About Amy Fish: Amy Fish is the Chief Complaints Officer, also known as the Ombudsperson at Concordia University in Montreal, Canada. She is responsible for promoting fairness and making sure everyone's voice is heard. Amy regularly teaches, speaks and writes about how complain effectively (i.e., stand up for yourself and ask for what you need.) She is also a Montreal Mom

 About the Book: At some point in our lives, we've all experienced a small injustice – like, a fellow airline passenger squashing us by moving their seat back – and we suffer in silence for fear of offending anyone. When we fail to speak up, however, we end up shortchanging ourselves. I wrote this book so that we could all benefit from my career as a university ombudsman, and structure our complaints to make sure we get what we want and need. I illustrate each point with funny real-life stories, which I promise will ring true for you- whether you're trying to right the wrongs of the world or just claim the French fries you ordered.
Something you know happening around town you feel should be added? Please email us with "CALENDAR" written in the subject line! We cannot guarantee that all submissions will be published.
[/vc_column_text][/vc_column]
[/vc_row]