Many of you read my Realistic Resolutions series of posts in January. You may have noticed that I actually tried to keep it realistic- I didn't talk about making drastic changes to my lifestyle because realistically, they would last for very long.
It's not that I don't see opportunity for positive change, it's just that massive resolutions don't seem to go well for me (or most people). That said, I have been quietly adding more exercise to my routine since late fall – it's going well, but I wouldn't call myself a hard-core fitness addict quite yet.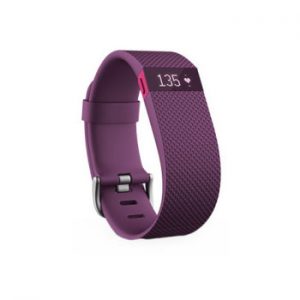 Enter the FitBit: This device is supposed to motivate us to keep motiovated to get fit. Well, here is how well I have done with that: I received a beautiful FitBit Charge as a gift from TELUS when I became part of #TeamTELUS. (I actually also received a FitBit Flex as a Thank You gift a few months prior as well).
Both remained unopened in their boxes.
I had no desire to monitor my every movement and check in with my device, this is simply just not up my alley, although I can fully appreciate the value it has in motivating SO many people who swear by it.
After all, we know that:
The majority (57 per cent) of consumers said the ability to self-monitor was a major factor in their purchase of a fitness wearable (Nielsen)
Fifty-two per cent of wearable owners primarily use their devices to stay motivated to exercise and stay healthy (MaRS)
Nearly three-quarters of current exercise app users are more active than those who stopped or never used their apps (Journal of Medical Research)
Despite this- I somehow don't like the idea…maybe I will come around to it….
Then, one day I was having conversation with someone who works at TELUS about all of the fabulous tech that they offer that can be really helpful if someone is deciding to #TakeTheLeap to get fit… (I will actually be trying out a pair of FABULOUS Jaybird X-2 Sport Wireless BUDS when I start walking again in spring!) We were speaking about all of the options available in store & online and I guess I was speaking a mile a minute (as I am prone to do) when she said something to me along the lines of " You know, Tanya – while everyone else is resolving to get moving, maybe you should consider resolving to slow down"
Hmmmm.
It's not like resolving to slow down hasn't occurred to me before ( it's likely the #1 suggestion that I get form anyone who cares about me…), but in the context of this conversation, it occurred to me that I could use this device to monitor my sleep…This would be perfect…although after further thought, I did not include it as a "Realistic Resolution" because, quite frankly, for me, working on getting more sleep is not.so.easy.
I used to sleep on average between 4-6 hours per night. In the last few years, my body seems to need at least 6 hours, but I don't always get it…and since I function quite well on less, I don't really do anything about it.
That said, I have started feeling like I could use a little bit more sleep and studies tell us how EVERYTHING works better with more sleep: Memories & information are sorted and stored at night ( For an easy to understand version of this- just watch Disney's INSIDE OUT!).  Weight gain can be linked to lack of sleep as well.  Then there's the obvious focus and clarity that tends to be better for most people when they are well rested. ( This is my problem- I have found my groove with less, so I don't seek more).
So all of this inspired me to use my FitBit- not for the purpose of tracking my activity, but for the purpose of tracking my sleep patterns and to find out if I am indeed getting a good night's rest!
I decided that I would wear it to sleep for at least a week, maybe even two- depending on what I saw happening with my sleep tracking.
I opened both boxes and charged the Flex.  That was on February 4th.
That's as far as I got.
Do you see why resolutions need to be REALLY realistic for me to stick to them????
So today, being LEAP DAY, I have decided to #TakeTheLeap…to SLEEP!
I can't swear that I will get to bed earlier ( although I do have a cold so that might help, lol), but I WILL wear my FitBit to sleep beginning tonight.
I'll keep you posted if I find out anything interesting

Now, if like most people you would LOVE To own a fabulous Fitbit Charge HR, with which you can track so much more than just your sleep- including your activity and ever your HEART RATE (thus the HR), then you should definitely enter the #FitBitLEAP GIVEAWAY!
Here's How:
In order to ENTER THE #FitBitLEAP GIVEAWAY you must:
Leave a comment in the comments section of this post answering the following question: "How would you use your new FitBit Charge HR?"  
Correctly enter your email address as the winner will notified via email.
Add info(at)montrealmom.com to your contact list so that if you win, your notification will not go into your junk mail
Once you have entered by answering the question above in the comments section, Here's how you can get additional entries:
Follow @TELUS on Twitter (leave your Twitter handle in the comments section of this post)
Follow @montreal_mom on Twitter (leave your Twitter handle in the comments section of this post)
Tweet this giveaway by retweeting this post using #TakeTheLeap (1 entry for every RT, you can tweet once daily- please leave a link to each tweet in the comments section of this post)
Share a photo of what you are doing to #TakeTheLeap on Instagram, using both hashtags. (1 entry for every instagram post, you can post once daily -please leave a link to each tweet in the comments section of this post)
Add montrealmom.com/blog to your RSS Feed (leave note in comments that you have done so, use same email address for both comment & RSS Feed)
Write about this giveaway on your blog/website and leave me a link to your post in the comments section (counts as 4 entries!)
Read any other post on the montrealmom.com blog and comment on it (please leave a comment on this post as to which post you read & commented on)
The giveaway ends at 11:59 PM on Sunday, March 6th, 2016.  Winner will be chosen at random and will be contacted via email on Monday, March 7th, 2016. Please make sure your email address is correctly entered in the comments section as the winner will notified via email. Winner must answer a skill-testing question before claiming prize. Open to Canadian residents only.
Any litigation respecting the conduct or organization of a publicity contest may be submitted to the Régie des alcools, des courses et des jeux for a ruling. Any litigation respecting the awarding of a prize may be submitted to the Régie only for the purpose of helping the parties reach a settlement.
This giveaway is in no way sponsored, endorsed or administered by, or associated with, Instagram or Twitter.
Wishing you and your all the best for for Leap Day & beyond 😉
Tanya
Disclosure: I am part of  #TeamTelus and from time to time receive products and access to special events. As always, all opinions contained herein are my own and can never be bought